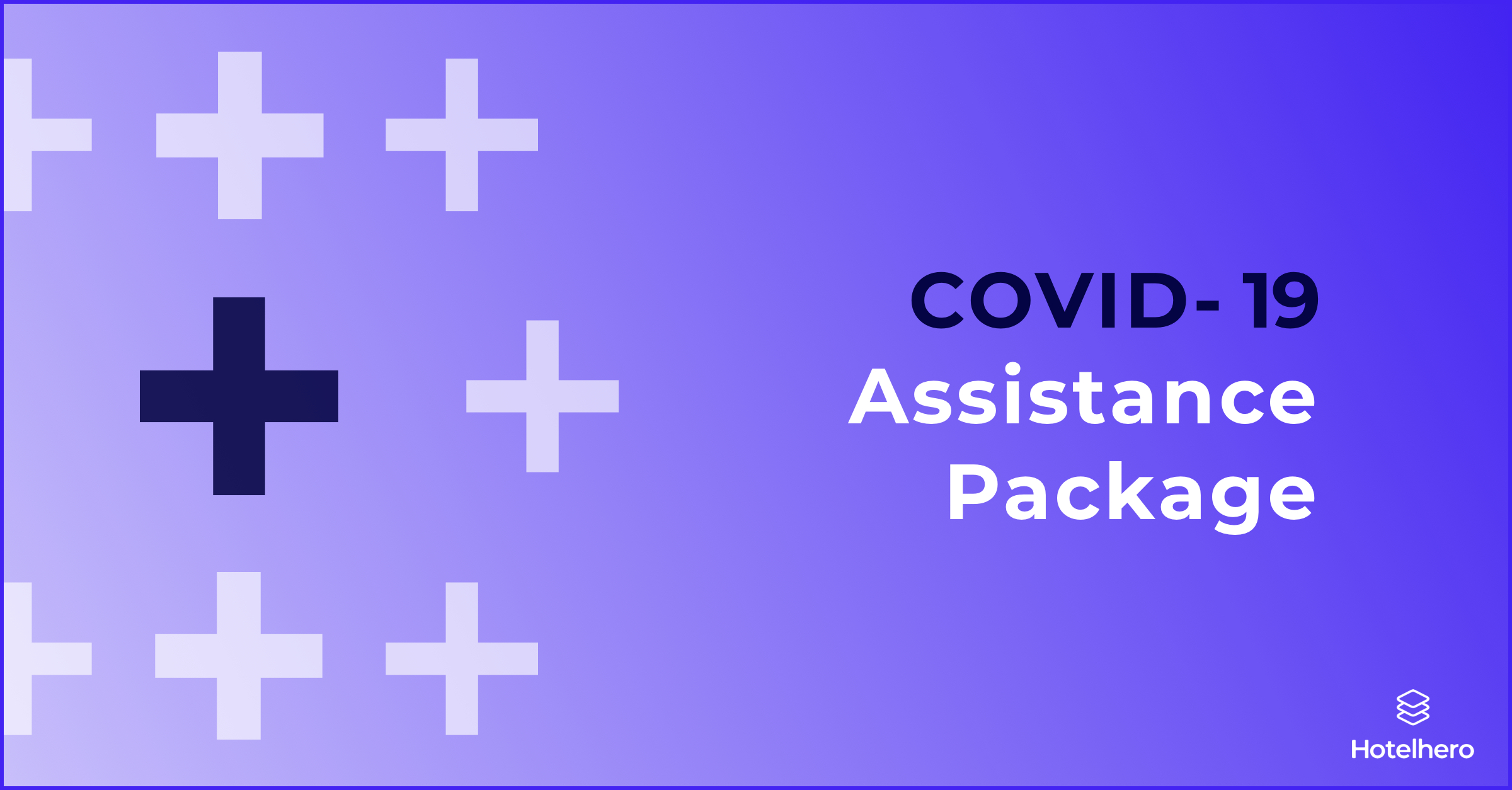 COVID- 19 | Hotelhero Assistance Package
The rapid spread of the coronavirus is hitting the global travel and tourism industry hard with cancellations and declining booking numbers in both the leisure and business travel segments. As a result of curfews, travel bans and social distancing, some hotels are experiencing a drop in sales of up to 90%. Many of you even had to temporarily suspend your operations. At present, it seems impossible to assess the long-term effects on tourism or to imagine an end to this unprecedented crisis.
It is important to act correctly in a crisis and the more important that we all stick together. Hotelhero and our partners would like to support you in these difficult times and help you to emerge from the crisis stronger. Thats why we have put together a centralised list of commitment-free software deals and online resources to help you and your hotel navigate these challenging times and prepare for the rebound.Would you like to know how you can make the best use of this time to better position yourself digitally, manage your contracts optimise your costs?
Book a free 30 minutes workshop

to analyse your digital set-up and define concrete next-steps.

Sign up to Hotelhero

to receive free tailored software recommendations based on your hotel criteria's, user reviews and system integrations.

Organise your IT contracts

and identify cost saving opportunities with the Hotelhero contract management tool. You can use the tool 30 days for free.
In this unprecedented time, we see the serious impact the current COVID-19 crisis is having on our lives and on all our communities, we as an industry must help collectively and make our contribution to the current COVID 19 crisis.
Many hoteliers are working hard to facilitate the transformation of their hotels to rehabilitation facilities for COVID-19 patients or they offer their freed up inventory to the frontline medical staff, supermarket and transport workers. Here are four great initiatives from software vendors to facilitate this by creating online portals to connect hotels with health care providers and local governments.
---
QUICK LINKS TO SOFTWARE DEALS
---
QUICK LINKS TO RESOURCES
---
SOFTWARE DEALS
Influence Society
The Influence Society learning platform offers you video courses, benchmarks and resources to train and learn from our experts with the goal of helping you to gain in competence and give you the keys to develop your hotel's brand and direct sales. With the current crisis facing our industry, Influence Society have decided to offer all professionals access to the platform completely free of charge.
Due to the unprecedented industry challenges and hardship caused by COVID-19, Typsy is absorbing all Typsy Pro individual and business subscriptions costs until 30th September 2020.
Überblick
Staying aligned with your team is primordial in these times of crisis and offering everyone a dedicated communication channel can be beneficial to prepare your hotel's reopening. Überblick is offering its collaboration tool for free until June 30th, 2020.
Alice
For hotels managing COVID-19 who need to do more with less, we make simple checklists to keep staff organized and effective for essential preventative maintenance, to manage room inventory with OOS & OOO effectively, and ensure all cleaning standards are met, to do essential maintenance to keep the property in great shape and operating reoccurring security checks and gracefully turning off all physical and digital systems so the hotel can re-open quickly without disruption or damage. Alice is offering a free checlist tool to help you drive these different activities.
Communication is key, in times of crisis more than ever. We offer a quick set-up without any financial concerns because that is what matters right now. As a hotelier, simple and transparent communication, as well as fast and precise task distribution, is crucial in times like these. And this is where hotelkit express comes in. We will set up hotelkit express within 24 hours so that hotels can start right away and without any obligations. We guarantee a 30-day test phase during which the full version of hotelkit can be used to simplify communication and streamline hotel operations. From helpful COVID-19-relevant checklists to handbook tutorials for crucial or standardized processes, it can be all yours.
Hotelfriend
Hotelfriend is lifting the subscription fees for new customers as long as the COVID-19 quarantine lasts, so they can use the product for free. With the mobile app that comes with the system, all hotel business processes can be managed remotely - from reservations, check-in and out to services and food orders.
Eviivo wants to help you in these difficult times and therefore gives you an exclusive discount on their award-winning all-in-one booking solution eviivo suite. You will receive a 10% discount on your monthly payment and they will also give you the setup fee as a gift! The eviivo suite includes a central hotel software (PMS) with integrated channel manager and a booking engine for your own website.
Optimand
Optimand is offering 6 months of free subscription to its Demand Analytics tool. It helps fight uncertainty by giving hotels a better visualization of their future demand. This will provide a leading indicator of when the market will pick up again, giving hotels that participate in the program the opportunity to act faster and more decisively than those who are 'guessing'". Optimand does not require any system modification and it can be implemented with a simple copy/paste of a code on hotel websites.
Sweetnr
Looking for a quick and easy way to tell your guests the latest updates from your hotel or hospitality business during the coronavirus outbreak? UP's brand new tool, Sweetnr, is the simple 'callout' solution for getting your message onto the homepage of your website, fast and FREE! Choose from a sidebar callout, a pop-up message, or even a simple banner in just a few clicks. With fully customisable options for the look of your message, and where your message will appear on your site, you can edit or amend as much as you wish. The offer is valid until May, 7th 2020.
Oaky
To help hoteliers, Oaky is offering its services 100% free of charge until June 31st 2020, without any commitment. As you surely have other things on your mind, the experts at Oaky will take care of your set-up for an online launch in less than 7 days. Increase the average shopping basket of each customer from the 1st day of reopening.
MyStay
MyStay is offering "Free Corona Band-Aid" to support the hotels, that are affected by COVID-19. We know that you are receiving a lot of cancellations and your revenue is going down. Now you can get MyStay Upsell forever free. Reach your guests and upsell your services. For free. Forever.
Guestjoy is offering its upselling, guest communication, and online review tool for free for new customers. Our newest feature - Announcements - will allow hotels to communicate with their guests (filtered by date or booking status) to let them know about their options for rebooking their stay or obtaining a credit note. In turn, this will hopefully reduce the number of cancellations you receive, while lightening the workload for you and your staff. Depending on your property management system or channel manager, set up can be done within a matter of hours. This offer is valid until June 31st 2020.
Whether on your website via livechat or by phone, our team accompanies travellers and transforms them into direct sales for you! No commitment and no commission.
Easyway
To help you connect with your guest through their preferred way (facebook, Whatsapp, SMS, iMessage, Viber, WeChat, Telegram) to reach you, easyway is offering free usage of its multi-channel communication tool and bot until June 1st, 2020.
Bookboost
The Bookboost Unified Inbox and Web Messenger is now available for FREE to all hotels worldwide. Bookboost Unified Inbox enables you to manage all guest inquiries from your website, email, Facebook Messenger, in one inbox. Give clear and consistent COVID-19 communications and save your team answering repetitive questions, improve efficiency and provide service day and night with chat automation. No strings attached, no credit card needed. Simply sign up and get started within 30 minutes. The offer is available until June 30th, 2020.
HiJiffy
HiJiffy Chatbot is available for FREE to all new clients until June,1st 2020. The solution is able to centralize all your communication from Facebook Messenger, WhatsApp, and OTAs, helping you dealing with COVID-19 questions and more other than 120 topics, improving your efficiency, increasing your guest-satisfaction and increasing your direct bookings. You just need to schedule a quick call on Book a demo. No commitment. No commission. No credit card needed.
Alliants are offering the following help for hotels & restaurants that wish to offer a click & collect or delivery service but don't have a website selling platform in place. How we can help: We have built a Shopify theme website which hotels & restaurants can have a copy of and then use to upload their products. It can be configured with specific geographic boundaries to reduce unnecessary journeys & controlled slots for collection to aid social distancing. It comes with integrated online messaging to help reduce the workload. alliants provides support to brand your account & upload your products, online training to help you use the website & messaging platform and integrate the chat into your website. This offer is open to restaurants & hotels worldwide. We will not charge for configuration, messaging, training or uploading of your products but Shopify charges will apply (from $16 per site per month).
To help hotels deal with Covid-19, HelloShift is offering free service to all sign ups till July 1, 2020.
In these uncertain times, hotels can use Guest Messaging and Website Chat to keep the line of communication open and accessible to all guests (and future guests.). With Staff Collaboration, hotels can keep running with smaller operational footprints and more staff working remotely.
Asksuite is offering an award-winning AI chatbot & live chat for free to hotels located in North America and Europe until the end of 2020. The bot can answer questions about an instant quotation, COVID-19, hotel operations during the pandemic and has all the other functionalities like integration with booking engines.
Net Affinity
With cancellations mounting, many hotels and restaurants are now looking at new ways to engage with guests and drive cash flow. One such way is through the sale of Gift Vouchers. For a limited time, Netaffinity is offering a FREE to use Gift Voucher System with no commitment necessary and no commissions, until June 30th, 2020. No commitment necessary and no commissions.
Experience Hotel
To help you maintain contact with your clients for Free during the COVID-19 crisis, Experience Hotel is offering free access and up to 3 custom Email campaigns to all your customers, valid for 3 months without commitment or costs.
dailypoint Central Data Management
Dailypoint is offering 3 months for free from now on until May 31st and you can pay your set-up whenever you want within 12 months after the start.
Hotelchamp
Hotelchamp is giving out access to the Hotelchamp Demand Tracker for free for a full 90 days. This helps you better understand real-time demand data for up to 365 days ahead. Take rate & pickup decisions based on 20 times the data of your PMS.
Fairmas is offering 3 months of PickupTracking free until May 31, 2020. This offer is for new customers only, third party costs are not covered by Fairmas.
GIATA
In this time of uncertainty, hotels need to be in control of their information more than ever and recover faster once the crisis subsides. In response to COVID-19, GIATA is offering free access to its platform GIATA Drive for 3 months
Hotel Data Cloud enables hotels to increase bookings by controlling how they are portrayed on booking channels, with personalized content & smart recommendations. The Covid19 attributes program allows hotels to communicate clearly to their distribution channels what actions they are taking to ensure the safety of their travelers. Hotel Data Cloud is currently running a special offer of 18 months Premium membership for the price of 12 months.
MyCheck
Many governments are restricting the way restaurants can operate, by only allowing service through online ordering or delivery channels. To help restaurants keep business going during this time of uncertainty and restricted movement, we have scaled down our existing Click to Order solution to give restauranteurs a quick and easy way to open online ordering and carry out channels. MyStay is offering its Click to Order solution at a discount, as a way to help restauranteurs comply with government restrictions while sustaining their operation. Just $150/month with a three-month contract. No configuration fees. All the configuration/setup is done for the restaurant, and will have the solution set up within 72 hours.
SABAGuest
SABA is providing its F&B ordering module free of charge until the end of June.The tool can be used to automate take-away or delivery ordering for hotels and restaurants. The simple to use platform comes with an attractive front-end that does not require downloads or registration. Guests find attractive pictures and are animated to purchase more. The digital menu can easily be adjusted to allow for daily specials and promotions. The intuitive backend is self-sufficient, meaning it can be implemented without a POS integration for immediate launch. In addition to the free offer, we will assist with the menu upload and customization so that hoteliers and restaurant operators can focus on their core business during these challenging times.
Event Temple
Event Temple is offering a 30% discount on annual plan or 25% off on monthly plans for its sales & catering software as well as delayed payment on the first 3 months.
Criton
As people have become more conscious of and concerned about what they touch, Criton helps hotels create their own branded app that will enable them to reduce touchpoints, put guests' safety first and save money, as they do not need to worry about cleaning or replacing the in-room guestbook. With a branded mobile app, hotels can enhance the guest experience and stay connected with their guests. To support the hospitality industry at this time, Criton is offering hotels a guest app completely free of charge until 2021.
RoomPriceGenie
RoomPriceGenie helps you track your market continuously, know when demand is coming back and act immediately. For new clients, and until further notice, RoomPriceGenie is offering its tool at 100% discount with a monthly cancellation policiy.
Atomize Revenue Management Software is offering its solution free of charge, up until you have reached 50% of your average occupancy. This offer comes with no setup fee, free training, and includes support. This limited offer is valid until April 30.
Use Wave RMS free of charge for 3 month without any commitment. It hurts a lot to see and feel how hard our loved hospitality industry got hit. We are truly at the epicenter of the coronavirus crisis. Recovery will arrive, but when and how is uncertain. It is amazing how the industry is working together than no other to help each other and even offer its services to defeat this pandemic. Like many partners, we at SHR were also discussing what we can do to help, and decided to offer you our brand-new Wave RMS with recovery monitor - completely free of charge for three month. We are all in this together an just want to help where we can, there is absolutely no cost or commitment associated with this. Our software will help you when the market starts to recover, so you won't lose any bit of revenue. Please reach out to us and we will support you however we can within our limits!
SiteMinder is offering its channel manager at a discounted price for 12 months contracts until further notice. Up to 30 days trial, 50% set-up fee, first 3 months only at 75% off subscription price.
HOTELSHOP.one
Create your online shop and generate additional revenue by selling your products, furniture or any branded products. You will also have the option to offer food on the platform that the guest can pick up at the hotel. Hotelshop.one is offering its PRO-package for free for hotels.
The Booking Button (SiteMinder)
SiteMinder is offering its booking engine (only available witht the channel manager) at a discounted price for 12 months contracts until further notice. Up to 30 days trial, 50% set-up fee, first 3 months only at 75% off subscription price.
Canvas (SiteMinder)
SiteMinder is offering its website design tool, Canvas, at a discounted price for 12 months contracts until further notice. Up to 30 days trial, 50% set-up fee, first 3 months only at 75% off subscription price.
Get Into More
While facing and overcoming this crisis we understand that having accurate data and real-time insights in performance will be key in making sure your location returns stronger than ever. We, therefore, offer our most critical features free of charge. No strings attached and for as long as needed.
EVENTMACHINE is offering all hotels and venues the chance to get their digital tools in place now - now while they have time. So they can be better prepared and more efficient once life returns to normal.
For new clients & sign-ups before April 30, 2020, the tool isFree of cost until summer (2 free months) and at a discounted price of €29/ month afterwards.
Mobile Concierge by MyLike
Overcoming the crisis together - the Mobile Concierge from myLike for hoteliers now free of charge. As a hotelier, you can use the time until the market recovers effectively to improve your guest experience with the Mobile Concierge, to drive your digitalization process forward and to position yourself optimally for additional revenues through cross-selling.
Mobile Check-in by CODE2ORDER
Contactless, digital Check-in (including digital registration form) and digital guest folder - Start using Code2Order now for free. Get Coder2Order's digital solution - without any financial investment for the next 3 months. The solution enables your guests a mobile contactless check-in, booking your hotel services and filling in all information for the registration form via their own smartphone. The 'Bring Your Own Device' Technology offers a contactless and hygienic service without Hotel-Tablets and no need to download an app.
The more we stick together in these difficult times, the faster we will get through this together. We believe that a bit of normality is important because your guest should again be the focus of attention in the near future in your hotel, guesthouse or bed & breakfast. With our payment solution for the hotel industry we provide fast, easy and versatile payment options for payments via telephone, e-mail, PMS, booking engine, channel manager, OTAs and more. We want to support you in these difficult times, and thus offer you our payment solution "Saferpay" free of charge. Offer code: Hotelhero
Those who use the coming weeks to digitise their work processes will be optimally prepared to be back in the starting blocks after the Corona crisis - with highly efficient, automated work processes across the entire value chain. This is what FoodNotify stands for - the centrally networked inventory management platform for the hotel and restaurant industry. Interested hotels can now benefit from the 5-step FoodNotify digitalization plan. With it, all goods-related processes from warehouse management to purchasing to recipe management can be digitized and synchronized - in only 1 to 2 months! This extremely helpful service is combined with special offers. On the one hand, FoodNotify now offers a detailed online consultation worth € 1,500 completely free of charge. On the other hand, the so-called set-up fees for the company digitalisation can now be deferred individually.
---
RESOURCES
Never miss a post
Join theBrief newsletter and stay up to date on all the latest hotel tech news
No spam. You can unsubscribe at any time.