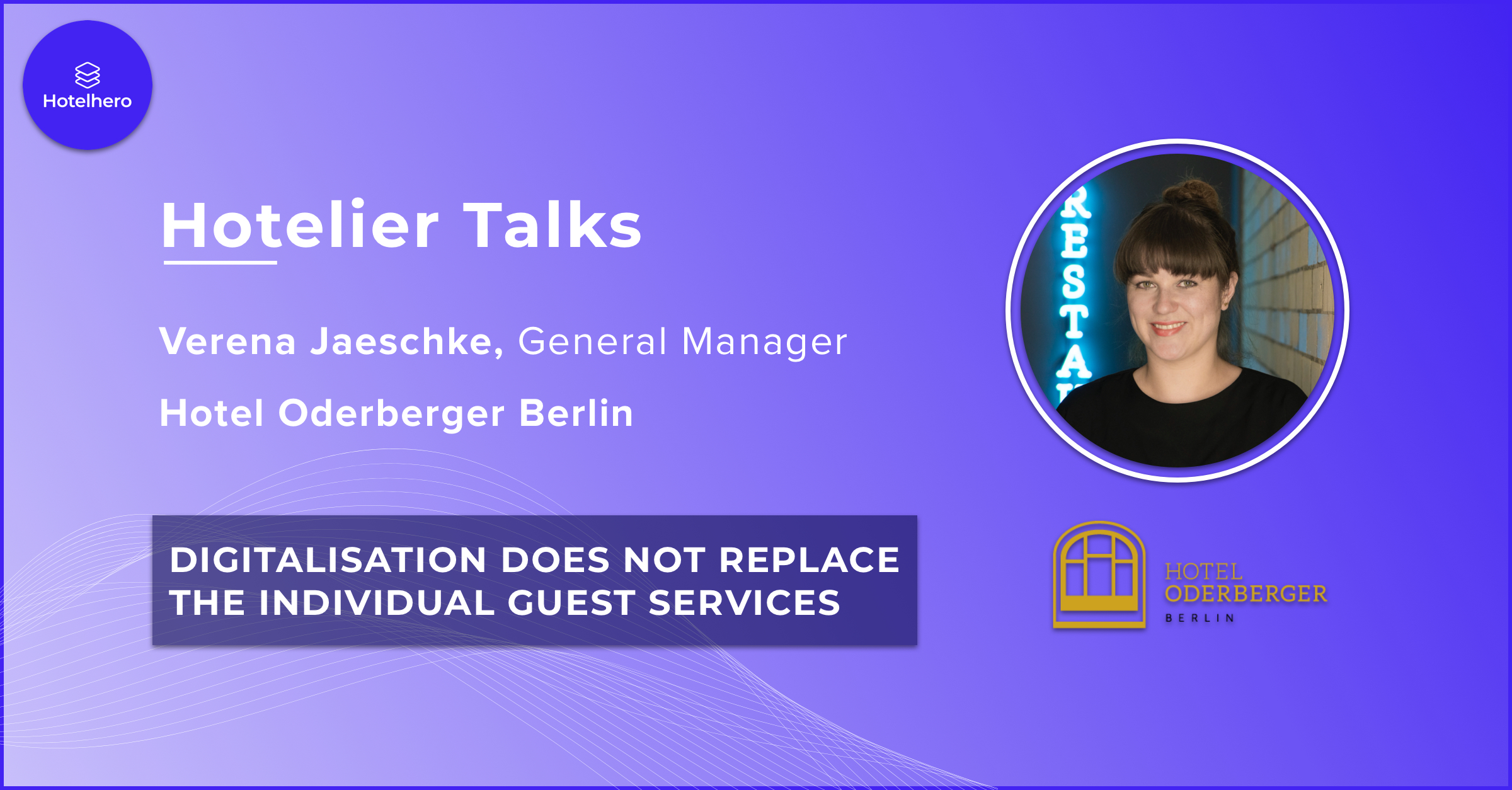 Digitalization does not replace the individual guest services
By Florian Montag
July 7, 2020
In today's interview we talk to Verena Jaeschke, General Manager at the Hotel Oderberger & Head of Business Development GLS Sprachzentrum. Verena explains how she uses digital tools at the Hotel Oderberger and why these tools enable the Oderberger team to have a more personal contact with their guests.
You can listen to the interview in full by clicking on the video, or you can read the most important questions below.
---
Hello Verena, before we talk about digitalization, could you give us an insight into the Hotel Oderberger?
What makes us special is that we are a hotel in combination with a language school. It is also important to mention that we are a family business. The company was founded over 30 years ago by my mother, who still runs it today. That really makes a big difference to our hotel concept and how we want to approach our guests. The whole thing is combined with the very special use of the hotel, as we have integrated a public swimming pool. The historic pool hall was renovated and since then has been used not only as a swimming pool for our hotel guests but also for Berliners from the neighbourhood.
That's why we are a very special establishment that doesn't feel like a hotel at first glance and that's exactly how it should be, because we simply want to be a meeting place for everyone, for Berliners and Berlin visitors alike.

Which guest segment do you address?
We don't really define our target group by the reason for travel, age group or origin scheme, but it is a target group that wants something special when travelling. A special city, but also a special hotel, where you can find details and notice that there is a connection to the city and life in the city. This is what our guests notice and appreciate.
At the moment the topic of digitalization plays a big role for you. What are the main factors driving this process? Using time effectively to automate processes and save costs or to create a better experience for your guests through digital systems?
I would actually say all three. We see a lot of potential. The first thing is, even before Corona, we realized that our industry needs to examine its profitability and pricing structure. We really have this issue now in the hotel and catering industry, especially in owner-managed businesses, although we have made an effort and had good years, we don't have enough returns to have a safety net for months. This means that every business is now forced to review its cost structures. Possibilities for savings through digitalisation is always an issue, there is really a lot of room for improvement. Of course this goes hand in hand with the optimization of work processes. This in turn is not so much to replace the human being, because the human aspect of a hotel can never be eliminated.
The reason why Airbnb is such a big competitor is because you feel at home in the local's house and no check-in machine can give you that feeling, only a front office agent who knows his way around Berlin and who feels like talking to you can give you that. This is precisely the kind of thing you can achieve if you automate work processes that can be easily digitized. Because then, you can do the check-in in 3 clicks instead of running through a 10 minute procedure, and in the meantime you can talk to each other and tell the guest something about the hotel. You won't need to keep your guest tied to a counter for 15 minutes to give them all the information about the hotel until they can finally go to their room. I
think there are a lot of possibilities, especially for independent hotels, to position themselves as hosts and to make the guest's experience more personal, when you can eliminate all unnecessary pain points through digitalization, online check-in, online check-out, prepayments, simple payment solutions, pre- and post-stay communication that can be customized. This is all the time we can save and invest in personal contact.
Many hotels avoid digitizing their processes for fear of losing personal contact. What is your assessment of this and how do your guests perceive it?
I would say that precisely if you want more personal contact with your guests, you should digitize. Digitizing the unpleasant parts of the hotel experience, such as the administrative, would give you more time for personal interaction. This is the case for business guests as well as for leisure guests. You don't want to spend a lot of time discussing whether the right name is on the bill or whether you should pay 3.95€ or 3.92€, you've already done all that in the taxi on the way to the hotel. Instead, a guest wants to know what is special in the neighborhood or what the hotel has been prepared for them, when they are a returning guest.
Don't eliminate personal contact by digitalization, but simply outsource the pain points for the guest, which cost time and are unpleasant, to the digital and keep the personal contact with the guests on site.

How did you approach the whole issue? What did you start with? Did you first take a look at the Customer Journey and analyze where these Pain Points are located or did you first look at what systems are available, what they can do and based on that you decided to change something?
I have to admit that we have put the cart before the horse a bit. We had already looked at the Customer Journey of our guests. What are the points of contact, what are the most frequent topics and questions, what did guests perhaps want to know in advance. We also thought about what makes us as a hotel and as a team special and what we want to communicate to our guests. I say from the back of my mind because we did not start with PMS, but we already had a custom made PMS with us because we had this combination with the language school.
For example, we decided to work with Customer Alliance for the generation of guest reviews and for pre- and post-stage messages. They are located in Berlin just like us, so it is always important for us to look for regional providers. This works out great for us, we introduced the tool at the very beginning and we generate more ratings that are played out on our website, which is positive for our ranking and we can also use it for our pre- and post-stay communication and remind our guests 3 days before their arrival that we are happy that they are coming and ask if they want a parking space or have any other questions.
We decided early on that we would have tablets in the rooms, a digital guest folder instead of flyers, where we could communicate more personally with the guest and send pop-up messages, where we could send a preview for the mobile phone in the pre-stay email, so the guests know what our recommendations are. Every hotel has to decide what it wants to communicate, it was important for us to position ourselves as Berliners. This "We are a local host, we can do exactly the same as an Airbnb host. We've put together our favorite restaurants and our highlights in the neighborhood." That's what we want to send to our guests in advance, and we can present it well with the tablets in the room and the pre-stay message.
As a major Corona project, we are now looking to change the system to a cloud-based PMS.
So you can confirm that you don't necessarily have to start with the big system change to digitize certain Pain Points?
Absolutely. I also have to say that you shouldn't be afraid of the tool, I'm not an IT expert or digital enthusiast, but it works. You can get help, for example from you guys (Hotelhero), you can go to the HSMA E-day, you can read reviews, you can also just look at some vendors and invite them for a demo and then you need common sense and consultation with the team. Then you get relatively well to the point where you know what you need, what you can do and what is really an added value for the guest. Then you can really proceed step by step. This makes it easier, because if you first integrate a new tool then you have a thing that might not work, but then you can simply look at why it doesn't work and what you have to do. If you rebuild the whole thing there are of course more risks for things to go wrong.
Digitalization always sounds like a huge task, but in the end there are many small points that you eventually bring together, it's not as complicated as it looks from the outside. Just put a little time and energy into it and then it's fun.
What was your experience with the digital tools during Corona? Did they support you during Corona?
This was a great opportunity, because it was also the time for us to say thank you. We actually got a lot of support from our partners regarding the tools. That started with the suspension of the license fee during the time when the hotel was closed and we simply put the month at the end of the contract or we had already signed something and were able to postpone the start by 2 months.
But there was also support with the development of new functionalities. For example, we are in the process of switching to Mews for PMS and that was a great example, because Mews released new features within a few weeks, such as automatically taking charge of the room and not allocating it directly to one another or randomized allocation of rooms across the hotel. As well as the whole online check-in and online registration form topic, which has now been added to the website as contactless check-in has become really important.
Is there a specific tool or a new system that you are implementing now that you expect to get a big added value from?
For most digital topics there are already a lot of options and we are just not there yet. We now expect a lot from the upcoming system change, because we think that it will increase the efficiency of our workflows both for us and for our guests. This is now a requirement for every hotelier and restaurateur to look at how you can make your processes as easy as possible for both your guests and your team and thus streamline your workflows.
This also applies, for example, to reservation systems in restaurants. If a system automatically optimizes my workload and generates an easy-to-manage waiting list, then I automatically generate more turnover.
That simply offers several advantages, the guest experience is better, the work processes are easier for the staff and it optimizes my return on investment. This is especially essential in the corona period and digitalization can support this, but it is essential to always do this in combination with a human touch. Guests don't travel to be in some contactless hotel, but instead they always want a unique personal touch. Humans will not be eliminated with digitalization, that is crucial to remember.

About Verena Jaescke:
Verena Jaeschke has a doctorate in cultural studies and currently works as director of the Hotel Oderberger Berlin and as Business Development Manager at the GLS Language Centre. In February 2016 Verena reopened the Hotel Oderberger as a listed boutique hotel.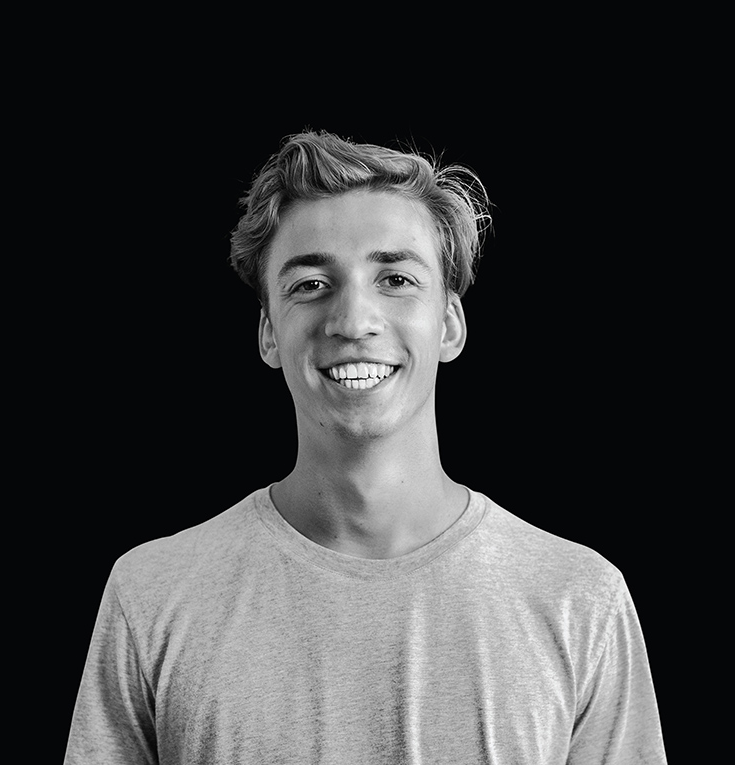 About the author
Florian is a Co-Founder of Hotelhero and a graduate of École Hoteliere de Lausanne. Passionate about hotels, service excellence & technology Hotelhero is built on the belief that independent & small chain operators should be leveraging technology for the better.
Never miss a post
Join theBrief newsletter and stay up to date on all the latest hotel tech news
No spam. You can unsubscribe at any time.