November 27, 2017
The beginning of Hotelhero (Part 2/2)
By Florian Montag , Co-founder @ Hotelhero
Our goal with Hotelhero is to help independent hotels and small chains to gain back control. We want to improve the understanding and adoption of technology in the industry and push innovation, helping hoteliers conquer their challenges of today and tomorrow.
For quite some time we've been working on the right solution to do this. We had extensive discussions with hoteliers, restaurateurs, industry professionals, and tech providers to understand the different problematics and build a solution, which is mutual beneficial.
Based on these first-hand insights we've decided to develop a free independent platform which centralises and simplifies the search for new digital tools and systems. In addition, we offer independent hotels and small chains personal assistance throughout their selection process for new digital tools and systems.
Our partners
The core of our platform is the selection of the digital tools and systems we partner with. Every day, we work hard on scanning and analysing the market, discussing different products and trends, and carefully selecting the systems and tools, which best suite European independent hotels and small chains.
We are an independent platform and base our provider selection on the quality of their product, their level of innovation, open API's (ability to seamlessly integrate with 3rd systems), customer support & training.
We pride ourselves to only on-board top of the class providers. Meanwhile making sure to always offer a variety of solutions per category allowing hoteliers to make their own decisions and easily compare the solutions.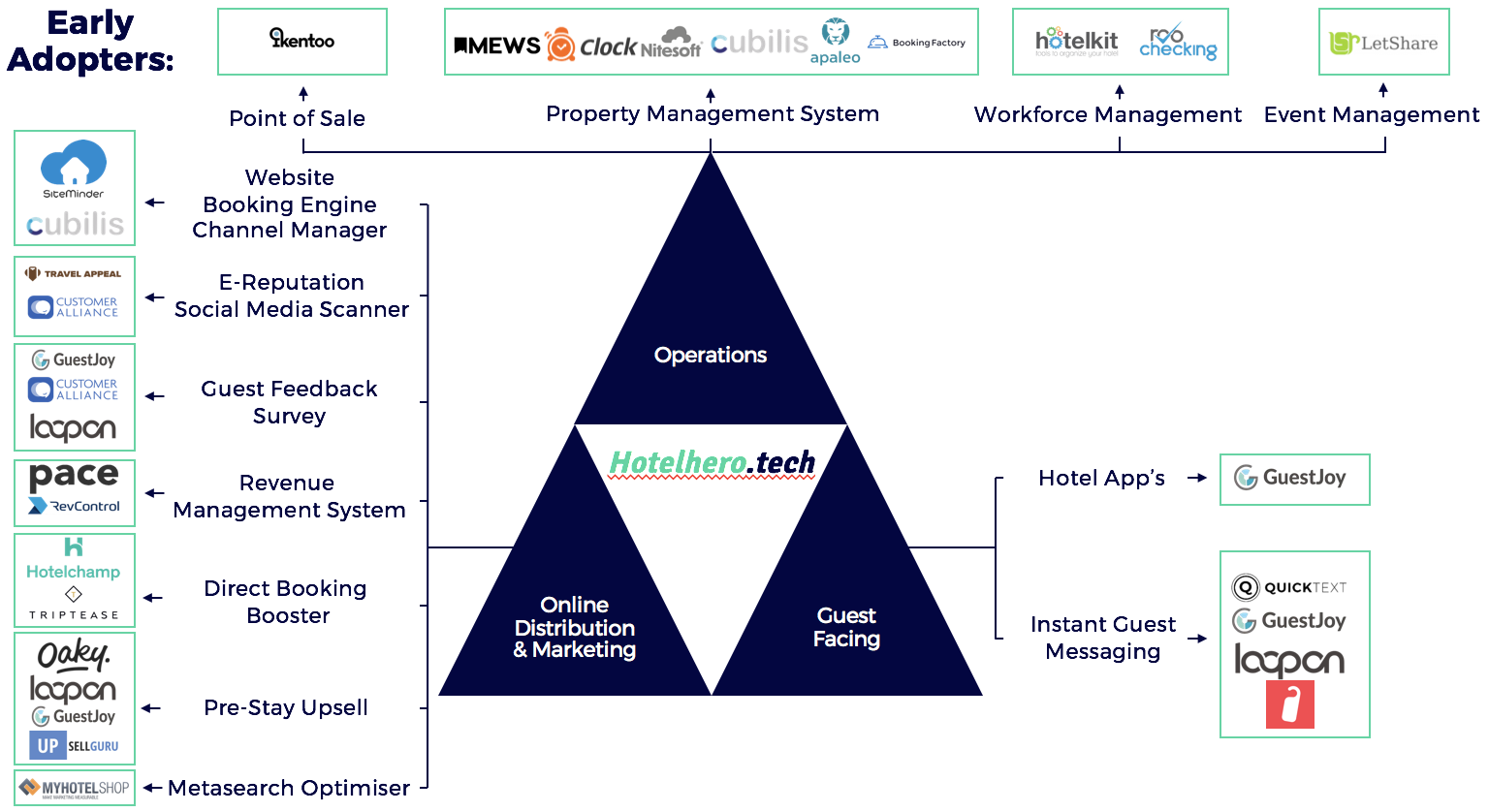 We are proud to have some of the most innovative solutions for the independent hotel market as early adopters.
Our platform & service
Our free and easy-to-use web-platform is designed to help hotels to discover, compare and select the right digital tools and systems.
1. The match-making tool helps hoteliers to personalise their search results based on their unique hotel characteristics. Allowing them to have a direct overview of the systems fitting their property and saving significant time during the initial research phase.
2. Our complete and standardised profiles make sure hoteliers have easy access to all relevant information during their search process and have the ability to easily compare the different products. (In 3 languages English, German and French)
3. Our live-chat or book-a-call option allows our specialised team to have direct contact with hoteliers and assist them throughout the selection process. (In 3 languages English, German and French)
4. Hoteliers can request demo's and pricing directly on our platform. Our team will take care of centralising all proposals and schedule initial calls.
5. With our blog and newsletter we will keep our community up-to-date with the newest industry trends and product launches
Check out our Portfolio and find the hottest new systems on the market!
About the Author
Florian is a Co-Founder of Hotelhero and a graduate of École Hoteliere de Lausanne. Passionate about hotels, service excellence & technology Hotelhero is built on the belief that independent & small chain operators should be leveraging technology for the better. Our platform and services strive to give every hotelier a chance to compete in this highly competitive market by implementing the right technology.