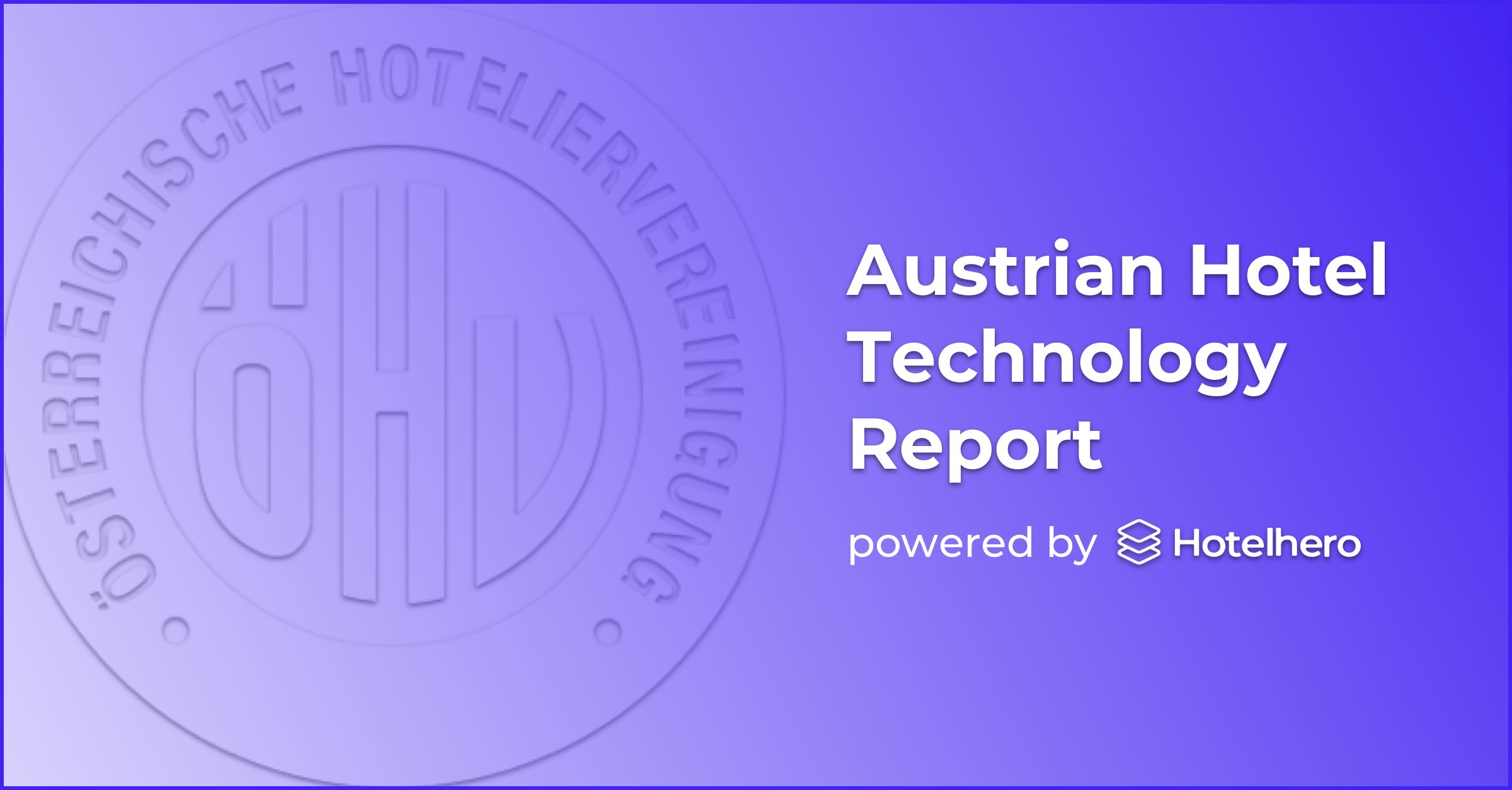 Austrian Hotel Technology Landscape 2020 (ÖHV)
Aug 03, 2020
- Florian Montag
Together with the Austrian hotel association (ÖHV) the ÖHV-Technology Report was created. This report provides an overview of the Austrian hotel technology landscape based on the systems, tools and services specified by hotel companies on the Hotelhero platform.
On average, 5.7 systems or tools are used in Austria's hotels and more are added every year. The technological landscape of a business offers everything from hotel software (PMS) and Customer Relationship Management (CRM) for guest data management, a revenue management system (RMS) for dynamic price management, reputation software to manage online ratings, and direct booking options on the hotel's own website.
This makes a hotel nowadays a tech business. The inventory data provided by the companies on the Hotelhero platform (ÖHV marketplace) was evaluated anonymously and graphically presented in the ÖHV Technology Report 2020. In addition to the current technology situation in Austria, you will find differences in the city and leisure hotel industry as well as a presentation of the most used providers in the individual categories.
---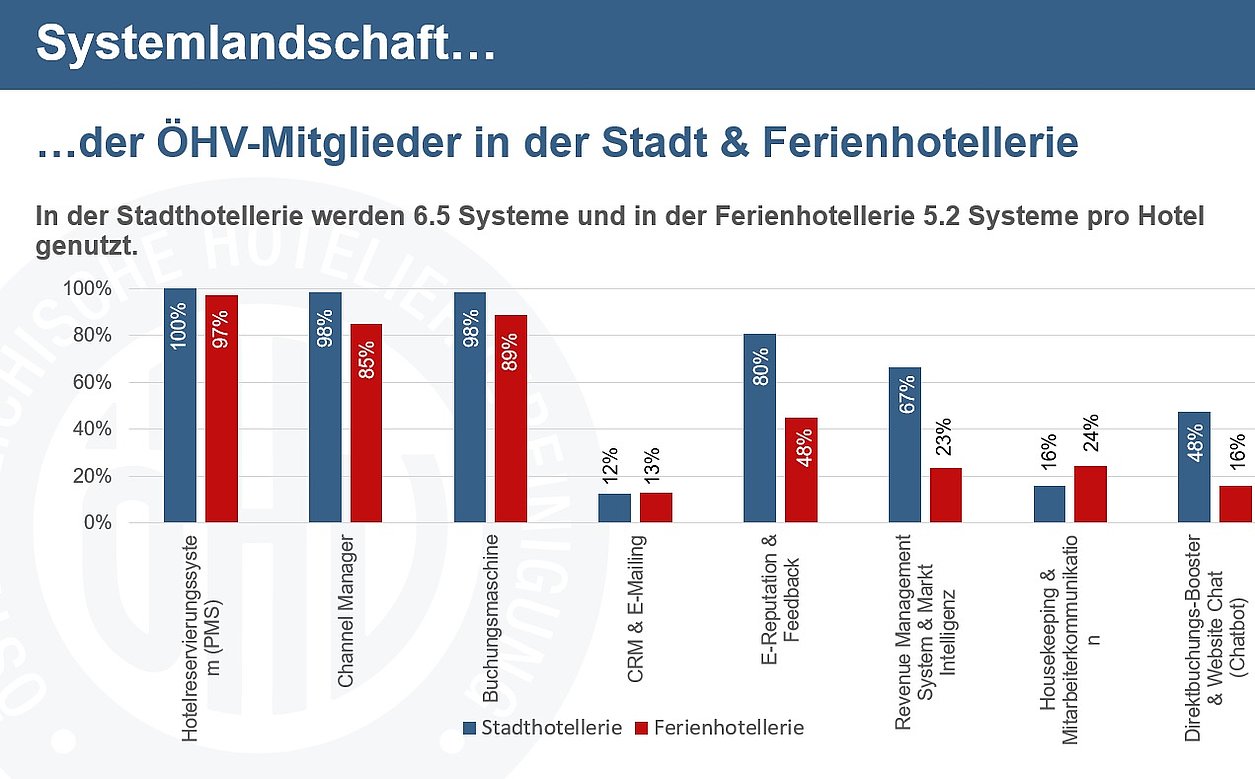 Key Findings:
Further findings as well as the most common providers on the Austrian market can be found in the ÖHV-Technologie Report 2020.
---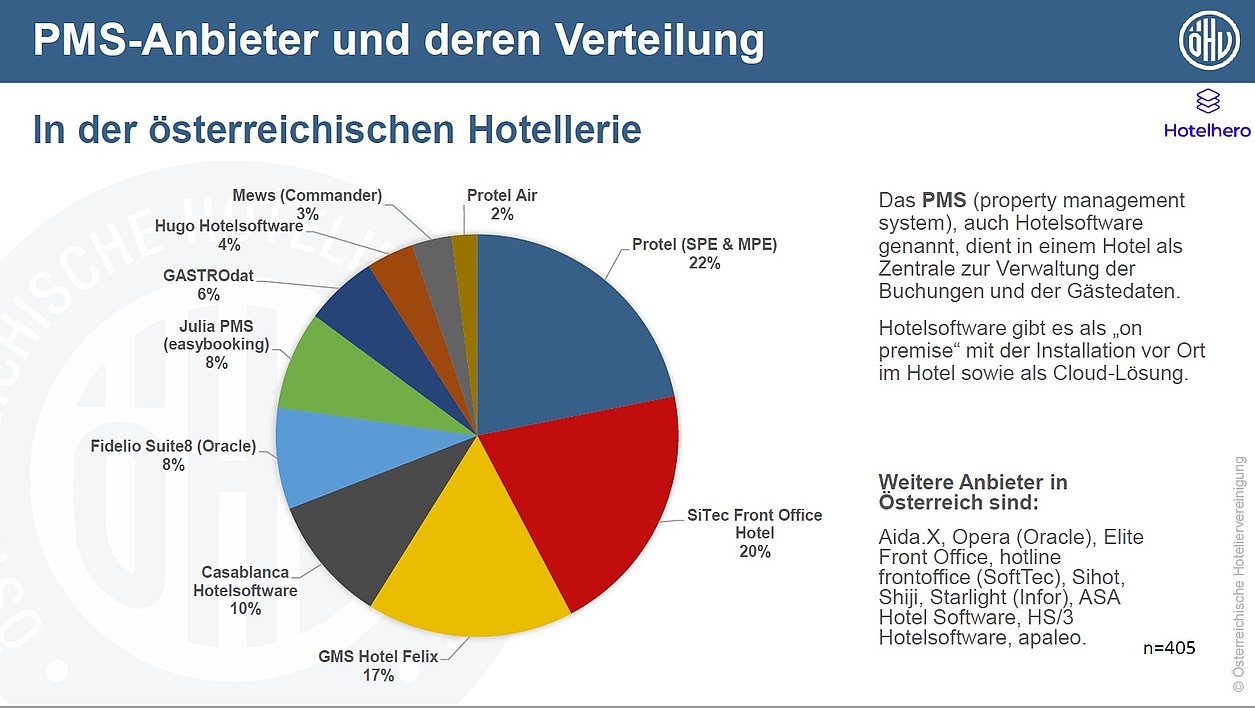 Looking to the future:
Cloud solutions play an increasingly important role in PMS systems, also in the leisure hotel industry.
CRM and the bundling of guest data into guest profiles is becoming more and more important in order to better understand the booking behaviour of guests, to offer an individual guest experience or to implement targeted marketing campaigns.
In an increasingly complex sales world of the hotel industry, a 2-way interface is a must, especially for channel managers. This interface handles both the notification of availability and prices as well as the collection of reservations fully automatically.
Due to the constantly growing amount of data used for pricing, an automation of data entry via a revenue management system is necessary.
Responding to online reviews will become even more important in the future as the number of reviews increases and the importance of reviews by potential guests for the booking decision becomes more and more important.
In order to generate direct bookings, more technology will be integrated on the website in the future to convert visitors better.
Communication via chatbots will also become standard in the future, as many guests will use voice search to find out about their next holiday and book it.
International providers will establish themselves, but Austrian hoteliers are still fans of "Austrian Made" especially leisure hotels.
---
About ÖHV:
For over 65 years, the Austrian Hotel Association has been at the forefront of the interests of the Austrian hotel industry. As a voluntary and non-partisan representation of interests, it has been successfully campaigning for better framework conditions for the tourism industry in terms of modern entrepreneurship.The Austrian Hotelier's Association comprises around 1,500 leading hotels of all categories from the leisure, corporate and city hotel sectors.
Find out more