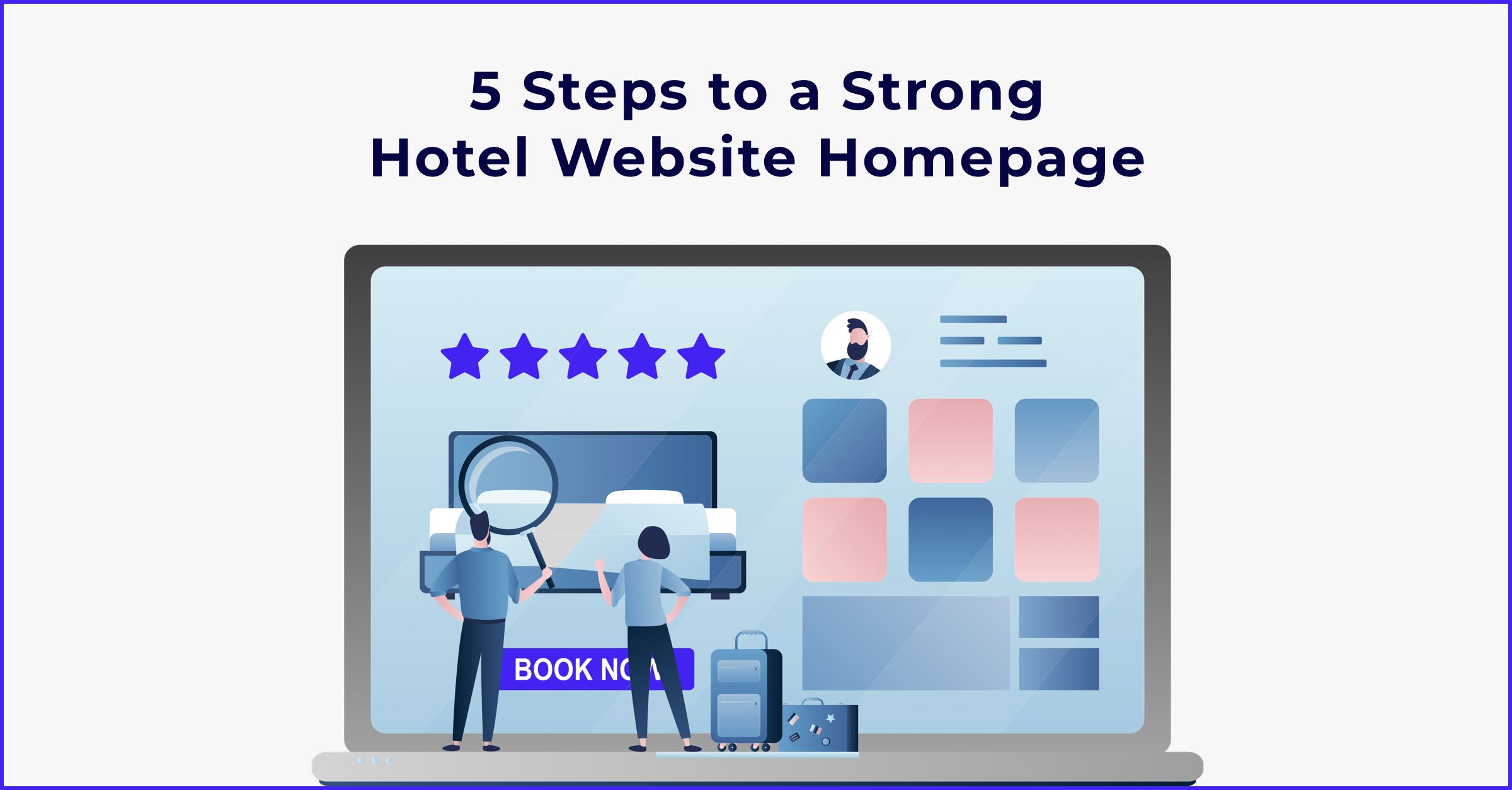 5 easy ways to improve your hotel website's homepage
Feb 09, 2021
- Juliana Hahn
What's the big deal about your homepage? Well, it's the first place most people land when they want to find out more about your hotel. In a way, your homepage is like a poster announcing a new movie release. It's where you get people's attention and pique their curiosity. Below, we'll go over five easy ways you can do that on your website.
Before we get started…
Your website's homepage plays a massive part in your hotel website's overall success. Decide carefully which parts of your property and your offerings you want to showcase there (i.e., who and what you want to put on your poster).
Take your time with this and start at the beginning. First, you need to know who your ideal guest is. Then picture what they would enjoy doing or experiencing most at your property.
Before you add all these things to your homepage, remember every site visitor is on your page because they want or need something. Set up your homepage in a way that helps them quickly find what they're curious about.
Now that we've set this baseline, it's time to start writing.
1. Get people's attention with engaging headlines
Your homepage's leader image and headline give site visitors the first impression of your property and your website.
These elements should highlight your hotel's USP (unique selling point). You get bonus points for addressing your audience's desires because this builds more curiosity about your property. This can give you a leg up on your competition because you're creating a connection with your potential guests early on.
Finally, put a booking engine below or beside your header image. This allows site visitors who want to book or check your rates to do so easily.
2. Write for first-time visitors
Always assume that everyone on your site is browsing it for the first time.
Sure, some may be repeat visitors who already checked out your hotel or stayed with you before. However, most site visitors probably came across your hotel in search results or on an OTA and know little about you.
Here's how you show them they've landed in the right place: Showcase details about your property or services that first-time visitors are most interested in.
Feature your rooms and suites. Outline your room categories and their features so guests get a first idea of your offering. Link to the room description page where more details are available.
Highlight your F&B department. If you have several outlets, add sliding images or columns to introduce your restaurants and bars. Then, insert a link to the respective venue's page or your general F&B page where you share details like opening times and menus.
Describe other offers like meeting venues, your kid's club or tour desk. Provide a brief intro to your key services and link out to the corresponding information pages.
3. Make it easy to navigate your website
The better people can find their way around your website, the higher your chances of getting bookings or inquiries.
Here's how can make navigation easy and address site visitors in all three stages of the booking process right on your homepage.
Research phase: When people start researching their trip, they want to know what you can offer them and what sets you apart. Keep your ideal guest in mind when you decide what to highlight. Do you welcome primarily families with young kids? Then feature your family rooms and child-friendly activities and facilities. If you get a lot of honeymooners, focus on romantic offerings for couples instead.
Rate comparison phase: Before booking, potential guests will check your rates against OTAs and other properties in your area. Avoid confusion by making your rates, inclusions, and direct booking bonuses clear. If they're too difficult to understand, people might book via OTAs or with your competitor instead.
Booking phase: Install a user-friendly booking engine that makes booking a room on your website quick and easy. If this step is too time-consuming or there are tech glitches, you'll lose guests during this final step.
The most important thing to keep in mind: Simple is better. Keep your homepage clean by adding only the most relevant information. Use links to guide your site visitors to your description pages for more details.
4. Create a connection and trust
If you want people to book with you directly, you must build trust and a connection with them.
Here are five ways you can do that right on your homepage:
Showcase guest feedback. Use reviews from TripAdvisor or your customer relationship management (CRM) system. This social proof shows you live up to your promise of delivering a great stay.
Highlight industry awards and association memberships. Did you recently get an award for your sustainability practices or your amazing event organization? Put that on your homepage for the world to see.
Implement a best rate guarantee. It rewards guests for booking via your website and they can be confident they're getting the best deal. Mention this on your homepage and again on your room description/pricing page.
Make it easy to get in touch with you. Your contact information should be easy to find, so guests can reach out. For extra engagement, add a live chat window, so site visitors can get quick answers to their questions.
5. Use calls to action (CTA)
First, you showed what your hotel is all about, offered key information, and created trust and connection. Now, it's time to get site visitors to act.
Here are three you can ask people to take:
Reserve a room: Use a strong CTA to motivate potential guests to book via your website. Sweeten the deal by offering direct booking perks like free airport pick-up or a drink at the bar.
Reach out: Have a contact form or live chat on your website, so it's easy to reach you. A live chat is an especially handy tool for two reasons. First, it allows you to react quickly to questions. Second, once someone has been in touch via chat, they're much more likely to complete their booking.
Signing up for your mailing list: Perhaps now isn't the right time to book for some of your site visitors, but they still like your hotel. Offer an interesting lead magnet to get them to sign up for your mailing list. Then you'll stay at the front of their mind for when the right moment comes.
And that's a wrap for the five easy ways to upgrade your hotel website homepage. Now, it's over to you. Which improvements will you make first?