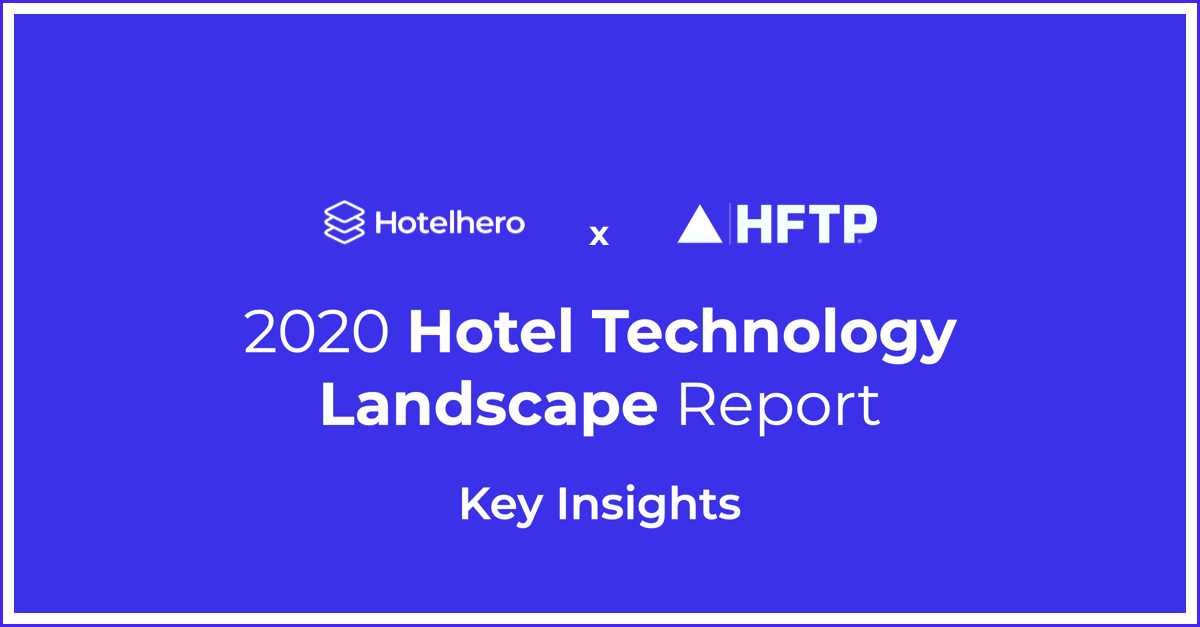 HFTP Hangouts - Hotelhero German Hotel Technology Landscape Report Key Findings
Feb 10, 2021
- Thibault Gence
In this video, Hotelhero is invited to one of HFTP's Hangout sessions to present the key findings from its recently published German Hotel Technology Landscape Report. Florian, our CEO, evokes tech trends and challenges highlighted by more than 15 hotel chain executives as well as best practices from 4 digitally-driven hotel brands: MEININGER HOTELS, Koncept Hotels, Ruby Hotels & H-Hotels.com.
---
Presentation outline:
3 key challenges
Mindset
Available Technology
Budgets
The hotel mindset
Hotels don't consider themselves tech companies
Process automation is rising throughout hotel segments
Hotels need to develop an overall digital strategy
What is missing?

Time & resources
Budgets
Education
The platform economy
Most see the future of hotel tech with an open-platform philosophy with REST API's

To allow more agility
To reduce time-to-market & time-to-implement

Data standardisation & integration is still the biggest hurdle today

The opinions differ if they would prefer an All-in-one or best-of-breed tech-stack
Middleware/data warehouse could be the solution

Breaking the status-quo is a key challenge especially for existing hotel chains

Many of them work with legacy solutions, which have vast functionality, but which are not set-out for a plug & play method
Different database structures and data standardisation is the key problem for most!

New built have it much easier than already existing hotels
Did COVID-19 change anything?
Many hoped that a massive and fast-paced digital transformation across the industry.
Reasons why this did not happen in 2020:

Most employee's were furloughed
No projectable revenues
Money from the state was delayed

There will be an expected digitalisation push in 2021

New generation of hoteliers/investors will be more tech focused
Government funding will be paid out
Less revenue uncertainty
The digital check-in/-out journey
Digitalising the customer journey is the most talked about trend in 2020

With a wide acceptance across segments
Important that the hotel infrastructure can actually handle this journey

New hotel concepts like COSI Group, Koncept Hotels, or Big Mama hotels are benefiting from this crisis

Tech infrastructure and automation of most processes (near staff-less hotels) - 20/40% overhead costs
The long-stay segment played a role

The details & processes are key to fully automate the digital guest journey

All key systems need to be fully integrated (Online payments, digital key, PMS (invoicing, check-in/out, etc.))
The tech/integrations are in most cases still the hindering force (A lot of these processes are still handled manually in the back-of-house)
For a higher adoption, you also need to adapt the processes
Tech adoption in hotel groups
All interviewed groups had a standardised PMS per brand (excl. franchises)
68% of brands working with an RMS

Many with both an RMS and market intelligence tool

Digital check-in has not yet been adopted by most chains
60% of brands work with a CRM
Tech procurement
How are you searching for new systems?

Research & network
Pilot hotels (except PMS, CRM, etc. —> RFP process)

Developing in-house or off-the-shelf?

25% of interviewed groups develop in-house (especially for workflow automation and when high customisation is required)

Is cloud a prerequisite?

More than 20% prefer not having all their systems in the cloud.

Do you work with early stage startups?

Yes, if they have the necessary infrastructure and interfaces (aka. Not really)

What is you typical contract length?
Executives interviewed:
Martin Stegner, CIO at Novum Hospitality
Christian Meissner, Senior Director Distribution Products & Digital Payments at Deutsche Hospitality
Gunnar von Hagen, Corporate Director of Operations & Central Project Management at Lindner Hotels
Marc-Michael Hanemann, Director of Commercial Development at 25hours Hotels
René Halla, Director Global Distribution & Systems at Maritim Hotels
Tobias Köhler, Group Director Systems & Commerce at Ruby GmbH
Angelika Viebahn, Group Director Distribution & Revenue at Althoff Hotels
David-Friedemann Henning, CEO at Big Mama Hotels
Martin Stockburger, founder at Koncept Hotels
Constantin Rehberg, digital expert/consultant (ex-CDO Prizeotel)
Michael Stüring, Head of Central Services at Atlantic hotels
Sebastian Lindner, Senior Revenue & Distribution Manager at Meininger Hotels
Klaas‑Jan Meijer​, Head of eBusiness at B&B Hotels GmbH
Gerd-Martin Linke, Director of Revenue & Sales at Centro Hotels
Andreas Von Reitzenstein, Chief Commercial Officer at H-Hotels.com