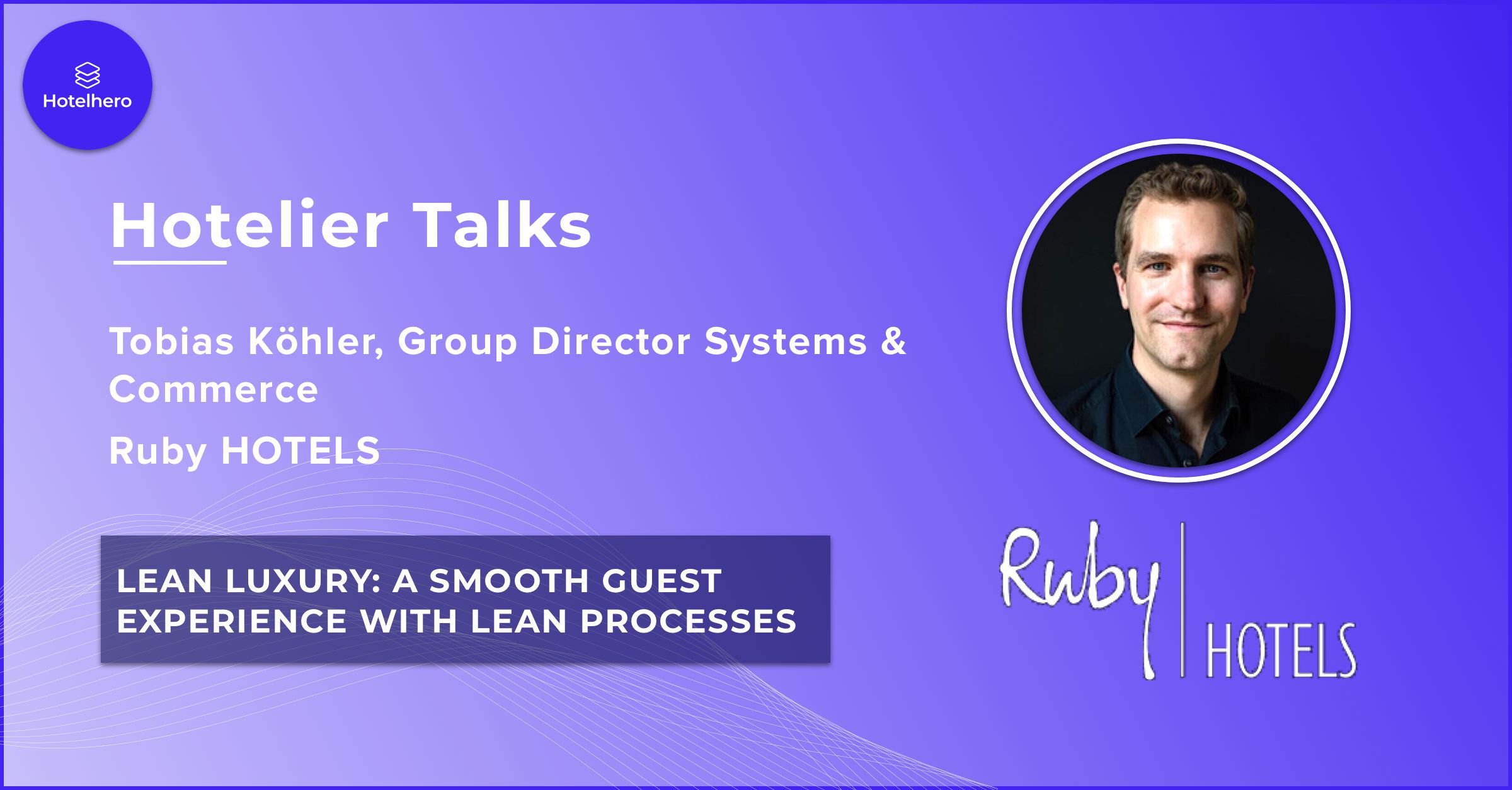 Ruby HOTELS - Lean Luxury: A smooth guest experience with lean processes
Feb 11, 2021
- Florian Montag
As part of the German Technology Landscape 2020 report, we had the opportunity to talk with Tobias Köhler, Group Director Systems & Commerce at Ruby HOTELS which creates a contemporary, affordable form of luxury for modern, cost and style-conscious customers. In this interview, Tobias opens up on Ruby HOTELS' digital strategy, the group's unique approach to sourcing or building technology, and more.
You can listen to the interview in full by clicking on the video (only available in German), or you can read the most important questions below.
INTRODUCTION TO THE BRAND
What makes Ruby HOTELS special?
The Munich-based Ruby Group under the leadership of founder and CEO Michael Struck is breaking new ground with its Lean Luxury philosophy. With a lean organisational structure and concentration on the essentials, Ruby succeeds in creating a contemporary, affordable form of luxury for modern, cost and style-conscious customers.
What role does digital play in your company's philosophy?
We run things differently from conventional hotels, constantly looking for ways to save our guests money and time. We've questioned every process and every one of the usual organisational structures. Digital services throughout the entire Guest Journey, be it the simple booking via our website or the digital self-check-in process up to the automated sending of invoices via email, help us in this approach. We have centralised and automated almost all tasks that have nothing to do with our guest experience - administration, marketing, control tasks - and thus locally put the focus back on the essentials - the people. At the same time, we are more efficient and have better control and reliable quality. We organise ourselves with the help of both our own technical solutions and e-commerce solutions or hotel specific software.
THE TECH STACK
What does your Tech Stack look like?
We control all hotels centrally and use a standardised tech stack. We test new solutions in one hotel or another, which we then roll out to the other hotels after successful trial runs.
Ruby HOTELS' Technology Stack
System inventory:
What is the central component of your tech stack?
The central component of our tech stack is currently the Property Management System (PMS).
What tech projects are you currently working on?
We are currently working on several optimisations that would go beyond this scope. Our main focus is on the smooth guest experience and automation in the background, as well as the associated cost and time savings for our customers and us.
TECH PROCUREMENT
How do you search & select new systems? (Is it more a long RFP or trial & error with a pilot hotel)?
In procurement, a lot has to do with assumptions that, for example, a process or an entire corporate field of action could function better, more efficiently or, for instance, save resources by means of a specific system. This has to be checked and continuously discussed by working closely with the respective end user in procurement from the very beginning. As an intermediate step, a specification sheet is often drawn up here, which defines a certain starting point on the basis of which the various suppliers can be assessed for fit.
The situation is somewhat different for projects that promise an innovative 'leap' or that may be just opening up a business area. Here, the basic assumptions must be checked in a test. To do this, a pilot project is discussed with in-house stakeholders and the provider for a certain period of time, on the basis of which the promises are checked and classified.
.
Do you build some of your tech in-house or do your buy off the shelf?
At Ruby we have a two-pronged approach, developing our own solutions as well as buying 'off-the-shelf' and tailoring these systems into our system landscape with 'in-house' developments to enable the best possible working methods and data processing.
Do you have specific prerequisites when you are buying new tech (cloud, interfaces, data security)?
We have defined principles that guide us when selecting new systems. For example, cloud, Open API, and data security are important to us among others that we cannot disclose here.
Do you have contractual minimum criteria for things like duration and payment method?
When we commit to a partner, we like to go for long-term relationships and we see this as the foundation of a successful partnership. Contractual conditions that correspond to our concept and enable agility play an important role for us.
You just changed PMS throughout the chain, how did you choose your new PMS?
We had the challenge that our PMS (Hetras) was bought by Shiji around 3 years ago and we were informed that they would stop further developments of the solution. So we had to start the reasearch for a new alternative. It is amazing how many great solutions exist on the market today, but we did not find any PMS which really fit our requirements. Until, Shiji reached out and informed us that they were building a new Enterprise PMS (Shiji Enterprise Platform) in stealth mode. Under a very strict NDA we started working with them on developing this PMS and we are one of their first pilot customers.
Why did you choose a new PMS which was not on the market yet?
The great thing about the system is that it focuses on automation and centralisation which is very much in-line with our company set-up. The system is set-out for large enterprise customers and we believe it will support us throughout the growth of Ruby, especially when setting-up new hotels. Furthermore, as we are one of the first customers and our vision of the ideal PMS are very similar, a lot of our feedback was taken to heart.
What about data security? Chinese companies and data management do not necessarily have the best reputation.
This was definitely an important topic during our selection and we made a thorough due diligence to make sure that the data will be secured and correctly handled. However, the PMS was actually mainly developed in Europe and data security was a top priority. They also have a great consent management for the guests to manage their data.