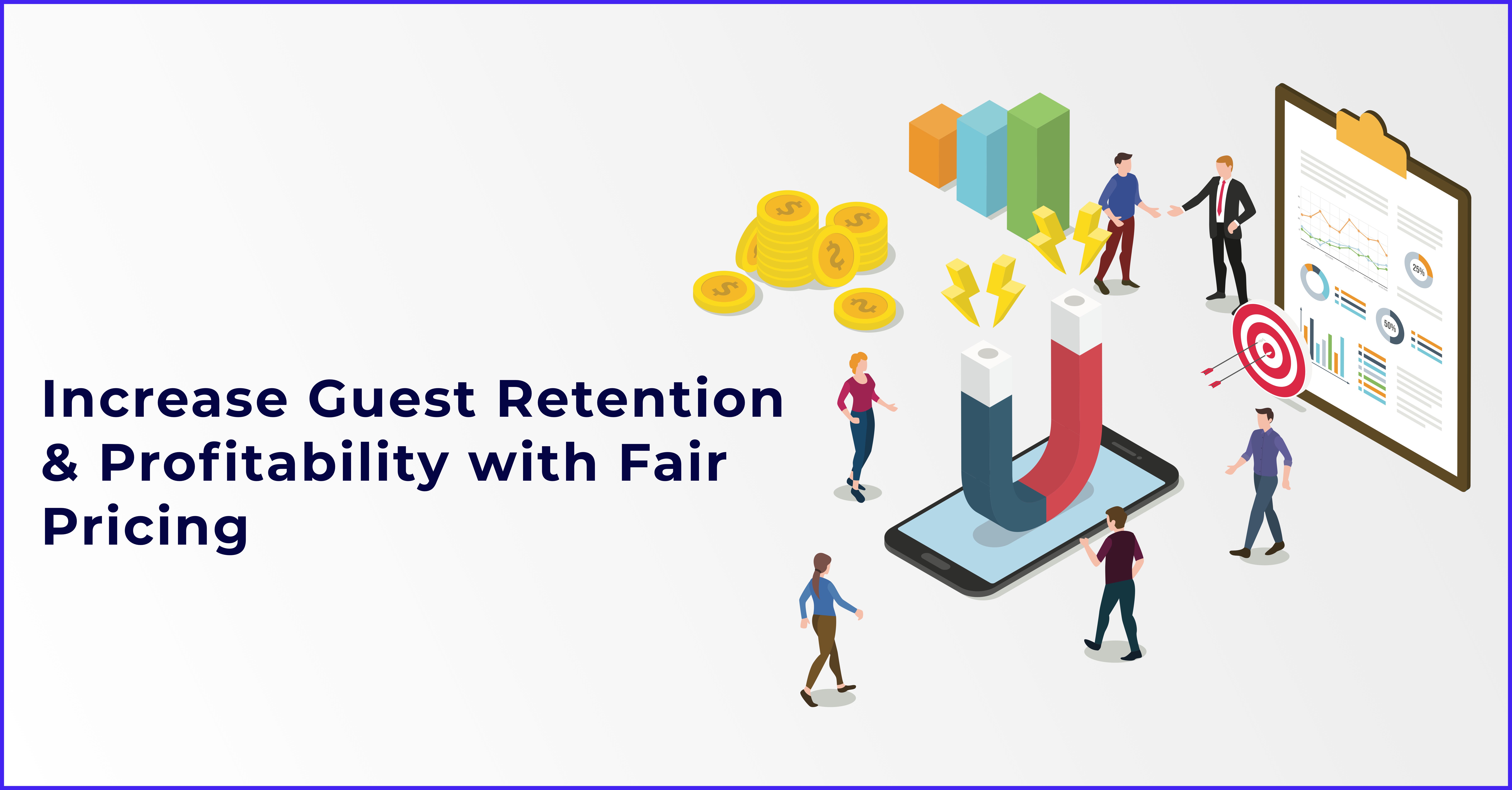 Increase guest retention and profitability with fair pricing
Feb 17, 2021
- Jannik Heitmüller
Have you ever thought that the pricing decisions you make may be the first step to a profitable guest retention strategy?
While the Revenue Management technology is more and more sophisticated, every step has always been focused on optimizing the RevPAR, by predicting demand and making sure you get the highest revenue possible. Segmentation, sales restrictions, group quoting, and other tactics combine to offer a traditional global strategy in Revenue Management to reach that goal.
However, RevPAR optimization is not the end, and we encourage you to go one step further and have a look at the bigger picture. Can we achieve higher targets from a Revenue Management perspective? We wonder if a holistic approach in Revenue Management can help improve the relationship between customer acquisition costs and guest retention.
Developing hotels and hotel groups need to build a strong base of repeat guests to reduce acquisition costs and increase customer lifetime value. If they are able to create such a strategy, they will successfully position themselves within their competitive set and improve their market share, which will finally lead to better revenue generation.
New challenges require different solutions
The global crisis generated by the pandemic is confronting us with new challenges that test our ability to adapt to an unstable environment for the hotel sector.
Firstly, in a market dominated by uncertainty and unpredictability, processes must be adapted with agile methodologies that allow us to react immediately to changes in demand. Rate flexibility and the design of strategies that are easily adaptable to different situations will be key to success.
In the current situation, we must review our positioning within the market offer, with an in-depth competitive analysis that not only takes into account pricing strategies but also incorporates a qualitative analysis of each property and allows us to identify what customers are willing to pay according to their expectations of quality.
As we all know, market demand is developing slowly at the moment. We need to focus our strategies on increasing market share, attracting customers from all segments, and improving guest retention. Customer loyalty is determined by factors such as the quality of the rooms, the service offered, cleanliness, brand image, and other aspects that help the customer get an idea of what to expect from their experience at the hotel. However, the most important factor is the perception that they are getting a service at a fair price. By focusing our decisions on price fairness, we will attract a greater number of satisfied customers who will repeat the experience and speak well of us.
What is Fair pricing and how does it affect customer loyalty?
In Revenue Management we always have to consider the willingness to pay of each market segment. Our pricing decisions must be aligned with this concept. Setting a fair price means identifying the balance between business success and customer satisfaction and loyalty, which are keys to revenue optimization.
Fair pricing is often misunderstood as underselling or undercutting the competition. On the contrary, it is about adapting the value of the product or service to the quality perception of each customer segment. It is a must to generate trust among customers: be honest about your pricing policies and communicate your product values correctly. Make sure you manage customer expectations and price accordingly, focusing on what the customer is willing to pay.
When deciding which hotel to stay at, guests use multiple sources of information and during the purchasing process, they form an idea about the quality of the property. This concept of quality is not exclusively given by price but includes a comparison with alternative offers (competitors), opinions of other users (reputation or subjective quality), and the hotel's own services and facilities (objective quality).
Therefore, there are many factors that make up the quality idea that a customer gets about the hotel, and this will also generate a price expectation. The relationship between this expectation, the price actually paid and the experience during the stay is what will generate the idea of fair or unfair price. This influences the customer's satisfaction and their decision to repeat the stay and become a loyal customer.
Today's technology has the challenge to identify and quantify these factors to have useful information to work with and make proper decisions.
The Hotel Quality Index (HQI™) is a score that measures the objective and subjective quality of every hotel in the market and positions them in relation to the sales price, also calculating a probability of sales within a competitive set. The objective is to identify the willingness to pay that each segment has for a particular level of quality. Pricing fairly will help attract demand, boost your sales probability and make your guests come back.
Can an RMS do more than demand forecasting and pricing for a better RevPAR?
Most of the Revenue Management Systems have enough data points to make pricing recommendations for improving RevPAR as much as possible. But there is a possibility to include additional data points, such as overall quality scores compared to competitors so that the algorithm can make a broader proposal to the hotel company.
Currently, the situation produced by the COVID-19 pandemic is a challenge for the hospitality sector and for Revenue Management systems. Only by taking into account additional data points such as objective and subjective quality and then putting them in relation to competitors' prices, will the algorithm be able to broaden the value proposition of an RMS and make the tool useful for all departments of the company, by being able to optimize Revenue Management's operational processes to centralize information, and enable a data-driven decision-making process.
An RMS can do more for a hotel. Access to new data sources allows adaptation to the new macroeconomic environment, giving importance to market data to quantify the number of potential guests and to attract them through appropriate pricing strategies. In addition, Beonprice RMS, through its HQI™, takes into account customer behavior data to help the hotelier be more Customer-Centric and identify their most profitable customer. This way of working can contribute to increasing the hotel's brand loyalty by using a system that recommends pricing strategies that tend to match the guest's quality expectations.