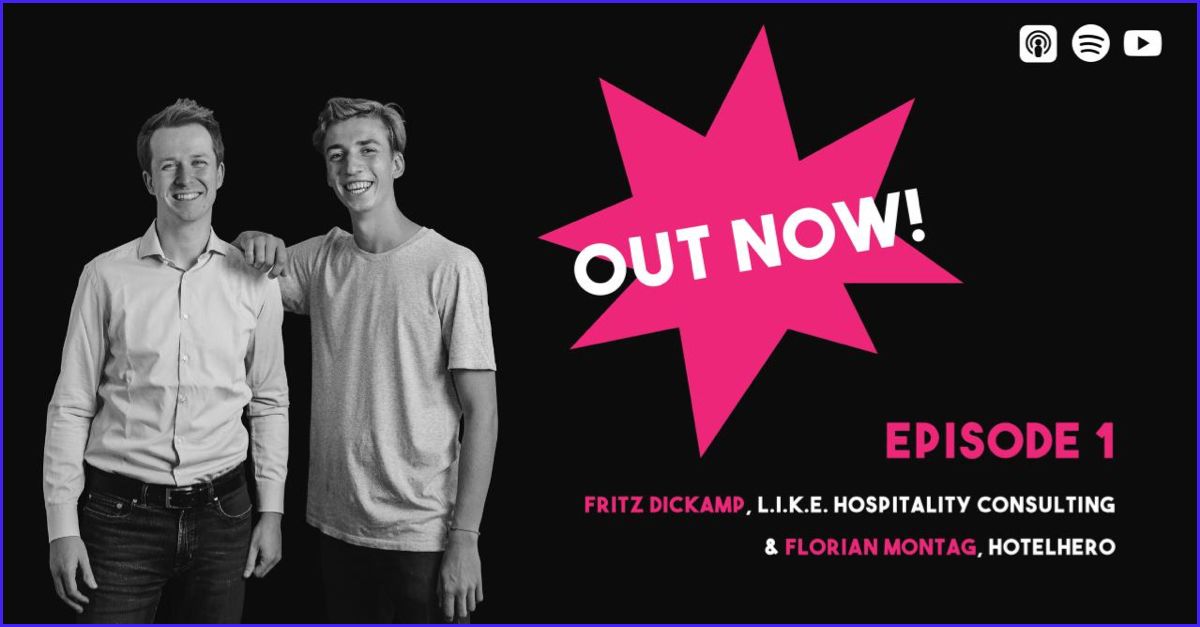 SMACK #1 - Getting started in hospitality with Florian Montag & Fritz Dickamp
Sep 05, 2019
- Florian Montag
This week, our CEO, Florian, joins Fritz Dickamp, L.I.K.E. Hospitality Consulting's founder on the first episode of Smack Hospitality Media.
They talk about the challenges of starting a business in our wonderful industry right out of Ecole hôtelière de Lausanne, the start-up scene and the idea behind SMACK. Enjoy the show and see you next week for a new episode with an exciting first guest 🤔🔥
---
Topics of today's episode:
The start of Hotelhero (6:00)

The importance of having a mentor (20:30)

The start of L.I.K.E Consulting (24:50)

The story behind Smack Hospitality Podcast (38:38)
---
In today's episode, Fritz and Florian introduce themselves, speak about their companies, how they started and why, mention the importance of a good mentor and explain the idea and story behind the Smack Hospitality Podcast.
Starting Hotelhero
Hotelhero's CEO Florian explains how Hotelhero started, the idea behind it and what problem they wanted to solve with this online platform. While his co-founders and himself were on internship during their studies, they realized that finding the best software for a hotel is complicated and time-consuming. Options on the market are numerous and hoteliers often don't know where to start. That is why Florian, Thibault and Julien wanted to create an online platform to simplify hoteliers' lives and make software discovery smarter and faster. While still at the Ecole Hôtelière de Lausanne, they reached out to their now mentor Ian Millar, who told them to "dig deeper into it." The trio realized that the need for a central, simple platform was definitely present and that they needed to evaluate how they would move forward with their project.
After graduating, they looked for an international city to found their company and the vibe and international character of Berlin won them over. They originally started with a consulting approach and got their first clients that way. In 2018, they participated in the Metro Techstars Accelerator and realized they had to make a choice: either be a consulting company or an online platform. After a few sleepless nights, they made the decision to focus on their online platform, rather than on their consulting services. Today, the platform created by Hotelhero aims to help hoteliers discover, buy and manage their technology solutions in one central place.
Technology in the hospitality industry
Talking about technology and why a platform like Hotelhero is essential to help hoteliers find the best tech solutions, Florian says: "I consider myself much more of a translator. Translating the tech language, translating what is out there as tech, and bringing that into the hotelier language, translating that into their business." Generation Y might be tech-savvy, but most hotel managers have been around the block for a long time and have trouble following new technology trends. While over 80% of hotels agree that technology and digital are becoming a key factor in hotels, only about 25% of them feel like they are well-positioned and ready for the challenge. Hotelhero was created to help these hotels catch up and improve.
The importance of a good mentor
Both Fritz and Florian have benefited from the valuable help of mentors during their beginnings and underline the importance of having a good mentor: "A mentor is somebody you trust, somebody who has more knowledge and expertise in your area than yourself because you are young entrepreneurs. Often you have a lot of drive and vision, but you don't have a lot of knowledge."
Starting L.I.K.E Consulting
As Fritz was finishing his bachelor in hospitality management, he realized that even though technology and digitalization were starting to be implemented in the hospitality industry, very few people knew how to make good use of it or how to position themselves online. Back in 2014, having a good website was pretty much the only thing professionals from the industry thought was necessary when it came to online presence. Fritz and his friend decided to found a consulting company to help the hospitality industry in their digitalization process. Fritz' co-founder Robin came up with the name L.I.K.E, which stands for Leadership Innovation Knowledge Exchange. They first focused on hotel websites and helped hoteliers have good-looking, fast and effective websites. They then moved on to social media to help develop hotels' online presence and brand awareness. They now have a complete digital marketing portfolio.
Fritz also mentions the importance of finding the right people to work with. "It's very important to have someone by your side, not only a mentor but also someone to start the company with, because if you don't have anyone that challenges you and destroys you early on, destroying in a positive way, you're gonna think you're the greatest and it's going to be very difficult to come back from that."
The journey of L.I.K.E Consulting
According to Fritz, one of the main factors in his company's success is luck. You also need to find people that believe in your project right when you start, he adds. Hartmut Schröder, past CEO of the German hotel chain Flemming Hotels, was the first person to believe in their work and mandated them for his chain, Fritz recalls. "I think you need people like that, who believe in you at an early stage, which again I guess is in one way or another luck."
In 2018, L.I.K.E Consulting won a German Brand Award in the category Brand Activation Social Media, for their project with DEHOGA Berlin. They created a Whatsapp channel to enable DEHOGA to interact with users in a modern, digital way. That award gave them extra motivation to move forward and helped them increase their credibility.
Florian, also recalling the early stage of his start-up, adds: "You need to hang in there, you need to be opened to criticism, and you need to be able to adapt to new data you receive."
The story behind Smack Hospitality Media
Finally, the two of them share the idea and story behind Smack Hospitality Media: "We have so many funny people and knowledgeable men and women that I'm sure would like to share their stories." Networking is vital in the hospitality industry. Professionals meet at events and talk about their experiences, share anecdotes, etc. Fritz wanted to create an online platform where people could come together and have a casual, honest chat, just like at a networking event. No fuss, just fun.
---