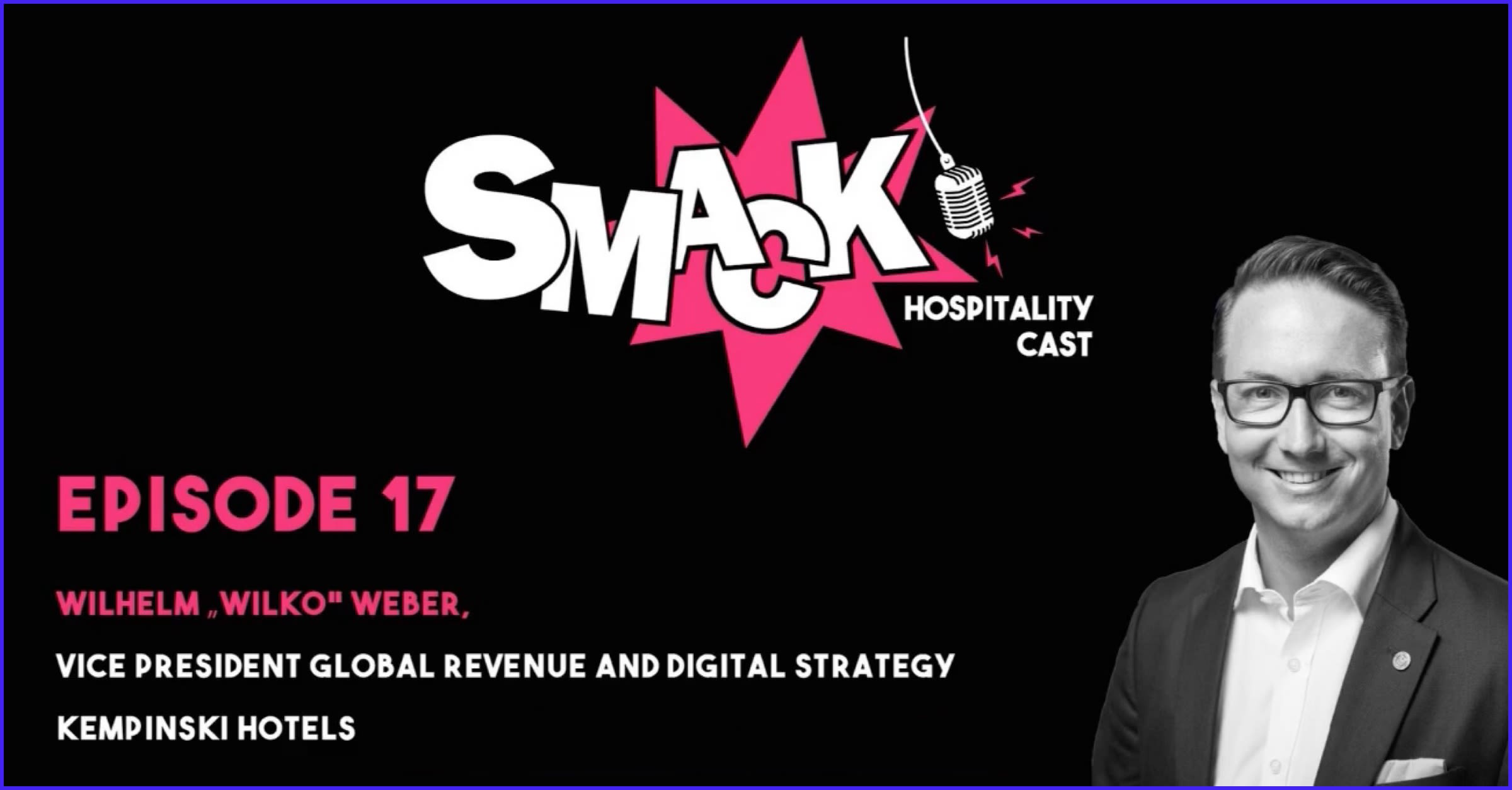 SMACK #17 - Pricing & E-Commerce for luxury hotels with Wilhelm "Wilko" Weber (Kempinski Hotels)
Jul 09, 2020
- Florian Montag
This week, Fritz and Florian discussed with Wilhelm Weber, Vice President of Global Revenue and Digital Strategy at Kempinski Hotels. After a first failed recording, they met with him again to discover what Kempinski has learned from the Covid-19 pandemic in terms of pricing, growing their e-commerce and teamwork across departments. They also chatted about lighter topics, like who the best dressed employee is at Kempinski.
---
Today's episode's topics
Shifting to home office as a global company (1:40)
Their revenue strategy during the pandemic (11:50)
Opening back up (26:15)
OTAs and their future (37:20)
E-commerce & online marketing (43:05)
A new perception of luxury & digitalization (48:50)
---
This week, Fritz and Florian discussed with Wilhelm "Wilko" Weber, Vice President Global Revenue and Digital Strategy at Kempinksi.
Shifting to home office as a global company
It took Kempinski about two weeks to change their habits and start working from home globally. Wilko kindingly explains how their dress code shifted from luxury chain to small start up. Currently, a lot of people still work from home. He recalls, his boss, Amanda, has been the best dressed during the confinement and admits he was probably the worst dressed.
The positive outcome according to Wilko was that working from home that enhanced the idea of teamwork, because no matter where in the world, they were all in the same position.
And on a more personal note, it was the first time in ten years that he could be home for breakfast and dinner with his kids.
His team was already well equipped because they were used to work on the go. At the beginning of the lockdown, some of his coworkers really wanted to prove that they were working and therefore did a lot of video calls. After a few weeks, they found a balance and everything was smoother again. They organise a monthly global call with about 300 people and then weekly calls with smaller teams to discuss projects. Wilko also explains how some departments had more work than others. For example, the revenue department had a lot of work whereas the event department had less, and they helped each other out. That increased their team spirit, because as Wilko says, when you start helping someone else out, you realise how hard their job is and you then respect them even more. On a global scale, teams bonded more than ever!
Their revenue strategy during the pandemic
According to Wilko, this pandemic cannot be compared to other crises, as this situation was and still is so unprecedented. No one in his team thought that governments would go under lockdown as much as they did. His team and him couldn't even copy what their chinese team had done, since the situation was different everywhere. Forecasting was not an option anymore and teams had to find a new way to work. Models with past data and assumptions just became meaningless. "We went from proactive to reactive." They had to shift from being efficient with planning to being efficient by acting fast. They identified 5 drivers impacting their business and are keeping an eye on them to act fast when these change so they can maintain a competitive advantage. Their competitive advantage does not rely on their good forecasting anymore, but rather on their fast reactions. Kempinski has proven to be one the most fast moving luxury companies, as one of the first big brand to address health and safety measures and flexibility on cancellation policies.
After the lockdown started, Wilko's team had to establish a new way to work. According to him, the new booking curve now looks like a Nike logo. They went from 100% occupancy to 0% very fast, but the other way around is going to take much longer. A V shape or a U shape would have been better for the economy, as obviously a slow recovery isn't helping as much. However, Wilko reminds that it is beyond our control and that we can't do much about it. What they did however, was shape a new four-phase model approach named "Kempinski road to recovery". Phase number 1 is focused on domestic travel, phase 2 will start when corporate travel starts picking up. The speed of recovery for MICE & events will be very different to individual travel. With this four-phase model, they can mostly focus on the current phase and start planning for the upcoming one. This model represents a common alignment for Kempinski globally and has proven to be very useful.
According to Wilko, all segments will eventually come back. The hospitality industry has bounced back after other crises and will be able to do so again, only the speed and intensity will change. Transient will obviously come back before groups and MICE, but Wilko strongly believes that MICE business eventually will pick up as well. In his opinion, digital meetings won't entirely replace all meetings.
Opening back up
For Wilko, opening back up is sometimes a bit scary because people think the situation is all good again and forget what happened and why we went under lockdown in the first place. Regarding new governments standards, Wilko explains that Kempinski already had very high hygiene standards anyways. Moreover, they introduced a new "white glove service" to demonstrate their new hygiene standards while still focusing on offering a luxury experience. For years, within the luxury sector, white gloves were commonly used. They decided to introduce this concept again to prove the hotel's cleanliness. They also wanted to incorporate elegance into new standards. According to Wilko, the DACH market should have a great summer season with a lot of leisure guests, as locals will travel within their own country a lot more. For Kempinski for example, they've never had a higher demand for their parking. Guests now would rather travel with their own car and want to be able to park it at the hotel. He would recommend hotels to increase their rates on parking and rooms as demand increases. According to him, dropping rates right now is irresponsible. Of course some markets are more desperate than others and try to remain competitive, but decreasing rates isn't the right answer. "It's destroying 2021 and beyond." If every hotel around you is decreasing the rates, of course you don't really have a choice and you'll need to lower your rates as well, to remain competitive, he explains but this tactic overall does not make sense to him. "People who act wrong will go out of business over time and the only thing we can hope for, is that they go out of business [soon] so they don't destroy the good ones." Kempinski is a market leader in many of its locations and are holding the rate, so they have a big responsibility. Compared to past crises, rates are currently definitely more stable. Within the luxury sector, there has been a lot more discipline and rates have not dropped so much, he recalls.
OTAs and their future
OTAs can't exist without hotels and hotels would lose many bookings without OTAs. We're all on the same boat and now is not a time to fight each other, but rather help each other out, explains Wilko. His team and him have had really great discussions with big OTAs. With new players in the market, it has been a bit more tricky. Of course your room won't be cleaner if you book directly on the hotel's website, but you will certainly find all the important information on the website directly. OTAs are asking for more information about hygiene and safety measures and Kempinski debated whether or not to give all this new information to these third party websites. If OTAs don't have this information, it could increase direct bookings, Wilko explains. Eventually, they decided to share all this information for the guest's best interest. In markets where the demand is low and supply is high, OTAs will win, like they did even before the pandemic. In markets with an increased demand and a shortage of supply, he thinks direct bookings will win, because hotels will limit the inventory on OTAs.
E-commerce & online marketing
Online marketing was temporarily put on hold. Now they are mostly posting photos of people cleaning to reassure guests. They've also been working on adwords a lot. "Social media is big and will be even bigger after crisis." People have a lot of time and spend more time on social media now. Kempinski's goal on social media is to inspire, communication and generate transactions. Their revenue through voucher has increased significantly compared to what it represented before. They also implemented some new tools, both digital and social media focused and on premise. For example, trying to offer a more contactless journey, now that guests want to avoid physical contact due to contamination risks. "We are trying to go through all the processes that we have and and see where [it could be possible to delegate some of them to an app], without diluting the service level." Online check-in has been on offer for a while, even though not everywhere, but people before covid still preferred to go to the reception. This will most likely change now.
A new perception of luxury & digitalization
Due to new guest preferences, the perception of luxury will certainly change. The way luxury hotels do things will change, but it won't mean that less employees will be taking care of guests; the way they deliver the service will change. Wilko states that these past days have been good for luxury players, because luxury properties are bigger and have more space to enable people to maintain social distances. Hygiene costs were already high in the luxury sectors, so it does not make that much of a difference. The low cost sector is going to experience higher housekeeping costs and that will be rough on them. "In luxury hotels there is more space, there are higher ceilings, there is better air conditioning, there is more cleaning, there is more hygiene." It will therefore probably be easier for the luxury sector to bounce back after the pandemic.
According to Wilko, covid-19 has certainly been an accelerator for digitalization within the hospitality industry. At Kempinski, they are moving towards smaller players with better personalisation and interconnectivity. Back in the days when Wilko started, direct dial in-room telephones and paid TV were the greatest things. Nowadays, with cell phones and streaming platforms, they have become obsolete. What guests want right now is to connect their own device to the room's TV. Interconnectivity for him is the future. The way we've traveled before was not particularly healthy, for us and for the planet, he states. Cheap mass travel will be highly impacted and perhaps for the better. People won't be able to do as many long-haul travels anymore. People will probably take advantage of digital tools to replace all the trips they might have done before. Some people might pick a VR set now to replace a weekend away.
The last three questions
My favorite thing about hospitality is : traveling, meeting people and discovering new cultures.
The last place I traveled to for leisure was : Istanbul. The most memorable thing about that trip was jogging in the morning as the sun was rising, by the Kempinski property, looking at the view around.
In my opinion, the next big thing in hospitality will be : a hotel platform that enables you to entirely personalise your trip, like never before.