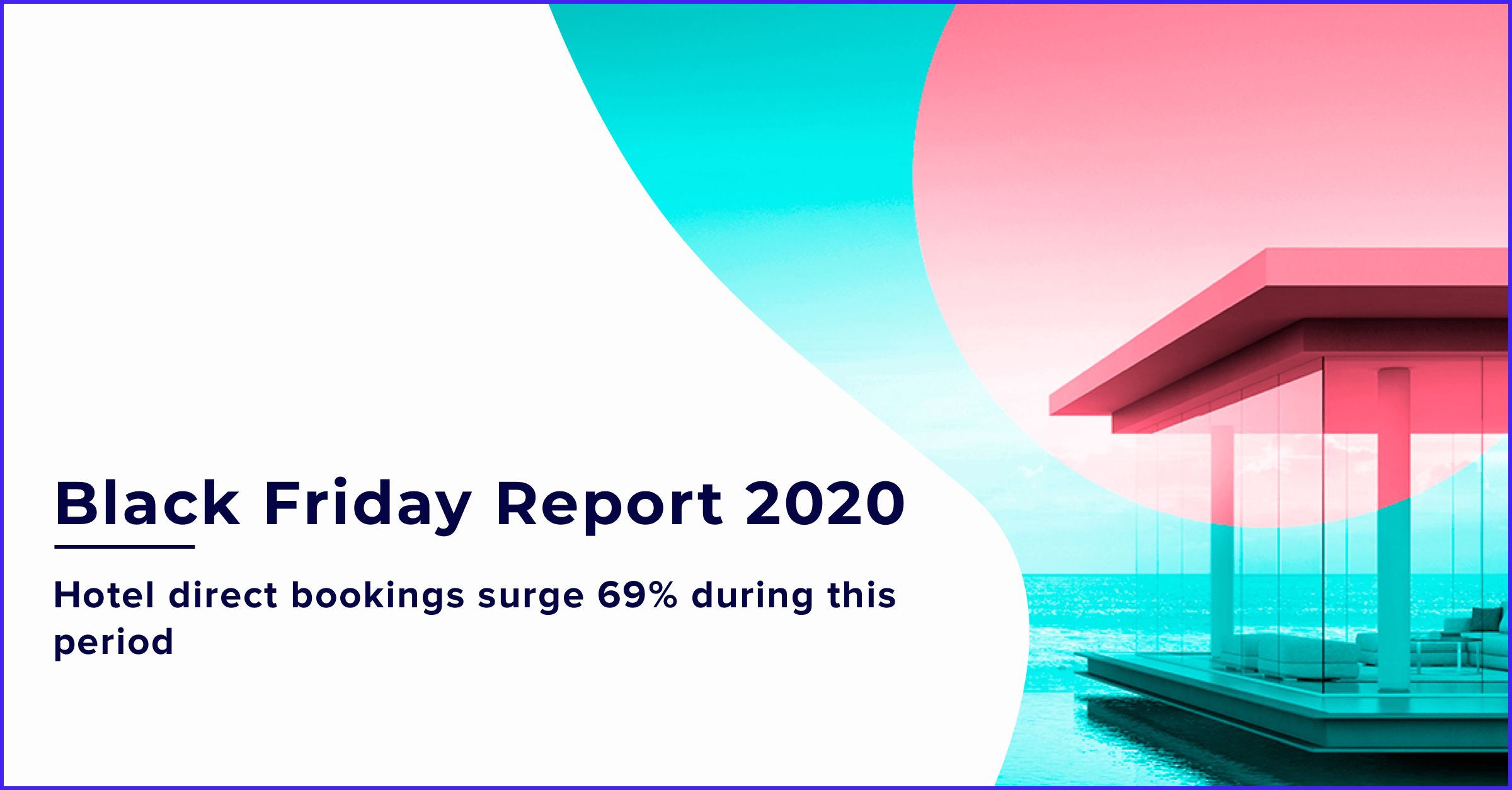 Black Friday Report 2020: Hotel direct bookings surge 69% during this period
Jan 07, 2020
- Julia Pedrol
The hotelier Black Friday – a much anticipated time for any hotel. Within these dates, hotel visitors plan on witnessing discounted rates, hotel exclusive add-ons, and much more. Notwithstanding today's unprecedented time, this year's Black Friday has been no exception.
Black Friday 2020 has boosted the direct bookings of hoteliers and has shown that even in our current circumstance, working around special dates for hotel marketing is as important as ever.
REPORT METHODOLOGY
We at The Hotels Network (THN) have taken a close view at the numbers of our hotel clients to witness how this key date has improved their results, and what strategies they've implemented to enhance the efficacy of their campaigns or initiatives.
With over 470 of our global hotel clients conducting Black Friday campaigns, we've compared their findings, dating from November 15th – 30th 2020, to the previous month of October with the same day range.
To make the most out of our research, we segmented our analysis into three separate sections:
Black Friday-committed campaign creators
Witnesses of website traffic increase
Hotels that did not witness website traffic increase
REPORT STATS
To conduct the report, the following metrics have been analyzed:
Hotel Website Traffic
Hotel Website Conversion
Direct Bookings
Revenue
---
Black Friday-dedicated Campaign Creators: effect on THN's hotel clients who ran a dedicated Black Friday campaign
Within the Black Friday time frame, we witnessed a 19% boost in the amount of visitors browsing the hotel booking engine of our clients who ran dedicated campaigns. This encouraging metric specifies that potential guests are still planning for visits to hotels even during today's challenging industry times.
In accordance, while a few hotels saw traffic increase possibly due to paid or organic promos, when observing worldwide website traffic metrics we witnessed a 2% decrease. Following this, we'll inspect the metrics of both groups separately and determine the difference in effectiveness.
Taking into consideration that a 20% booking engine traffic increase was evident despite the slight decrease in website visits, this indicates that hotels using THN's platform were able to promote their Black Friday initiatives within their sites, attract their potential guests and guide them further to securing a direct booking.
The jump in booking engine traffic additionally interpreted a strong growth in the conversion rates of hotels, highlighting an imposing median growth of 73%.
This metric highlights that hotels are becoming increasingly savvy when creating resonant and alluring offers to their visitors and in website promotion. During these dates, it's paramount to know that potential guests will feel the need to book more impulsively, as they want to make sure they don't miss these special deals.
A re-occurring worry about flash sales is that of breaking into margins when cutting down rates. For our clients, this posed no problem at all. THN clients saw a direct booking increase of 69% and a parallel revenue increase of 125% when creating special campaigns hosted around Black Friday.
These well-created Black Friday deals not only increased direct booking metrics, but also the ABV (Average Booking Value) of the hotel properties. Within our hotel clients, we've witnessed them offer special Black Friday bundles of all shapes and sizes, from exclusive amenities to enhanced room experiences and more. Engaging in experimented strategies have allowed hotels to attract the attention of potential guests and urge them towards spending a bit more in having the ability to receive these alluring deals.
Witnesses of Website Traffic Increase: effect on THN's hotel clients who ran a dedicated Black Friday campaign and experienced an increase in website traffic
The impact of dedicated Black Friday campaigns is even more pronounced when we look at the results of the group of hotel clients (270+hotels worldwide ) who experienced an increase in website traffic during this period. These hotels observed a growth of 40% in website traffic, which suggests they invested time and resources into driving traffic to the website through organic and/or paid campaigns.
This set of hotels also enjoyed a significant increase in the number of visitors browsing on the booking engine; a 71% growth compared to the previous period. Taking the numbers into consideration, we can say that these hoteliers were not only able to drive qualified traffic to their websites but also to create and communicate appealing Black Friday deals, helping to drive users down the booking funnel.
Properties who experienced a peak in traffic during Black Friday also saw a greater boost in website conversions, with an increase in conversions of 104% compared to the previous period.
These numbers not only reaffirm our assumption that hoteliers were successfully driving qualified traffic towards their sites but also that they were offering visitors the deals they were looking for. Effectively promoting their appealing Black Friday offers across the site enabled these hotels to engage visitors and generate a peak in direct reservations.
Once again, THN clients falling under this category saw a significant increase in both direct bookings and revenue. Their direct bookings grew by 186% while revenue increased by 206%.
This substantial rise indicates that the packages and deals that hoteliers built around Black Friday were appealing enough to urge potential guests towards a reservation without worrying about spending a little extra, as this gave them an extra night, room upgrade, or a little treat.
Hotels that did not Witness Website Traffic Increase: the impact on THN's hotel clients who ran a dedicated Black Friday campaign but didn't experience an increase in website traffic
For this part of the analysis, we looked at the performance of those properties that didn't see an increase in website traffic during the Black Friday period, a group of more than 200 hotel clients worldwide. We can assume that they didn't run campaigns to drive additional traffic to their website or perhaps in some cases, a drop in website traffic could have been due to the second wave of the pandemic hitting hard at that time in their markets.
Despite there being no increase in website visitors, it's interesting to see the positive effect Black Friday campaigns had on bookings. These hotels experienced a remarkable jump of 47% in hotel website conversion.
With these results, the hotels undoubtedly proved that they were able to craft well-designed and appealing offers to reach out to their potential guests. By effectively promoting these offers throughout their website, they were able to capitalize on any traffic they did receive and significantly boost website conversion.
By promoting Black Friday offers on their website, these hotels were able to counterbalance the sometimes-significant fall in website traffic they experienced and even increased slightly the number of direct bookings. Even more remarkable was that they were able to boost revenue by an impressive 58% during the Black Friday period.
Once again, this reaffirms that hoteliers properly assembled Black Friday packages that matched with their visitors' expectations and desires, nudging them towards a booking without thinking twice about the extra costs, as these offers involved special treats and deals.
REPORT CONCLUSIONS
Notwithstanding today's difficult context for hospitality, Black Friday's prowess in generating opportunity has still yet to wane.
With this fluctuating time at our doorsteps, we believe that it's now more imperative than ever to continue creating initiatives around these types of key dates. Whether it be Christmas, Thanksgiving, or Valentine's Day, special occasions are always first-rate opportunities for you to grow your direct bookings. Be sure to enhance your direct channel approach by devising opportune, resonant, and personalized campaigns, and boost those website conversions!