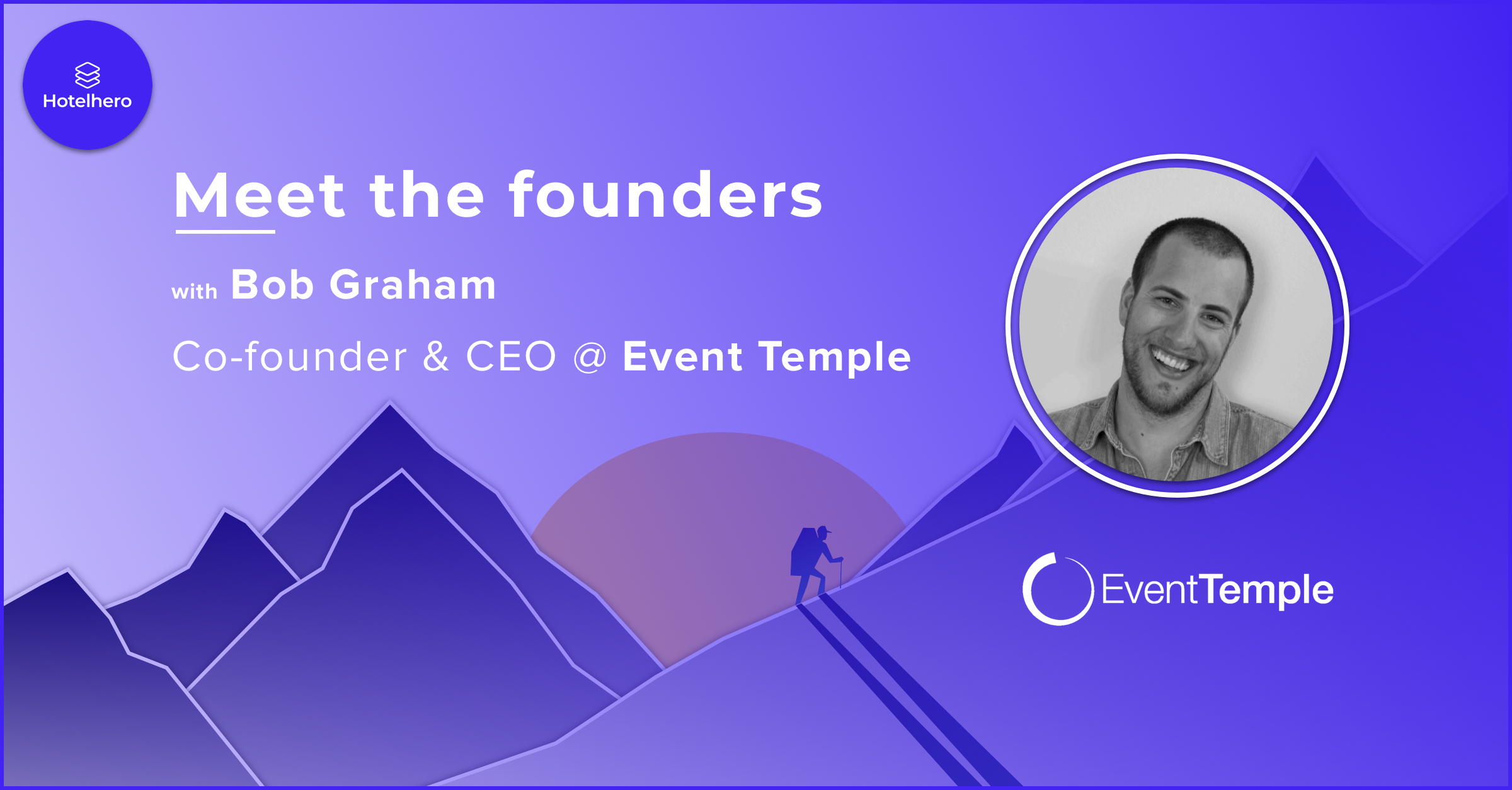 Building modern sales & catering software for venues around the world, meet Bob Graham
By Thibault Gence
January 9, 2020
Event Temple provides a sales & catering software and event planning management system for hotels with a focus on MICE business.
The company's CEO & co-founder, Bob Graham, walks us through what got him to start the business, the obstacles he had to face along the way, and more.
---
Let's get started Bob! Before we talk about Event Temple, tell us a bit about your story and how you got into the hotel industry?
I was in sales early on in my career for many years. After that, I founded an event company that I grew and eventually sold. I wanted to learn how to code as I felt software was changing the world and I wanted to be a part of that. As part of that process, I met my co-founder, who told me I am probably better at business and sales than I am at software engineering. So, we founded a partnership. Our first hotel customer was a Hilton Doubletree. They were using a software product for sales and catering that was very cumbersome and expensive. We felt there could be a better way. My entire background of sales, engineering and events came together and we founded the company with a laser focus on hotels.
So tell us about your product? Why did you decide to build Event Temple and what problem are you trying to solve?
At first, I thought hotel software must already be fantastic, as it's such a large and established industry. But I soon realized that the competitors grew so large and were no longer focussed on the customer. I also noticed a lack of innovation was happening in this space. I had used great sales tools in the past in my previous business and at jobs I had growing up and I saw that it was missing for hotels. I also knew that hotels had very specific problems and features they needed, so a general purpose tool was not going to work for them.
We set out to solve a few problems. Make modern hotel software that is easy to use but powerful. Ensure this software is future-proof by ensuring it is built to integrate. Build a product that sales people actually want to use that gets results. Incorporate modern sales tools like e-signatures and digital proposals right into the product. Remove user-based pricing models. Add enterprise features so entire hotel chains could use the solution & offer powerful reporting that can scale as a hotel group grows. Integrate with modern PMS programs. Be ten times better than the incumbents on pricing, integrations, usability, functionality and time to learn the software.
What type of properties uses your product? Can you tell us a bit about the different accommodation providers your product caters for?
Event Temple is built to scale, so we have everyone from a 60 room hotel with no meeting space right up to a 500 room hotel with 30,000 square feet of meeting space. Individual, independent properties use our software and so do management companies and entire hotel chains as well. We are the mandated software at some of these chains.
We offer 3 products in one:
Sales CRM which provides the ability to track sales activities, store accounts, contacts, manage inquiries and more.

A group functionality to send proposals, contracts, build out groups and synchronize them to the PMS.

An event management tool to book and schedule meeting spaces with complex layouts and orders for any kind of group. Entire conference centers are using us.
How is your product different from what is already existing in the market? Any key differentiators or USPs?
When people ask what is different about Event Temple, the answer is simply "Everything". We don't compete only on building new features, but on the entire concept of what Sales and Catering means.
We are innovating the entire business model through mobile friendliness, self-service, fast on-boarding & launch and fast time to import existing databases as well as ease of learning in an hour, no on-site training required and low implementation fees.
We also focus on making Event Temple scalable based on the hotel size for hotels with or without event/meeting space. We also provide enterprise features such as chain management functionality. The tool is heavily integrated (over 2000 integrations) and connects with your email (send documents through the program). You will also be able to propose e-signature and proposal as they're built into Event Temple. Finally, there are no user pricing limitations and we offer a 30 day money-back guarantee. One of our most appreciated features is the sales pipeline to manage and have an overview of your deals and prospects are progressing.
Amongst all others, what is one of the key features your customers love the most?
We believe that salespeople can't control their results, but they can control their inputs to get those results. If you focus solely on results, you will not find success as a salesperson. So instead, we have built the entire software program around the idea of pipeline management. This enables salespeople to focus on their activities. By focusing on the granular activities they need to move a deal to the next step in the sales process, they dramatically make the sales process less stressful while generating more results and better customer service. This also makes managing sales teams easier and gives management more visibility. Everyone wins.
Deals pipeline
What were some of the biggest challenges while building the product early on and how did you solve them?
Focus was the biggest challenge. This is such a huge industry, and on first glance, all hotels appear to be the same. It is easy to be distracted into building an endless list of features. It seems good in theory because you start winning a lot of business by having a lot of features in the application. But the more you add, the harder the software gets to use and the buggier it gets. We have competitors that try to do literally everything and we have identified major issues with usability and reliability in their products as a result of having a lack of focus.
This almost happened to us too, but once we identified who we want to be and just as importantly who we do not want to be, we were able to build a product with a laser-focussed set of features that we know are reliable, powerful and easy to learn and use. This is incredibly hard to do and means saying no to a lot of customers that don't fit our profile.
What has been nice about it is, we are able to act more as consultants on demos now and if a customer is not the right fit, we will gladly send them to the right software for them. But, if they are the right fit for us, we should both know by the end of the demo with zero doubt in our mind. That kind of alignment is what I think has led to our incredible growth over the past few years.
To wrap things up, we are in an industry were collaboration and partnerships are crucial. Is there any specific 3rd party software that brings the most value to your clients? Or is there a product on the market that really caught your eye?
Yes, absolutely. We are very close partners with a few key products. For modern PMS, we work closely with Apaleo, Mews and StayNTouch PMS. For floor planning we work with AllSeated. We are excited to build new partnerships in 2020 too. In terms of brand new companies, I am excited to watch Steven over at IDEM Hospitality as I think they have a great solution that is an affordable and modern alternative.
---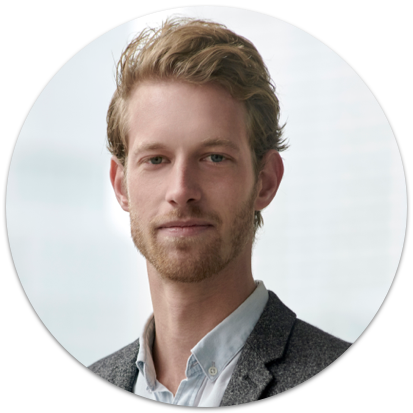 About the author
Thibault is Co-Founder of Hotelhero and a graduate of École Hoteliere de Lausanne. Passionate about hotels, service excellence & technology Hotelhero is built on the belief that independent & small chain operators should be leveraging technology for the better. Our platform and services strive to give every hotelier a chance to compete in this highly competitive market by implementing the right technology.
Never miss a post
Join theBrief newsletter and stay up to date on all the latest hotel tech news
No spam. You can unsubscribe at any time.