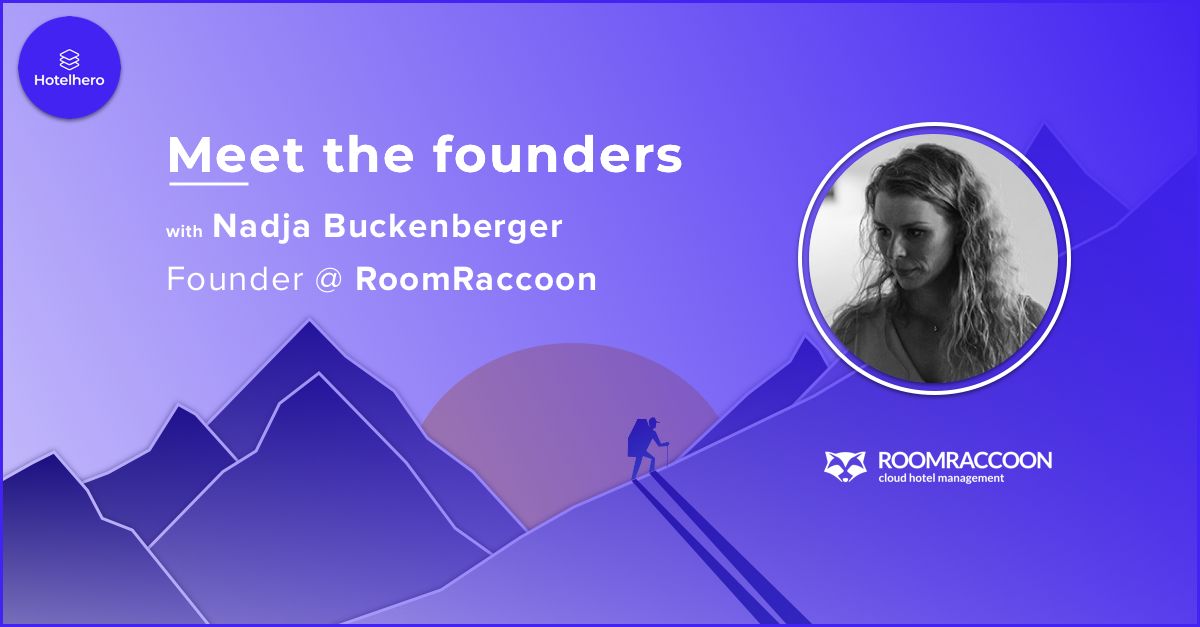 Building the new generation of PMS for small & medium accommodation providers, meet Nadja Buckenberger
Oct 03, 2019
- Florian Montag
RoomRaccoon provides an all-in-one property management system for small to medium sized hotels, B&B's and services apartments.
We asked a couple of questions to founder & Head of product, Nadja Buckenberger, to know more about the story behind RoomRaccoon.
---
Let's get started Nadja! Before we talk about your product, tell us a bit about your story and how you got into the hotel industry?
About 5 years ago, I bought my small little gem, a boutique hotel with only 9 luxurious suites. How it got to this, that is a long story, especially because my professional background is not in the hospitality. Let me tell you a secret… I actually never even worked in a hotel before!
So I took a leap of faith. After no time, I figured that there are so many things that I needed to learn, but also that there were many unnecessary processes that I was supposed to be doing day in and day out. How inefficient? Why? Coming from a more IT orientated background, I just could not get my head around the fact that after a long day of work and cleaning the bar, I had to sit behind the computer and write my invoices in Excel! I even had to handle a hand written agenda! Do you know how expensive TippEx is nowadays?
Yes, I thought what you are probably thinking right now… There is software for that, you know? Well, I assumed so too. So, I started Googling. "Hotel software?… Hotel software for small hotels?... What is a PMS???..." Now I laugh about it, but in fact, I am not the only one who is struggling with this journey. So many likeminded 'new' hoteliers are with me on this one. The growth in numbers of new hotels, B&Bs and guesthouses that are being opened by dreamfullfillers reflect the popularity of smaller properties. Also guests seem to have an increasing taste for smaller concepts that offer a more unique experience. But I am starting babbling… back on track:
To make a long story short, I figured that there was hotel software out there but nothing that adjusts to neither the workflow nor the budget of a smaller hotel. There is no one to check 24/7 reservations, you do everything by yourself and it is you, who is responsible for everything. After all, it is a myth that a small hotel needs a simpler (meaning features) system. We need a more flexible system that is easy to use. That is a difference, right?
So, what happened? I begged my partner (who did not really want to have anything to do with the hotel but is an amazing software engineer) for an online agenda to keep my bookings - at least something, some kind of improvement to my handwritten mess. He looked at me and shook his head - surprisingly, not to say no, but to take this thing to a whole other level.
Responsive booking engine
So tell us about your product? Why did you decide to build this or what problem are you trying to solve?
We all know the tasks that need to be done in a hotel - in any hotel, independent to the size of it. We also all share the same fear of the worst that can happen to a hotelier: an overbooking! All of you who have ever experience this, you know how it feels like when your head is slowly starting to turn red and you have this unbeatable feeling of helplessness. OK, I might be exaggerating a bit. But it is definitely not fun. And, that is just the beginning of it. How about managing the guest communication, payments, reports, allotment, invoices, breakfast lists, housekeeping planning and yield management? I just wanted to take care of my guests…
Is there any better incentive than solving own struggles to create a solution? After I had my basic online agenda, we started to add this and that. At one point, it was merely crazy to build this for one hotel only. So we arrived at that point where a decision needed to be made. Either, we stop building or we see if there actually is a demand in the market. We started calling other small hoteliers. How are you handling this? Am I really the only one who is struggling? Incredible but true, the answer was always the same: we use Excel.
And just like this, there we had our answer. The hoteliers were willing to work with us together on building our solution, giving valuable feedback. The next year (2016) we spend building, testing, improving. Many long days and short nights followed with both of us having a fulltime job aside. But we really felt that we were on a mission. We felt that within the hospitality, smaller hoteliers were a bit overseen. That needed to change!
Drag & Drop Calendar
What type of properties uses your product? Can you tell us a bit about the different accommodation providers your product caters for?
So our clients range from anything like a small vacations rentals with only 1 or two properties up to larger hotels with 60-70 rooms. We have lodges, B&Bs, boutique hotels, but also camping places as well as 5* hotels. We are pretty sure that RoomRaccoon is in fact the most complete system, offering many more features than large hotel solutions. It is not only an all-in-one system (Channel Manager, PMS, Booking Engine), but it offers many more tools that help the hotelier to automate their workflow. However, we take great care that the system does not become complex. Each new feature is strictly evaluated, as it is so tempting to keep on building. We have never dismissed our initial goal, which is to create an easy to use system.
How is your product different from what is already existing in the market? Any key differentiators or USPs?
Where to start... so first of all it is an all-in-one solution and it is in the cloud. Both features, you might think, are the norm nowadays. I strongly believe and hope that this will become the norm but at this point it is certainly not the case. But yes, I do agree that these basic features are not worth to brag about.
We are proud on the fact that we have build (and keep on building) a solution that is so intuitive that anyone can use it even without a training. It is build to adjust to the needs of individual hoteliers and not the other way around.
It offers features like: Automated Yield Management, integrated payment terminal, online self check-in, personalized e-mail templates, extremely detailed reports, and a booking engine that has been proven to generate an increase of 27% of those important direct bookings. RoomRaccoon adjusts also to any screen size meaning that you can use it from anywhere and on any device. Good news for those who run a property that does not have a traditional reception. Our Channel Manager has been awarded by both, Booking.com as well as Expedia, to be one of the fastest and steadiest out there. We are one of the very few systems that has been certified by the Portuguese government (very strict regulations over there). We also take good care of our clients. Our entire team considers RoomRaccoon not only to be a software provider, we see ourselves as consultants.
Most important, however, is only one feature: it is fun to use RoomRaccoon.
Amongst all others, what is one of the key features your customers love the most?
Of course, our customers value to never having to worry about overbookings ever again. Also hoteliers find it a big relieve that bookings from any channel are being imported to the system right away, meaning that hoteliers do not have to copy any (sensitive) data or guest details manually any longer.
I think the most popular feature is, however, a very simple one. We have build a 'remind me' feature. So hoteliers are able to remind themselves at any desired time about any kind of tasks concerning a booking. Think about reminders such as:
has a guest already paid two weeks after you have send the invoice?

go to the supermarket a day before the arrival of the guest with gluten intolerance

the agreed upon term of the accepted option is due. Has the guest already contacted you?
Personally, my favorite features are the beautiful e-mail templates, which allow me to add my own information for my guests. My hotel happens to be in the city center where my guests cannot drive in front of the hotel. Communicating this to my guests was very frustrating for both me as well as my guests. Now, I can simply add this information in my booking conformation. No more questions since then…
What were some of the biggest challenges while building the product early on and how did you solve them?
As a Dutch company, we started building for the Dutch market. As soon as we launched in other countries, we encountered that even within Europe things might be very different in terms of governmental requirements. This offered a huge challenge. We have in each country a native country manager but even though, gathering the right information and communicating with the government departments is not easy.
So this required us to simply hang in there, be persistent, try and try again. Sometimes is took us many months before we archived some results. But every time, we did manage and we are pretty proud on the fact that neither we as founders, nor our team gave up on our mission.
Another challenge was the invoicing. Think about the workflow in a hotel. In the morning the guest is ready to check out and then you need to be able to generate within seconds regular invoices but also features such as split invoices. As we offer RoomRaccoon in so many countries, each invoice has own country specific features. So we could not only write one invoicing code, but had to develop several strings for each country - which is very difficult to maintain.
To wrap things up, we are in an industry were collaboration and partnerships are crucial. Is there any specific 3rd party software that brings most value to your clients? Or is there a product on the market that really caught your eye?
Yes, that is absolutely right. Especially with solutions in the cloud, integrations are essential and offer much potential. We love to work together with partners such as POS-systems, revenue management systems, hotel marketers, keyless systems and bookkeeping software. We have established strong partnerships and support each other.
Of course, as being a channel manager, the partnership to booking channels such as Booking.com and Expedia (and many more) is a no-brainer.
---