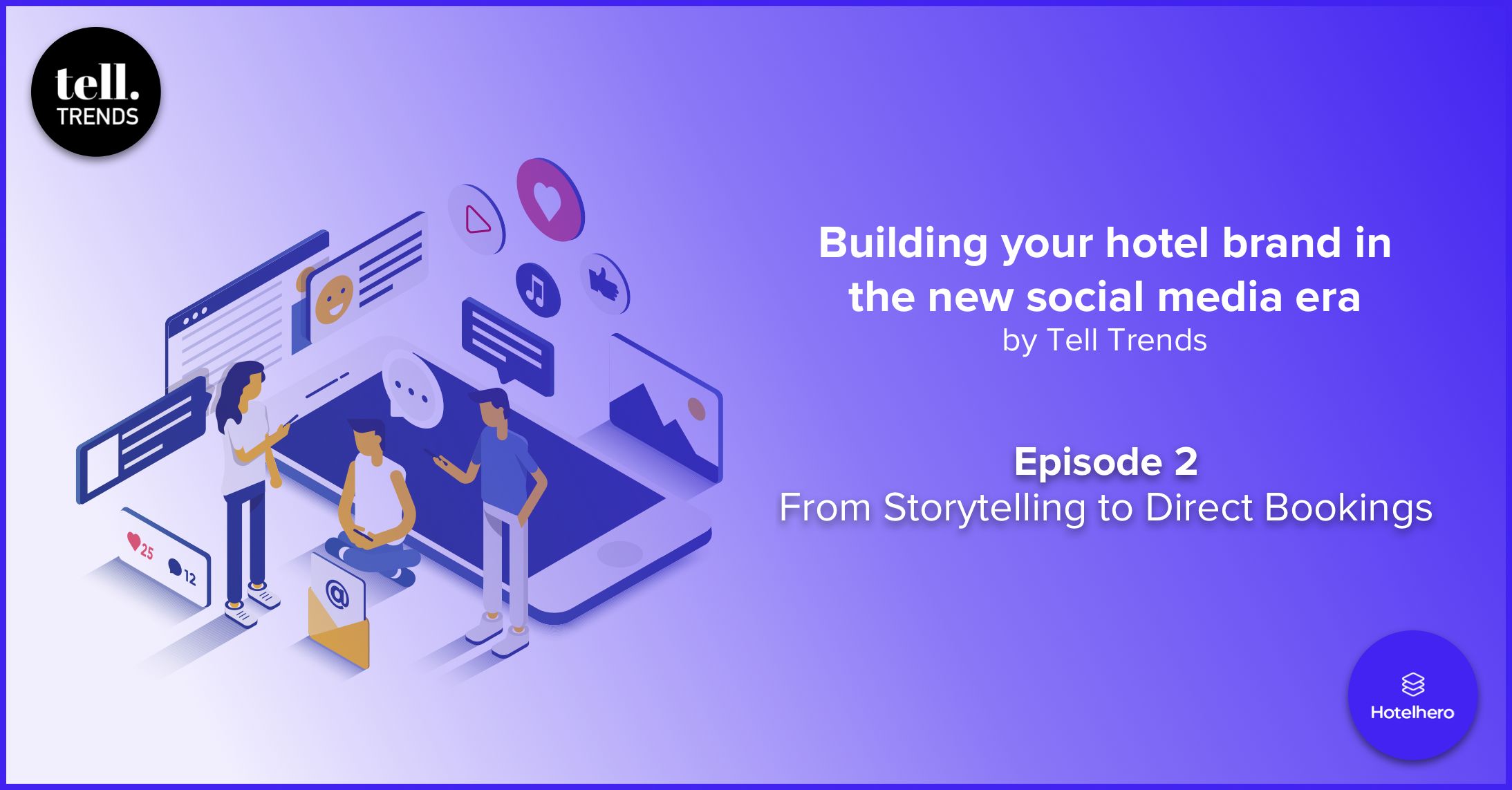 Building your hotel brand in the new social media era | Episode 2: From Storytelling to Direct Bookings
Oct 11, 2019
- Sébastien Félix
Welcome to this special 3-part series, written by Sébastien Félix of Tell Trends and exclusively designed to help you create a hotel image on social networks. Each week we will cover a topic that gives you key insight to take advantage of social networks as a hotelier. You can find the first article here.
---
Facebook & Instagram have become key players in the advertising, offering modern and innovative formats to promote a hotel or a destination. In this article, we will cover how to start your first social advertising campaign and how your data could serve your storytelling strategy.
The difference between Social Ads and Google Ads
Social ads and Google ads are often thought of in the same way, but there is a fundamental difference between them that is crucial to the success of your digital marketing efforts. It boils down to two things: The user's behaviour and context.
User Behavior
Buying keywords on Google allows you to answer a very precise searches. For instance, if someone searches "hotel in Berlin," we can be very confident they are looking for a hotel in Berlin.
On the other hand, managing ads on Facebook & Instagram works differently. Information is "pushed" into the feed of certain users, meaning buying the right keywords won't work here. Brands target a group of individuals based on geography, demographics, and interests. I can thus target people who play golf, like spas, ski and make them appear as an advertisement in their news feed. It's a bit like advertising a magazine, in that the user didn't search for it, but if well-targeted, the user will most likely be interested in it.
This difference must be kept in mind because it can lead to confusion in the interpretation of campaign results. We sometimes have hoteliers who compare in a "gross" way the returns on investment between a "brand protection" campaign on Google Ads (I buy the keywords of my hotel) versus a Social Ads campaign which aims to promote the hotel. If you compare it this way, the performance of Facebook & Instagram ads can be disappointing.
You should think of your advertising campaigns as a macro set aimed at:
Create notoriety (Facebook & Instagram ads)

Generate qualified traffic to your site (Google Ads brand protection)

Reconnect with visitors to your site who have not yet converted (cross-platform remarketing)
Content
The second difference between Social Ads and Google Ads is the context in how ads appear to users.
On Google Ads you can for example write titles, descriptions and even add extensions or rates (Google Hotel Ads), however the display of ads is very "static" and only text (excluding Display).
Google Hotel Ads
On the other hand, if we take Facebook & Instagram, the field of expression is much wider to convey the brand identity of a hotel. Images, carousels, videos, canvases, or collections... there are many more creative possibilities. We will discuss this point later in the article.

Identify your advertising objectives
The traveller's buying journey consists of several key steps: the dreaming stage ("I want to travel"), the planning stage ("Where and what type of accommodation suits me?") and the booking stage ("I have chosen and am ready to make a purchase").
At each step of the buyer's journey, you need to understand how to best meet the traveller's needs (your website, campaigns, etc.). Depending on each micro-moment there are very specific advertising objectives to be kept in mind:
Awareness objectives to increase your notoriety - number of views, impressions, reach, etc.

Consideration objectives to track interactions with your audience - number of likes, video views, visits generated on your website, etc.

Conversion objectives that allow you to optimize your advertising campaigns in order to generate as many bookings and revenues as possible.
Understand and create personalized audiences
Once your objectives are clear, it is now imperative to think about your targets and audiences. Doing this work beforehand will allow you to easily start creating the structure of your campaigns.
If you have already identified your targets in your marketing plan, we advise you to start with that and adapt it to the specificities of social networks.
You can use free tools like Facebook Analytics to collect valuable information about your Facebook & Instagram subscribers: age, demographic and geographic criteria, interests, etc.
Facebook Audience Builder
Each campaign has ad groups. Each ad group works kind of like a target. Let's take an example: I want to do a REMARKETING campaign (target the users of my booking engine who have not booked). There are several options available to you to create ad groups within this campaign:
By channel: You can decide to make an ad group with one display only on Facebook, and another only on Instagram. This allows you to control the budget allocated to each support.

By location: You can create a group that will display your ads on feeds, another group exclusively on stories, another group on Messenger. You can even go further by doing channel and location, i.e. a Facebook Feed group then a Facebook Story group, etc. Please note that it is important to plan a budget of more than 100 euros per group if you want it to be effective.

By country: if you want more control over the budget spent by country, then create a group by targeting only one country each time.

Other methods are possible, these are provided as examples.
Once you have fully understood how it works, the possibilities are endless! From experience, here are the types of audiences we suggest to the hoteliers we work with:
Marketing audience: This audience differentiates between visitors to your site and those to your booking engine or those who only visit certain key pages (rooms, seminars, etc.).

Loyalty audience: With this audience, you can integrate your customer database in excel format or gather all the people who have booked on your booking engine. This allows you to publish offers only to your most loyal customers.

Engagement audience: Here you can bring together all the most active people on Facebook & Instagram in the last 365 days. Ideal if you want to target the people who follow you the most and appreciate your content.

Personalized audience: This is where Facebook's complete targeting module comes in. You can easily target an age group, geographic or demographic data, interests, etc. We recommend that you list, for example, the places where your customers travel the most, the brands or shops they also consume or the magazines most read by your target audience.

Similar audience: Finally, once you have created all the above targets, you can go even further by creating a similar audience based on one of the created audiences. To simplify, Facebook is able to offer you a database similar to the target you will give it by crossing many behavioural information. It is an ideal lever if you want to create campaigns of conquest and reach people who do not yet know you.
Mastering advertising formats
You have your objectives and targets, it's time to move on to creating your ads! Facebook & Instagram offers you many possibilities of formats and creations. Specialised digital marketing agency, Influence Society opens the doors to some trade secrets.
Unique image


Carrousel (photos or videos)
The video
Canvas


Instagram story
For each objective, its KPI
Remember to customize your scorecard when you are in your Facebook ad manager.
Depending on the campaign objectives you have chosen (engagement, traffic, notoriety, conversions), you will not get the same default results in your table. A commitment campaign will show you, for example, the number of likes or followers acquired, while a conversion campaign will show you the number of reservations made on your booking engine.
Take time to think about your ideal dashboard, it's a key step before you turn on your campaigns once and for all!
Thank you for your reading! We'll be back in two weeks for the last part of this mini-series. The final article will provide you with a complete toolbox to get started on social networks and generate conversions.
---
Tell Trends, created by Martin Soler and Sébastien Félix, is a quarterly magazine launched to help the leaders of the hotel, hotel marketing and hotel technology industry stay up to date with relevant trends in the industry.It is about looking at the bigger picture and getting expert opinions on what the future looks like or could look like.
30% discount with promocode: hotelhero