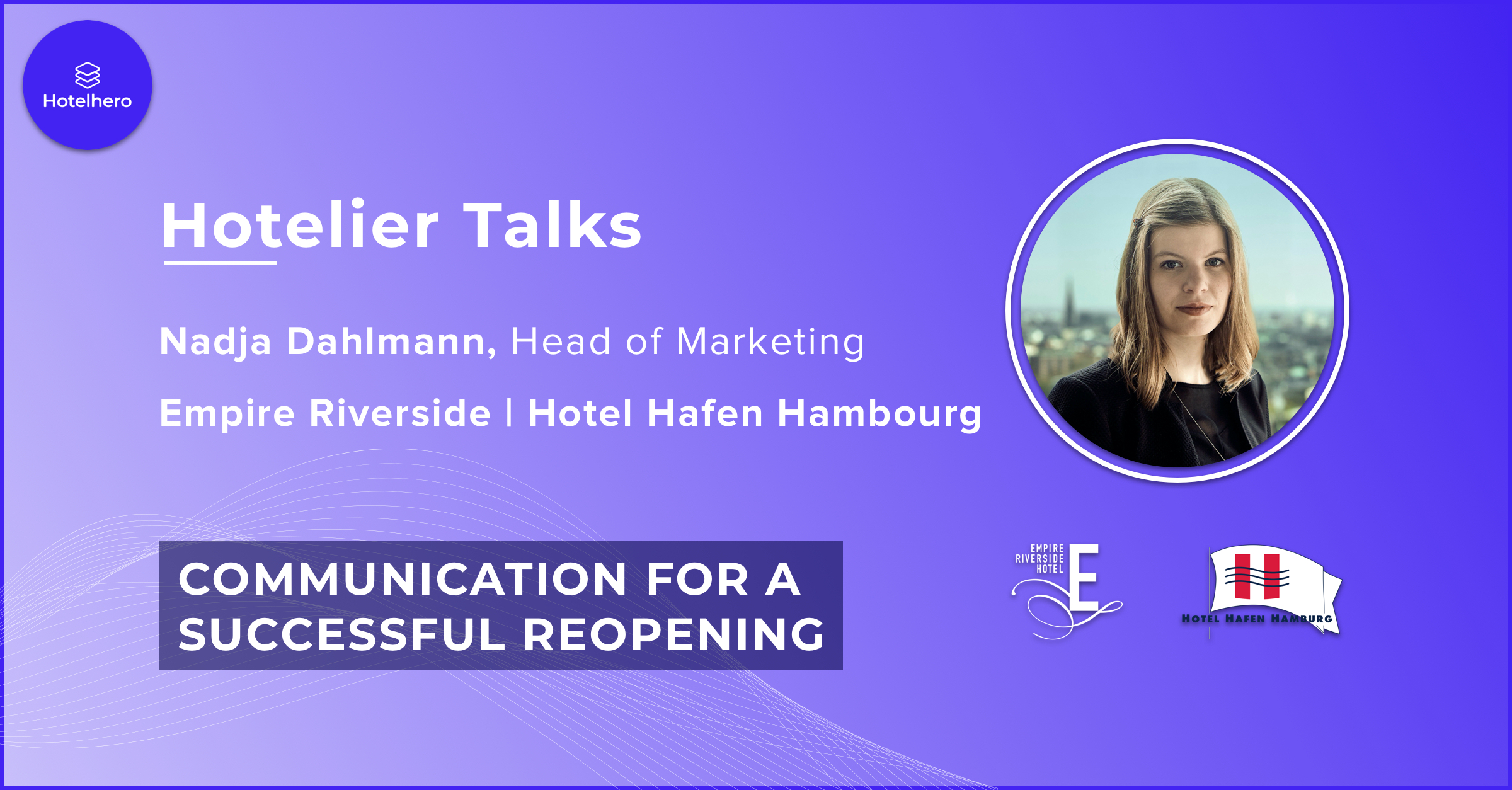 Communication for a successful reopening
By Florian Montag
May 26, 2020
In today's interview we talk to Nadja Dahlmann, Head of Marketing and PR of Empire Riverside and Hotel Hafen Hamburg. Nadja explains to us why communication is a central part of the reopening, what you have to consider and what she has learned herself in this process.
You can listen to the interview in full by clicking on the video, or you can read the most important questions below.
---

You were allowed to welcome your first private guests after the reopening. How was that? What is the mood of the guests?
Of course we are very happy that we could welcome our first guests again. It was relatively spontaneous, we only found out the day before that we would be allowed to reopen the next day. We wanted to be a part of it right from the start, because we feel ready and we think that we can implement everything that is expected of us.
Guests who have been with us recently or who call us now have very mixed feelings. A large percentage are simply happy to be able to come again and are relatively carefree. We have to remind these guests that we are of course very happy to welcome them, but that there are also a few new rules to follow.
With another large part of our guests, you simply notice that there is still a lot of uncertainty. Even though we already communicate a lot, they call or write to us and want to double check some things.
We noticed that we have to be more active in the way we communicate, even more that we had planned already. We have also not yet finished implementing everything we had planned. That is because everything happened very fast and it was important to us that the communication we send is properly finished and not half-baked. Generally speaking, you can sense the willingness to travel, but you still have to provide a little extra support for a guest or two.
Why do you focus so heavily on the topic of communication and what is your goal? Would you like to create emotions among your guests or simply boost sales?
It is definitely a mix of both. On the one hand it is of course to boost sales, as we were closed. It's almost like a new opening. Although we didn't turn out guests for this summer, we still communicated in case they weren't allowed to come. We didn't notify our other guests until now, because we didn't know how long the travel restrictions would be in place for.
Of course we have to see how we can attract some guests back, because some might not want to travel at all. Especially in a city like Hamburg. Many would like to combine a visit to Hamburg with a concert or musical, which is difficult at the moment.
But on the other hand it is important to communicate. The process at the moment is nothing more than a normal Change Management process. There is something new and it has to be implemented and communication is the central component.
Communication is also important to ease the fears of guests and to create new guidelines. It is also essential to convey certain feelings and values.
Like for example:
Safety (We take the issue seriously; hygiene guidelines are implemented)
Optimism (we look forward to seeing you)
Anticipation (When you visit us you will be able to enjoy your holiday)
We have 2 hotels in the 4-5 star range and despite all the new regulations the guest wants to spend a nice holiday. Therefore these values are very important to us.
You said that you have two different types of guests. On the one hand, those who are looking for security and on the other hand those to whom you have to introduce the new rules. Do you have a common approach to communication and the same tone for all your guests? Or do you segment communication according to certain criteria?
If a guest approaches us personally, be it via social media, telephone or in the hotel, we naturally respond to the guest very individually and adapt as we did before. However, we do not work with dynamic content on our website. That means that all visitors are treated equally, but still make sure that all visitors find the information they're looking for. No matter what their motivation is. It is why, in a communication plan or strategy, it is important to be consistent across all channels.

What are the questions the guests have asked you so far? Is it about hygiene standards or your cancellation policy, for example?
The questions have to be divided into two. Since we have seven bars and restaurants, we have a large F&B offering. That means we also have many locals who call us and want to know more about the dining options. Typical questions are:
How long can I stay in the restaurant for?
Do I have to book in advance?
With how many people can I come?
Do I have to wear a face mask while eating?
As for overnight guests, we do indeed have many guests who are concerned about whether they will be provided with breakfast and if so, how? This seems to be very important.
Otherwise, most questions are about flexibility:
To what extent can I cancel if it doesn't work after all?
Am I even allowed to a come as a guest?
Are there any other reasons why I should not be permitted to travel?
Is it worth coming at this time? What will I find on the spot?
We deal with this topic a lot and can explain it to our guests, but of course a lot changes constantly.
Do you measure the frequency of questions?
Indeed, we note down the most frequently asked questions, but at the moment we mostly just do it by intuition. If a question comes up regularly, we simply include it in our communication. For example, there was the question, "How long can I stay at the restaurant for?" - we hadn't thought about that before, because it was clear to us that nothing had changed.
In terms of the process, how did you deal with the issue? When did you realize that you had to change your communication for the reopening?
I did it in the way that is often done in the hotel business. I just knew I had to do something and then I started to implement things in a very modular way. But then I quickly realized that we needed a consistent communication. The process was not easy, because at that time we did not know exactly what we had to communicate and what the new measures would be.
We then first dealt with what we wanted to communicate and what the goals of our communication were:
To give the guest the feeling of security
Generate revenue through sales

The second step was to define what comprehensive communication means for us. In marketing, you can't decide on your own how to communicate with your guests, it's the guest who decides. This can include, for example, social media, but not necessarily in a post, but also in a private message. You have to make sure that you offer the information where the guest is looking for it, instead of just saying "I don't use this channel".
Accordingly, I looked at the Customer Journey and thought about where the guest might come into contact with us. I looked at the different phases (e.g. the guest is looking for a room in Hamburg), but also the different segments (e.g. regular guests). I then broke down the touchpoints into small sections. After that I made a first list of 18 different touchpoints and we are now at 20. (You can download the list here free of charge.) There are still more touchpoints coming up, after guests inquire, that you didn't necessarily think of yourself, but I think that with 20, we cover most of them for the time being.

How do you choose the touchpoints? Are they the same communication touchpoints as before or did you go through the whole customer journey step by step and looked at each point again?
We asked ourselves the question, "Where does the guest come into contact with us?" and we serve all these points. We hardly left out a single point because we prefer to communicate too much rather than too little. We then looked at each of the channels and systems and what the systems or channels offer us in terms of communication possibilities.
We then chose the points where we could change something and where it would make sense for the guest. Or because it is where the guest usually gets information about the hotels or restaurants. We have to adapt our information or add additional details.
Are these all digital touchpoints or did you provide new training or special information for your employees?
We are lucky that we are relatively digital. We don't have a digital check-in yet, but we are working on that as well. We have a good digital customer journey until the guest is with us. Nevertheless, a lot of things are also offline. Simply because we have said that communication must be complete. The guest cannot proactively receive information via the digital channel and then he comes to our hotel and our employees don't know what we have already communicated to the guest or the employees simply don't comply with it. You have to be transparent, but you also have to make sure that you adhere to what you communicate. Partly in printed materials or in the communication with the employees.
After you selected the 20 touchpoints, what did you do then? What point or points did you start with?
In the hotel where business customers were still in the hotel, we focused on the communication with these guests. Among other things, topics like distance markings, digital or paper signs.
But since things reopened relatively quickly, we realized that we would have to do more than that. It is no longer just about the guests who are already in our house, but now it is mainly about the guests who want to come to us or whom we want to encourage to do so. That's why we turned the process around and concentrated on the contact points where the guest first comes into contact with us, i.e. our online presence: website, booking engine, Google presence, OTA's, Metasearch, etc.. So that we can also attract a wide audience there and these are also points that have relatively many other points of contact. For example, we have communicated to our employees that the guest FAQ page, is also the main information point for them, with the most current information.
On this FAQ page there are the sections:
HOW WE TAKE CARE OF YOUR SAFETY
I WANT TO TRAVEL! IS THAT POSSIBLE?
BOOKING YOU ALREADY MADE
RESTAURANTS & BARS
BUSINESS TRIPS, CONFERENCES AND PRIVATE PARTIES
It was important to us that the website is easy to understand with short and clearly formulated questions. Our questions were written in the I-form so that guests feel directly addressed.

Here you can find the "Corona FAQ" pages of both hotels:
Empire Riverside
Hotel Hafen Hamburg

Have you also changed operational processes or have you mainly adapted the "messaging"?
There are definitely operational processes as well, but we are still working on them. For example with the issue of housekeeping. We communicate all the time that everything is safe and that we disinfect everything, but when the guest arrives in the room, he asks himself if this has really happened. That is why we implemented the additional process during which the housekeeping staff leaves a "personal" note to the guest, confirming that the room has been cleaned, explaining the cleaning process and the name of the staff member.
What means does a hotel need to set up something like this? Especially in terms of time and expertise?
The most important is time management. You simply cannot underestimate how long it takes to set something like this up. I would recommend to schedule two weeks for the whole project. Of course not every hotel has 20 touchpoints and that depends on the size of the hotel, but it will most likely take two weeks. If you don't have those two weeks, you should make sure you prioritize the touchpoints. You should prioritize the points where you can target the main audience and the points that you simply can't omit. After that you can start narrowing it down more and more.
The first thing you need is empathy. You have to think carefully about how the guests feels, what you want to communicate to them and what effect this has on them. Secondly, you should already be able to find your way in the digital world. But I think that none of these points is a real witchcraft. Most systems simply let you add the information. But it also depends on how complex you want to make this process. For example, we recently set up a video. You have to see for yourself whether you have the expertise within the company or whether you need help from external specialists.
You don't need a lot of expertise for the process, except that you should know where and when you can reach out to guests.
Have your digital systems helped you to address your guests faster and more specifically?
Yes, it definitely helped us. In fact, everything I write and publish digitally is directly available. Offline it is always a longer process, if something has to be printed, it has to be brought to the print shop, if you have to tell employees something, it takes time until they have understood it. Digital is always instant. If you are in a hurry, digital is always something you can fall back on.
In addition, you can often take advantage of a digital approach to present your information easily and well, e.g. in a newsletter, on the website or in pre- and post-mail. The guest can get this information at any time and from any place.
Especially our CMS was a big advantage, because we could add the new information on our website easily and independently. For example, the FAQ function was already available before.
The second tool that helped us a lot is the CRM, especially for guest communication. With our CRM, we can segment target groups very well and write to our guests. We work with Revinate as a CRM and we are very happy with it.

Can you already see how successful the communication campaign is?
Since we are only now really starting the campaign, our experience is more qualitative than quantitative. However, we notice more and more that when a guest contacts us with a question and we can redirect them to the FAQ page, they are very grateful and usually find the information they are looking for. We have also received feedback from guests who have booked because they have found all the information they were looking for, especially on our social media channels or via emails.
Quantitatively, this can be measured on the website itself, for example. How often was the site visited and how many bookings are associated with it.
We will also add a survey in our emails, which is half quantitative and half qualitative. We will ask specifically when and where the guests came into contact with our communication, if something was missing, but also if what we communicated was confirmed during their stay.

Do you have any last tips & tricks you can give us?
It is important that you tailor your communication to your hotel. But still check out what other hotels do and talk to your contacts. We have also looked at many examples outside the hotel industry.
It is very important that there is a lot of internal and external communication.
You can never communicate enough.
---
About Nadja Dahlmann:
After several years in various departments of the company, Nadja has been the Head of Marketing & PR at the Empire Riverside Hotel and Hotel Hafen Hamburg since 2017. She is responsible for the entire brand appearance, all marketing activities as well as the on- and offline communication of both hotels including 700 rooms, 7 restaurants & bars and 14 conference rooms. After graduating from university with a B.A. in Business Management with a focus on tourism, hotel and event management in Germany and the USA, Nadja is currently completing a master's degree in Marketing & Communication in addition to her job and will graduate with a Master of Science degree in 2022.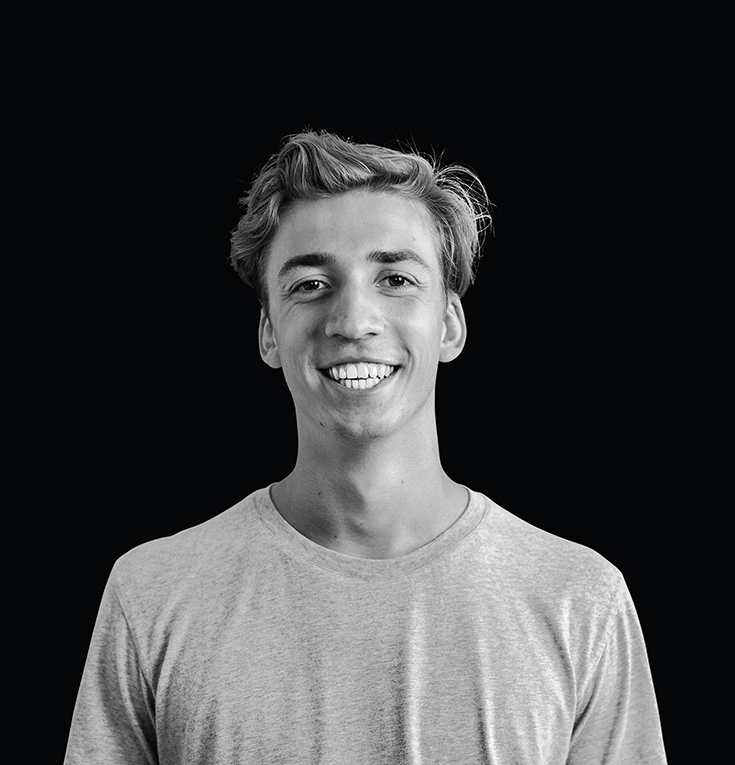 About the author
Florian is a Co-Founder of Hotelhero and a graduate of École Hoteliere de Lausanne. Passionate about hotels, service excellence & technology Hotelhero is built on the belief that independent & small chain operators should be leveraging technology for the better.
Never miss a post
Join theBrief newsletter and stay up to date on all the latest hotel tech news
No spam. You can unsubscribe at any time.