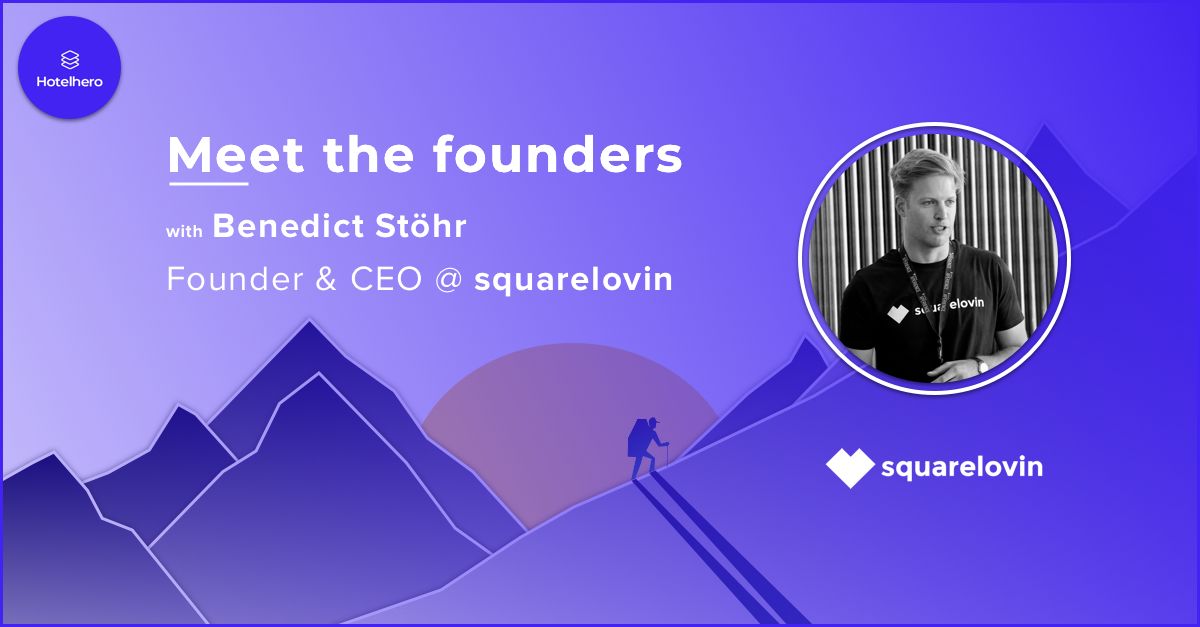 September 24th, 2019
Empowering hotels to leverage user generated content, meet Benedict Stöhr
By Florian Montag , Co-founder @ Hotelhero
Squarelovin is a user-generated content management tool that enables brands to efficiently tap into all the visual content that people are sharing related to their brand.
We sat down with co-founder & CEO, Benedict Stöhr to know more.
---
Let's get started Benedict! Before we talk about your squarelovin, tell us a bit about your story and how you got into the hotel industry?
We recognized that big players such as booking.com, expedia.com or agoda.com, are gaining more and more market share, as people increasingly look to user-generated content (UGC) for travel inspiration and validation. Images and videos created by people like you and me lie at the core of what we do. An occasion where everyone likes to take photos is on vacation and we believe that this is something hotels and resorts can greatly benefit from. Content created by actual customers, that is put to use effectively on relevant marketing channels, provides a sense of authenticity and social proof to new customers.
So tell us about squarelovin? Why did you decide to build this or what problem are you trying to solve?
It's a natural thing for people to exchange opinions on things they like and dislike. Today this is not only happening at white picket fences, but also increasingly on social media. Studies show that 85% consider content shared by friends or peers to be more trustworthy and inspirational than branded content. This is where squarelovin comes in. The idea behind our User Generated Content (UGC) Management Tool is to help brands curate rather than create authentic marketing content, while at the same time activating the customer community. Customers that already identify with a brand and share their excitement on Instagram feel incredibly acknowledged and valued when their content is given a stage on the brand's website.
Nowadays hotels are craving for more direct bookings. Our software solution probably leads to longer website retention and increased conversion rates, as it helps create a more personal booking experience.
What type of properties use your product? Can you tell us a bit about the different accommodation providers your product caters for?
All kinds of properties use squarelovin - our current partners range from small hostels to 5* luxury products. And from a stand alone property to an international hotel chain. As imagery is a universal language that serves great inspiration it does not matter whether you are a business hotel or a beach resort - your guests will always find the perfect spot for a good shot.
How is your product different from what is already existing in the market? Any key differentiators or USPs?
One of the big advantages of embedding UGC through squarelovin compared to other tools is that the galleries clearly indicate which Instagram user originally uploaded a picture or video, while a click on the content directs to the respective product detail page within the WBE (web booking engine). This results in significantly longer website visits and higher conversion rates. Our UGC Management Tool, other than direct integrations of Instagram, allows filtering content before it's published to the website. This way, brands can ensure that only UGC that matches their values and aesthetics is being featured. Moreover squarelovin also offers significantly more possibilities for collecting content, as our tool allows you to collect posts based on hashtags, mentions and geo-locations. Essential usage rights (GDPR conform) are collected through an automated process, which saves a lot of time while still conveying direct appreciation to your guests.
Easily view all user generated content for your hotel and request permission to use it in just a click
Amongst all others, what is one of the key features your customers love the most?
With squarelovin, the usage of UGC with all its complex components like GDPR conformity and image rights, is no longer rocket science. What our customers value most is having one platform that collects tons of brand-related images and videos, manages usage rights and publishes the content to all relevant marketing channels.
Make user generated content bookable on the image gallery
What were some of the biggest challenges while building the product early on and how did you solve them?
The biggest challenge in the beginning was to unite all the complex aspects of managing User Generated Content while making the platform as user friendly as possible. Solving this challenge is an ongoing process. We are thriving to constantly improve our software, which is why we always stay in close contact with our partners and include our community in the development process - might sound like the answer to a tripadvisor review, but is actually true.
To wrap things up, we are in an industry were collaboration and partnerships are crucial. Is there any specific 3rd party software that brings the most value to your clients? Or is there a product on the market that really caught your eye?
We partner with facelift, which is a content management system. We're also working on an interface to an e-reputation and feedback platform, to provide even deeper insights on your guest's experiences.
---
About the Author
Florian is a Co-Founder of Hotelhero and a graduate of École Hoteliere de Lausanne. Passionate about hotels, service excellence & technology Hotelhero is built on the belief that independent & small chain operators should be leveraging technology for the better. Our platform and services strive to give every hotelier a chance to compete in this highly competitive market by implementing the right technology.