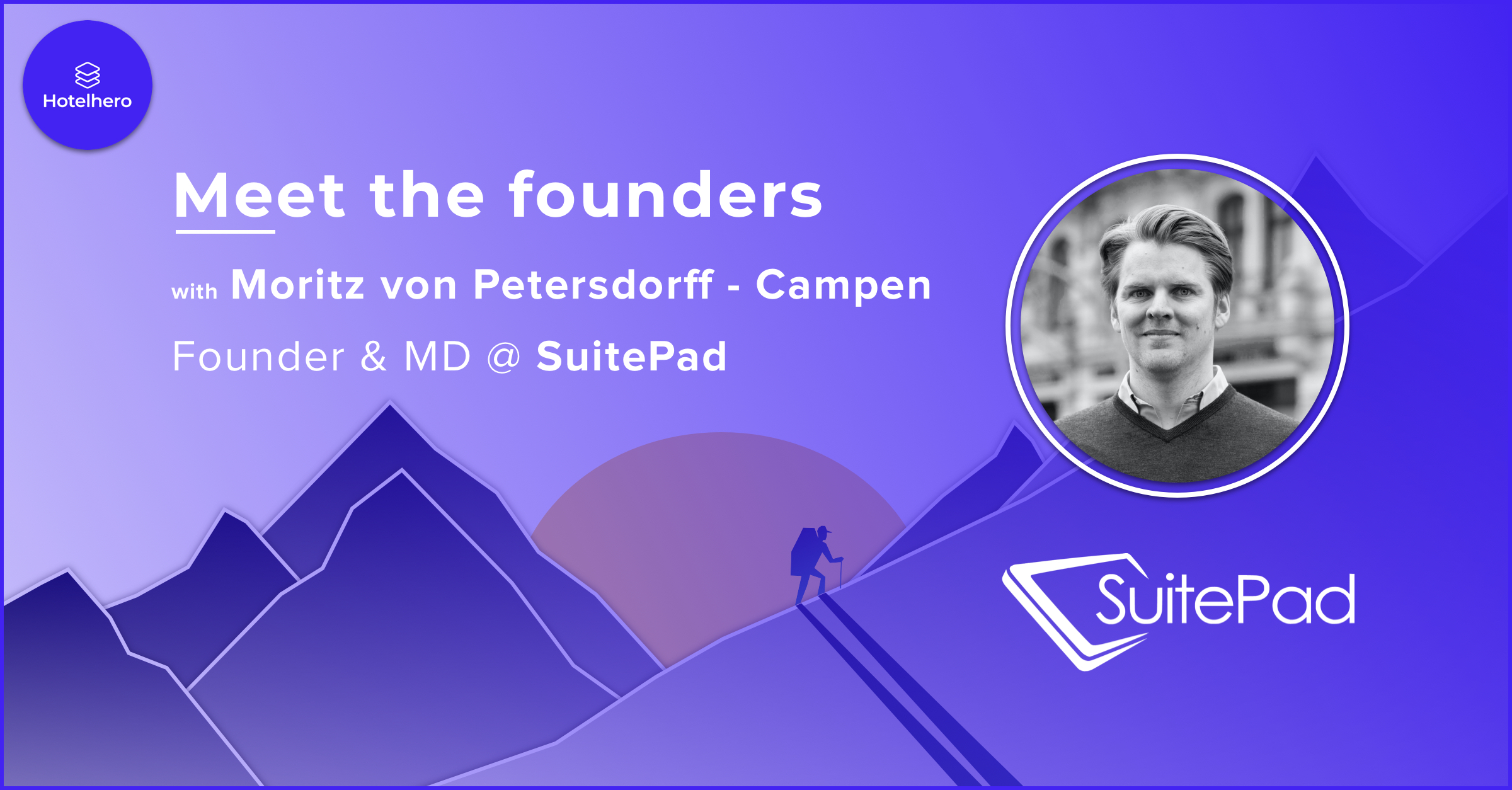 Enabling digital guest touch points for hotels, meet Moritz von Petersdorff
By Thibault Gence
February 13, 2020
Suitepad provides in-room tablet & BYOD app technology enabling hotels to provide guests with better self-services experiences and enhanced in-room capabilities.
We had a chat with one of the company's founders, Moritz von Petersdorff to learn more about their journey.
---
Let's get started Moritz! Before we talk about SuitePad, tell us a bit about your story and how you got into the hotel industry?
Hello, yes sure no problem. So before starting with SuitePad, I founded a high-performance cloud-computing startup. Unfortunately, things didn't work out as hoped, principally because our main stakeholders were from the academic field so didn't have the same investment potential as private sector companies. Tilmann, (my business partner) and I set out to find an area where there's a digital gap, and the hotel industry had a pretty obvious one for us. I didn't have much of a connection to the hospitality industry before SuitePad but there were certain problems that we felt could be overcome with technological solutions. I am not saying that it is much easier to make money with hotels; after all, it's an industry with tight margins. But we found that when helping hotels to overcome this digital gap, it could lead to strong additional revenues and cost savings for our customers. If you can show this, it's a lot easier to get started and grow your client base.
So, tell us about your product. Why did you decide to build SuitePad and what problem are you trying to solve?
The problem we identified was that the before- and after-stay experience for guests, such as the ability to book online with sites like Booking.com and Expedia, and then after the stay leave reviews on sites such as Tripadvisor, have been digitized for years. But, the during stay portion of the guest journey is still often completely overlooked. This, for us, was an area where we saw a huge opportunity, but it was also something that we thought could be a huge benefit for hotel businesses that were missing out on the digital revolution and being squeezed by other third-party companies like review websites and booking platforms. We needed to find a way that hoteliers could use digital technology to regain control of the guest experience at their hotels.
At a lower level, we saw opportunities to help refine processes in hotels and digitize some of the outdated modes of communication they used like the use of paper collateral, old-fashioned battery-powered TV remotes, and telephone systems stuck in the 70s! I guess you could say we saw the opportunity to offer a platform to hoteliers where they could give guests a modern hotel experience.
What type of properties implement SuitePad? Can you tell us a bit about the different accommodation providers it caters to?
We cater to hotels of all sizes, we have customers with as little as 6 rooms and as many as 800! Most of our clients are 4 and 5-star properties, some are 3-star. While SuitePad can be almost a no-brainer for 4-5 star hotels, we have been gaining interest from the more budget end of the spectrum recently. The truth is that SuitePad can be adapted for any type of property and our clients are starting to recognize this.
Overview dashboard
How is SuitePad different from what already exists in the market? Any key differentiators or USPs?
The devices we created are specifically designed for use in hotel rooms. The SuitePad 8 comes with a reinforced screen and metal casing to ensure it is strong and durable, no front-facing camera or USB port to dispel any worries about security, and specialized docking stations so guests cannot charge the SuitePad outside of the room which discourages theft. Initially, this was what set us apart from others in the market, but then we made more changes on the recommendations of hoteliers we talked to. We then designed a highly customizable interface, meaning hotels could easily integrate content with their branding guidelines and make any special additions they would like. This is a real selling point for SuitePad. Hoteliers like the fact that it doesn't impose on the character of their hotel.
Since then, we have also integrated a lot of solutions with the tablet such as SuitePad TV Control, SuitePad BYOD, and SuitePad Phone that make SuitePad much more than just a tablet for finding information and booking services. It integrates media and communication devices that once cluttered up the room in a stylish and practical way, and we hope to develop this side of things a lot more in the years to come."
Amongst all others, what is one of the key features SuitePad clients love the most?
Clients are really happy with the cost-savings they generate with our Green Option feature. This feature allows guests to opt-out of room cleaning for the following day, sometimes in return for a small incentive like a free drink or discount. At first, most hoteliers are a little sceptical, but once they have it in use the results are pretty impressive. Most hoteliers that use it save enough to at least cover their SuitePad subscription, generating a positive ROI from day one. At the Hotel Esplanade Resort & Spa Bad Saarow for example, the Green Option saved a total of nearly €1,500 in their first month and has increased since, covering the costs of their subscription with some to spare.
Green Option Offer for Guests
What were some of the biggest challenges while building the product early on and how did you solve them?
Everyone told us that tablets wouldn't work in hotel rooms and that we were being naive to even try this – maybe I was a little bit! They told me the tablets would be stolen, and guests would prefer to download apps on their own devices. Initially, many of these fears were correct, especially about the devices being stolen or broken when we were using third-party devices. But this is what spurred us on to make our own product and overcome these issues. Today, hardly any of our tablets get stolen and hotels can also insure them against theft.
Once we took control of the hardware production, we realized that this would make our solution even more unique than what we already had in mind and give us much more flexibility with the development of other features going forward"
To wrap things up, we are in an industry where collaboration and partnerships are crucial. Is there any specific 3rd party software that brings the most value to your clients? Or is there a product on the market that really caught your eye?
A variety of GRMS systems (Guest Room Management System) are being developed at the moment, and once this technology is properly refined, it will open up a whole host of possibilities for SuitePad. By integrating this technology, guests will be able to control virtually everything in the room from their SuitePad, making it even more indispensable than it already is for hotels. More importantly, it will prove to guests that the future has finally arrived in the hotel room.
---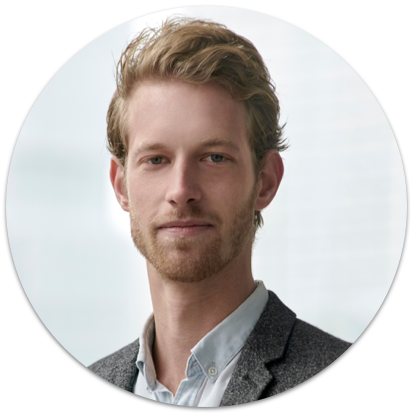 About the author
Thibault is Co-Founder of Hotelhero and a graduate of École Hoteliere de Lausanne. Passionate about hotels, service excellence & technology Hotelhero is built on the belief that independent & small chain operators should be leveraging technology for the better. Our platform and services strive to give every hotelier a chance to compete in this highly competitive market by implementing the right technology.
Never miss a post
Join theBrief newsletter and stay up to date on all the latest hotel tech news
No spam. You can unsubscribe at any time.