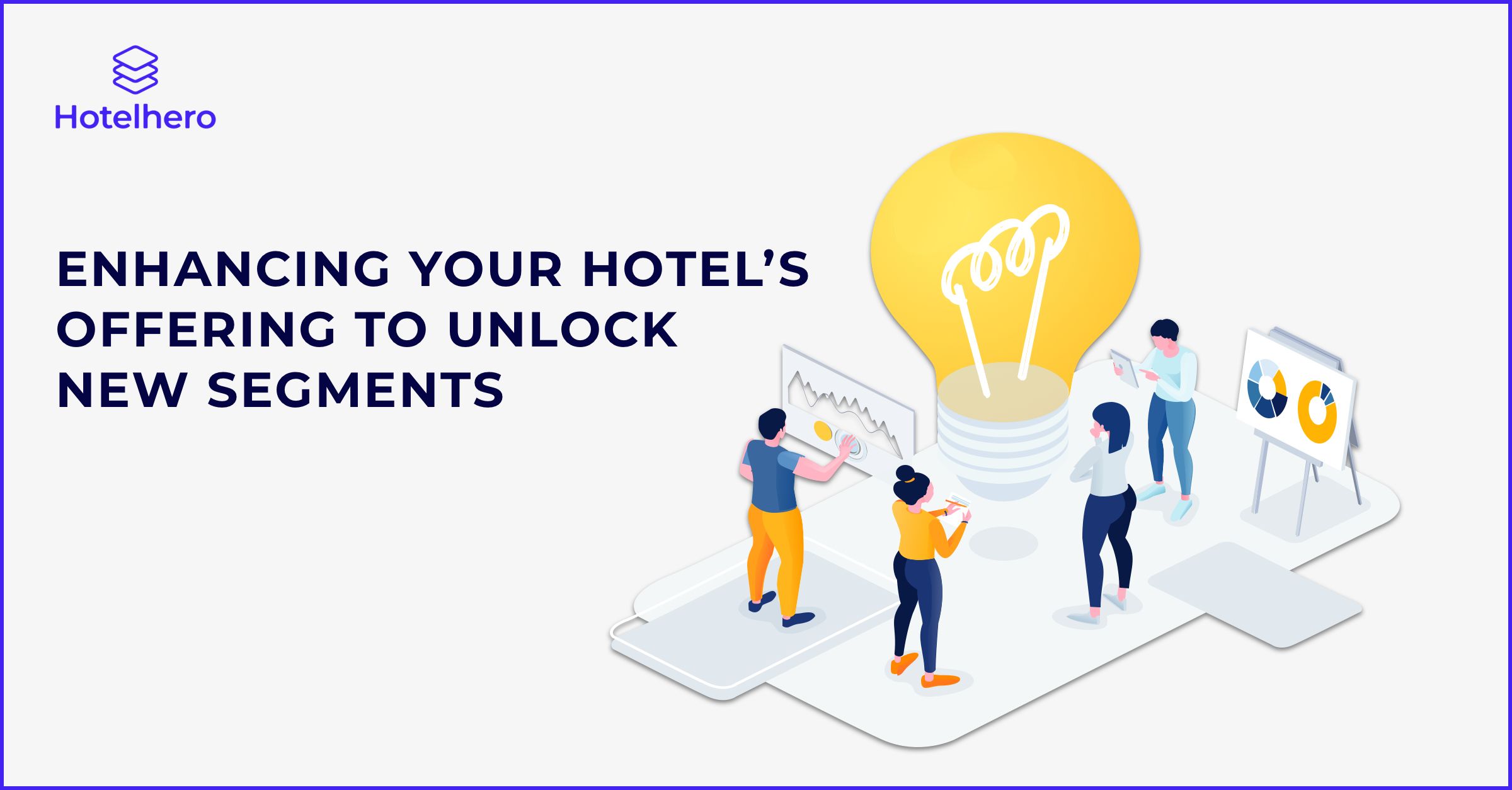 June 24th, 2020
Enhancing your hotel's offering to unlock new segments
By Léa Payró , Marketing @ Hotelhero
2020 marks a turning point in the way the hospitality industry operates. As we enter a new age of travel, it is time to reinvent ourselves and rethink the past to remodel the future. Hospitality is much more than just offering rooms for people to stay in.
In this process, here are four questions you should be asking yourself:
What do guests love about my hotel and how can I deliver these services/products outside my premises?

What services/experiences can I reinvent to attract new customers?

Do locals ever stay at my hotel? What can I do to attract them?

How can I work with local businesses in the process?
Knowing your star products and taking them outside your hotel
Some hotels are renowned for their incredible breakfast buffet, others for their amazing cocktails. Whatever it is that makes you special, try to see if you can export it. Restaurants and bars around the world have been delivering their cocktails to customers during the pandemic. Whether in New York or Paris, customers were thrilled to be able to enjoy their favorite drink at home. You could use food delivery platforms to deliver cocktails directly to customers' homes. Or you could have customers come pick up their favorite drink at a specific time slot. When it comes to the cocktail itself, find what works best for you and your target market. Will you ask your bartender to make the cocktail before delivering it or will you sell kits with bottles of alcohol and soft drinks and let the customer mix their own beverage? While selling cocktails on the go can be a great temporary solution to gather revenue, it could also become a long-term star selling product! Just make sure that your liquor license and your local authority allows on the go alcohol sales.
Cocktails to go from the Steel Club's The Beam Yard in Hellertown.
If customers love your breakfast selection, why not offer delivery options to locals? Create a basket with your main products and sell it on food delivery platforms or through your own website directly. Hotels like The Berkeley in London have offered their afternoon tea and special Sunday breakfast options through deliveries. On top of increasing your current revenue, this breakfast delivery system can promote your F&B offer and attract locals in the long run. A good breakfast can go a long way. When people taste something they like, they are keener to come back and might recommend your hotel to prospects! This initiative can represent a great marketing opportunity.
New experiences attract new customers
How can you welcome guests to your restaurant while keeping them safe? A few hotels, like the Hotel Sacher in Vienna and the Zoku Hotel in Amsterdam, have found a smart alternative to regular restaurants. Guests can now book a table and enjoy their dinner in a private room. Perfect to socially distance from other customers, more intimate and out of the ordinary, this new concept enables you to reopen your F&B outlet and generate food revenue. Use your rooms, suites or even smaller conference rooms to offer a unique, private dining experience. You can also create a special package, including dinner and a night at your hotel for a discounted price. Do you have a rooftop area or a garden? Give your customers access to your unique features to attract them even more!
Private dining experience at the Hotel Sacher in Vienna
Another concept emerged in Amsterdam during the confinement called Home Suite Home. The idea was to give locals the impression of staying at a hotel from the comfort of their own home. It starts with a virtual check-in, followed by the delivery of a welcome package. Throughout the day, the guests can contact the hotel's concierge online for advice, in the evening, online entertainment is proposed and finally guests receive breakfast delivered in the morning. Create a similar concept using various technologies and provide an exclusive hotel experience to locals' homes. Include delivery of meals, toiletries, merchandise, access to your hotel's app or online concierge services, partner up with local businesses to offer unique products, and give them a taste of your concept to expand your brand recognition.
Upgrade and update your services
The new age of travel also consists of a new target market. Generation Z, born after 1995, is a tech-native generation and represents the prospects of tomorrow. Reinventing your operations also means being in tune with your times and new customer's expectations. Consider implementing these simple tech swaps to attract tech-savvy customers :
Another easy service to upgrade and update is the in-room minibar. Expensive liquor bottle miniatures and boring snacks are a thing of the past. Propose locally sourced goodies instead, such as candies or chocolate bars and include healthier options too, like vegan energy bars, organic nuts, or fruit chips. Don't forget to advertise that your minibar items are from local companies, as travelers will be keener on trying original snacks from the country they're visiting, rather than eating a mainstream bag of peanuts! Furthermore, consider lowering your minibar item's price, especially if you are located in a city where customers can easily buy similar options at the grocery store next door for half the price. This should increase the customer's willingness to use your minibar.
Moreover, while social distancing remains a key safety recommendation, why not offer cocktail kits directly in your rooms, to enable guests to enjoy a great drink away from a crowded bar? Hotels like Soho House in Istanbul include this service. The Cocktail Man in the UK, for example, offers a white label option for its cocktail kits, enabling you to personalize them to your own hotel's brand. Other cocktail kits options include NIO Cocktails in the UK, Carry On cocktail kit by W&P Design worldwide, and Drink Syndikat in Germany (which also offers a personalization option). Hangover kits might also come in handy, just like at the Sea Containers Hotel (formerly Mondrian) in London. This hotel's minibar includes things like vitamins and energy shots to help guests overcome a long night of partying.
Cocktail kits by NIO Cocktails
Embrace digital entertainment solutions
If your hotel is located in a culturally rich area, your guests are probably usually coming to enjoy the various museums, concert halls, and theaters the city has to offer. While they remain closed for safety reasons, embrace virtual tourism options. Various concert halls, operas and museums offer fantastic online visits and experiences. For example, the National Opera of Paris has made some of its past shows available online and posts a new one every Monday evening. The Opera of Munich (Bayersiche Staatsoper) has also developed its "video on demand" offers online, enabling aficionados worldwide to enjoy live streams and past productions. Furthermore, the Berlin Philharmonic has a Digital Concert Hall, giving access on any device to live and past concerts. If guests cannot go to the opera, bring the opera to them. Organize a private screening of a live or previous concert in one of your conference rooms or give your guests the possibility to watch them in their room on a tablet or on the television.
Movie theaters have also been closed for the past months. Create your own small movie theater with a projector, a white wall and few comfortable seats or jump on the trend of outdoor cinemas and recreate one in your garden or rooftop. The Hoxton, for example, regularly organizes screenings for guests and locals alike and The Cedar Court Hotel in Bradford has recently installed a drive-in cinema in its car park.
Digital Concert Hall by the Berliner Philharmoniker
Becoming a pillar for your community
Hotels can benefit from locals and locals can benefit from hotels. Hospitality is fundamentally so much more than just offering rooms for travelers. It is about creating a space that is welcoming and that can entertain. Rethinking hospitality will also include opening our doors to our local community. Social hospitality spaces will become part of the fundamentals of our operations, and amongst that, coworking spaces. Our way of working has drastically changed over the past decade, with more entrepreneurs, small startups and freelancers emerging every day. Some hotels, such as The Hoxton or the Ace Hotel, have been welcoming locals to their lobby for years. With free wifi, a coffee shop and various seating areas, these new types of lobbies are dynamic and vital in their neighborhoods.
Jumping on the trend, The Crown Plaza launched Plaza Workspace a few years ago, combining an accessible, well-thought open area with an hourly bookable studio for meetings. Other hotels, like Hotel Schani in Vienna or Zoku in Amsterdam, have decided to take advantage of the trend and the new necessity for a workspace, to offer memberships for a proper coworking space. Most recently, Accor has announced the plan to create 1200 coworking spaces in their European hotels by 2022. This project was released after Accor's joint-venture with WOJO (formerly Nextdoor), the leading coworking brand in Europe created by Bouygues Immobilier in 2017.
Coworking space at Zoku Amsterdam
If dedicating a whole area of your hotel for independent workers is not an achievable solution for you, consider adding your property on a website like CoWorking.Coffee, which regroups multiple coworking spaces and enables people to review the various locations. Alternatively, join the Spacemize network in the UK, a platform that offers memberships to access different coworking options within hotels. The german platform One Coworking also offers a similar membership system, giving access to many locations around Europe.
Remain relevant for your local community by hosting events for external customers. Hotels like the Coq Hôtel in Paris, the Hotel i31 in Berlin, and Mama Shelter or The Student Hotel around Europe often organize events with free entry for both in-house guests and locals. Another example is The Brach Hotel in Paris, which offers workshops and masterclasses with their chef. Other hotels have a membership system, such as The Curtain in London or Soho House worldwide, which grants members access to curated events and main facilities, like the rooftop pool and the gym at The Curtain. You can also offer access to your wellness facilities to outside customers with daily passes or monthly/yearly subscriptions, like The Mayfair Hotel in London. You could also add your property to the platform Urban Sports Club. This website and app works with a subscription system and enables people to work out in a variety of locations around European cities. For example, hotels in Berlin like The Westin Grand Berlin or Adina hotels have joined the Urban Sports Club network.
Attract locals with "staycation" offers
Have you ever had locals stay at your hotel? If not, what can you do to attract them? Appeal to them by offering them something they don't have at home, such as a fitness center, a spa or room service. This upcoming summer is the perfect time to focus on attracting locals rather than international tourists. Following the current pandemic, people that are willing to travel probably won't go as far. Rethink your marketing strategy and reconsider your target market. People travel for various reasons, to escape their everyday troubles, to discover a different culture and to experience new adventures. Even within the same city or country, you have the opportunity to offer an original, one-of-a-kind stay to your guests. The key is to get your guests in the vacation spirit.
Locals don't need a place to stay for the night. They want to experience something different. Offer an "event and room" package, with tickets to a local or in-house (social distancing friendly) event. For example, organize a fitness weekend, by partnering with local fitness coaches that would organize classes at your hotel for your guests. Move the furniture around your meeting rooms, add a few yoga mats, serve a healthy menu, add a spa treatment to the mix and host a "post quarantine summer body challenge".
Moreover, emphasize your special offers on special occasions like birthdays, anniversaries or honeymoons. Appeal to people that had to cancel a special trip abroad due to the pandemic and are trying to make up for it. Let prospects know that you will help them celebrate by adjusting to any special requests. Create various packages for these occasions and make guests feel like a staycation is not just a way to make up for the missed holiday, but that it will be a lifetime memory.
Local businesses should be your next partners
To add value to your "staycation" offer, partner up with local businesses and attractions and create an exclusive package, including, for example, a curated welcome package and a visit to your area's best spots. Connect with local tour guides and organize tours around your neighborhood and reach out to a local deli, souvenir shop or wine shop to create an exclusive welcome package, combining products representing your area. Additionally, you could work with a local bookstore to put books on display in the rooms or in your lobby, as another entertainment service. With warm summer days approaching, contact an ice cream shop next door or a bike store and ask for a deal, to offer ice cream vouchers or complimentary bikes to your guests. Any extra service that you can propose will add value to your guest's experience, and local businesses can help you go the extra mile.
Moreover, don't hesitate to outsource services you don't currently have at your hotel. For example, if you don't have a spa, partner with a local beauty salon to provide some treatments directly in the guest's room. You could also collaborate with a local fitness center to allow your guests to use their facilities if you don't have them. Several city hotels, such as The Hoxton, offer this kind of system, as it enables them to save space whilst still providing customers with the possibility to work out.
Whether it is a small change or a major innovation, reinventing your operations can only benefit your hotel, as we enter a new age of travel. Guests will have new expectations, governments will have new regulations, businesses will have new needs. Take a look around you, ask your peers, get inspired and make a change.
About the Author
Student at the École Hoteliere de Lausanne, Léa is passionate about hospitality, marketing and technology innovation. She strongly believes that hoteliers should take advantage of technology to improve their operations and address the needs and expectations of their customers.