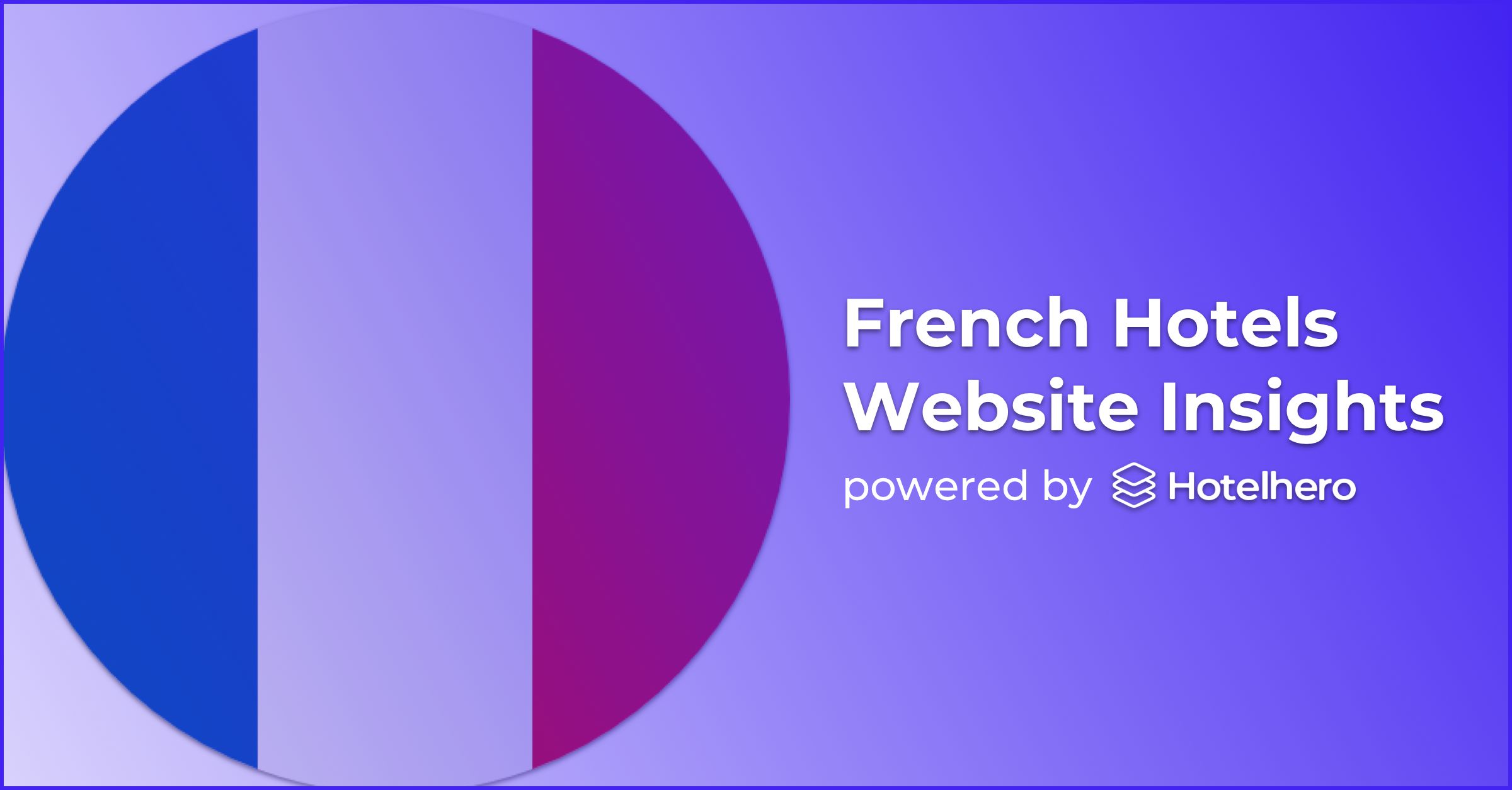 French Hotels Website Insights - Summer 2020
Sep 08, 2020
- Thibault Gence
WIPO (World Intellectual Property Organization) has just released its 2020 GII (Global Innovation Index) with France gaining 4 spots to become the 12th most innovative country in the world behind some of its European peers such as the United Kingdom (4th place), Germany (9th place) or Switzerland (1st).
It is no surprise that France's technology ecosystem is well established when it comes to value creation but what about its adoption? Are French independent hoteliers riding the wave when it comes to leverage technology?
In this latest Website Insights, we looked at more than 1300 hotels to identify the level of innovation as well as the presence of "French-made" solutions within the ecosystem by analyzing five of the most predominant system categories. In order to provide an accurate observation of the market, we only cover software categories for which we have significant data and sample sizes. The categories include:
---
Booking Engines
France's hotel consortia landscape is amongst some of the largest in the industry with well-known brands like Relais & Châteaux, Hotels & Préférence, The Originals Hotels, or Logis Hotels. With digital becoming one of the cornerstones to the independent hotel's competitiveness, brands have invested a lot of their resources in equipping their members with efficient technology. As an example, The Originals Hotels have recently signed a partnership with Travelclick to power the group's CRS while Relais & Châteaux as well as Hôtels & Préference have been working hand in hand with Synxis to create integrated ecosystems. Logis Hotels, with an extremely strong French member base, has partnered with French software provider Reservit which makes it one of the leading booking engines with 20,9%. These representation companies have played an important role in bringing the adoption rate of this technology to 89%.
When it comes to the presence of French tech in the national ecosystem, our analysis shows, that more than 59% of hotels are selling their rooms via French providers with one of France's largest technology vendors, D-EDGE, accounting for more than 33%.
E-Reputation & Review Marketing Tools
Reputation management tools have been around for as long as 12 years. Still, independent hoteliers, especially, have been slow to adopt such solutions as they are perceived as time-consuming and labor-intensive. Only 17% of French independent hotels have implemented one on their website. You could argue that consumers do not necessarily trust hoteliers who showcase their score on their website, as nobody would show a negative score to potential customers. You could counter argue that, collecting customer feedback to improve the overall experience and avoid negative reviews, or increase the volume of positive reviews on online portals is crucial for any property trying to stand out.
Website Conversion Tools (Direct Booking Boosters)
The "Macron law" (in French 'Loi Macron') from the 6th of August 2015 was a gamechanger for the French hotel industry. Previously, hotels were forced to sell their inventory at the same rate on all distribution channels (except, in some cases, through phone, emails,and loyalty programs). This historic change opened a whole new world of opportunities for hoteliers including a strong direct booking strategy. With this news arose a new category of players that specialise in increasing conversion rates by comparing prices on brand.com versus various OTAs for a given point in time.
Today, our analysis shows that hoteliers have started placing a great deal of importance on those tools with an impressive 13%. French provider MMCréation accounts for more than 43% of the market share.
Voucher Management System
Since 2003, many companies such as Smartbox or Groupon, have paved the digital platforms for online voucher consumers. As in the hotel distribution landscape, the need for a direct channel seemed inevitable, and many technology providers have positioned themselves on that topic.
Before COVID-19, online vouchers were mainly a way for hotels to create additional packages, price points, and flexibility for prospects. Today, they have become a "must" for many hotels in these times of uncertainty and low demand as they are a cheap alternative to generate cash without having to wait for D-Day (date of stay).
Our analysis shows that 17% of French hotels are equipped with such a solution. French provider, API & YOU holds more the 72% of the market share.
Website Chats & Chatbots
OUISNCF, Booking.com, or AccorHotels, amongst others, have been forerunners in embracing chatbot technology. Thanks to their massive reach, these platforms have educated consumers who now perceive as almost "normal", online businesses that provide such services. French hotels have taken note and started implementing such tools to increase website retention, enhance personalization as well as the overall guest experience.
Classic live chats are also well appreciated by hoteliers even though they require a staff member to be available at all times. Making this observation, French company HotelDirectBooster has created a hybrid model between humans and automation by providing a live chat with dedicated and trained reservation agents, to allow hoteliers to focus on operations rather than their live chat.
France is well-positioned in innovating this part of the value chain with already 8% of its independent hotels being equipped with either a chatbot or live chat. French providers, Quicktext and HotelDirectBooster account for more than 83% of the market share.
This analysis confirms France's position in the Global Innovation Index, at least in the hospitality industry. For each product category analyzed, a french provider accounts for most of the market share, D-EDGE for booking engines, Qualitelis for online reputation, MMCréation for website conversion tools, API & YOU for voucher sales, and Quicktext for chatbots. We can also see that even if Switzerland is the world's number 1 on the GII, France is perhaps more performant when it comes to the commercialization of its innovations when looking at adoption rates of various categories.