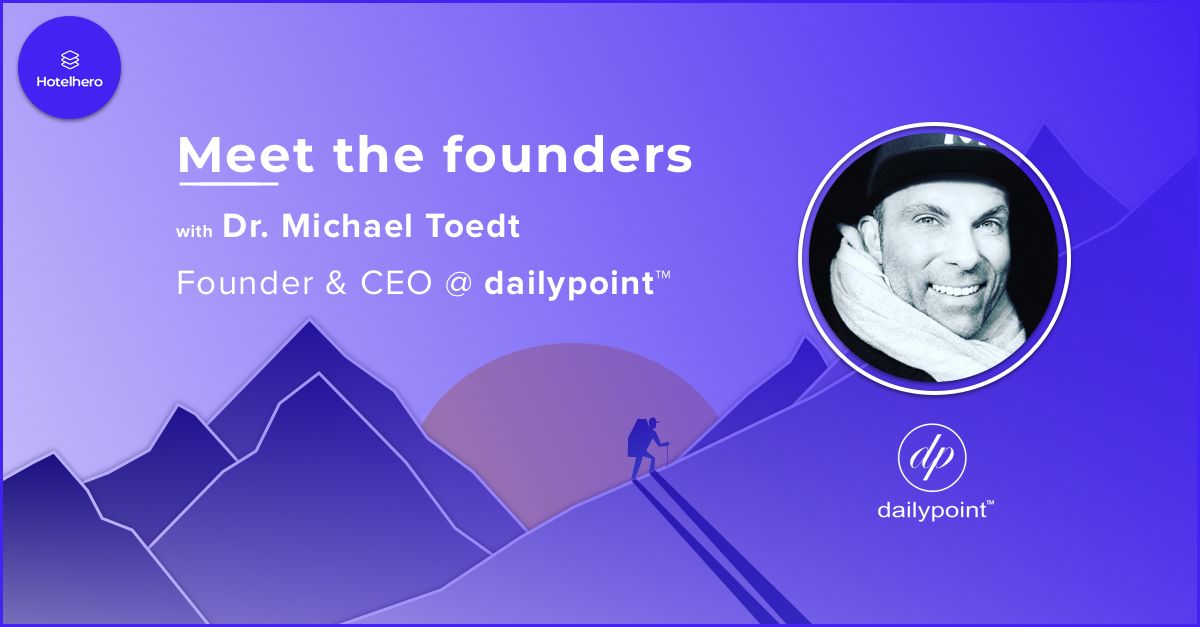 October 8th, 2019
From cooking in a 1 Michelin star to centralising guest data for hotels around the world, meet Dr. Michael Toedt
By Florian Montag , Co-founder @ Hotelhero
Dailypoint provides a guest data and CRM (customer relationship management) platform for hotels of all sizes, from independent high-scale properties to large chains around the world.
We sat down with company founder & CEO, Michael Todt, to hear his story and how Dailypoint became what it is today.
---
Let's get started Michael! Before we talk about your product, tell us a bit about your story and how you got into the hotel industry?
I have always been involved in the hotel industry. My parents owned a 4-star superior hotel in the Bavarian Alps so I kind of grew up with the business. I started my career as a cook in a Michelin star restaurant and finally worked as a chef in the family run hotel.
After some "turbulences" I decided to move on and studied Hotel Administration. During my time at the university in Munich I founded my own catering company and later in addition to that an online hotel platform. I started my second career in the Hotel IT sector in 2000 at Sansora International, one of the pioneers of hotel CRM systems. Since the company was sold to Starwood Hotels in 2005, I founded together with two friends the Toedt, Dr. Selk & Coll. GmbH, today known as dailypoint™.
Since 2000 I have been deeply involved in the CRM sector, from customer relationship marketing to management. The main question for me is: how to monetize "Big Data", meaning better service, better decisions and higher profit margins.
I am the author of several books and my articles are published by journals on a regular basis. I also work as a lecturer at the University of Applied Sciences Munich for the subject "Customer Relationship Management in Tourism" and "Hotel IT Systems".
So tell us about your product? Why did you decide to build this or what problem are you trying to solve?
Since software systems have been implemented, hotels split their customer knowledge into many different unconnected tools. Over the last 15 years, we have developed processes to create the ever-dreamed of single profile for each guest. With dailypoint™ our users can leverage from this new knowledge in all hotel areas and departments, not only in marketing. Dailypoint™ shall be the centerpiece of a digitalization strategy in which everything comes together.
What type of properties uses your product? Can you tell us a bit about the different accommodation providers your product caters for?
dailypoint™ is a real multi-tenant cloud application which means all our clients are on the same version, the same application. Due to the intense customization possibilities the system can be used by a small individual hotel as well as from international hotel chains with hundreds of hotels and thousands of users.
How is your product different from what is already existing in the market? Any key differentiators or USPs?
dailypoint™ is a data hub, a data management platform with 14 own modules plus a marketplace combining best-of-breed solutions to cover the whole customer journey. Our competitors are mainly CRM companies, focused on marketing, with basic data cleansing functionalities and almost no effects on the operation due to a missing two-way link to the PMS. Especially the fully automated cleansing is the key to success.
If a CRM company says they clean data as well, just ask three simple questions:
Is the process 100% automated?

Do you correct automatically the data in the PMS?

Are you even able to merge profiles automatically in the PMS?
Amongst all others, what is one of the key features your customers love the most?
The deep customer knowledge we create by building one central profile with data from multiple sources, enriched by Artificial Intelligence and Machine Learning processes. When people see this for the very first time, they usually cannot believe it.
Centralised and consolidated guest profile from multiple input sources
What were some of the biggest challenges while building the product early on and how did you solve them?
At the beginning, 15 years ago, creating the necessary relationships with the different IT vendors in order to build integrations. The hotel IT landscape is very fragmented and much more complex than especially outsiders assume. It requires time, patience, networking, participations in shows and conferences as well as playing an active role in associations like HTNG, HSMA, HSMAI, HFTP plus the local hotel associations.
To wrap things up, we are in an industry were collaboration and partnerships are crucial. Is there any specific 3rd party software that brings most value to your clients? Or is there a product on the market that really caught your eye?
I really like hotelkit. The founder is a hotelier like me and a really good guy. I like how they target and re-think the operational processes. They use our public API and the available guest knowledge to offer a standardized and highly individualized guest service at the point-of-sale. This is pretty cool.
---
About the Author
Florian is a Co-Founder of Hotelhero and a graduate of École Hoteliere de Lausanne. Passionate about hotels, service excellence & technology Hotelhero is built on the belief that independent & small chain operators should be leveraging technology for the better. Our platform and services strive to give every hotelier a chance to compete in this highly competitive market by implementing the right technology.