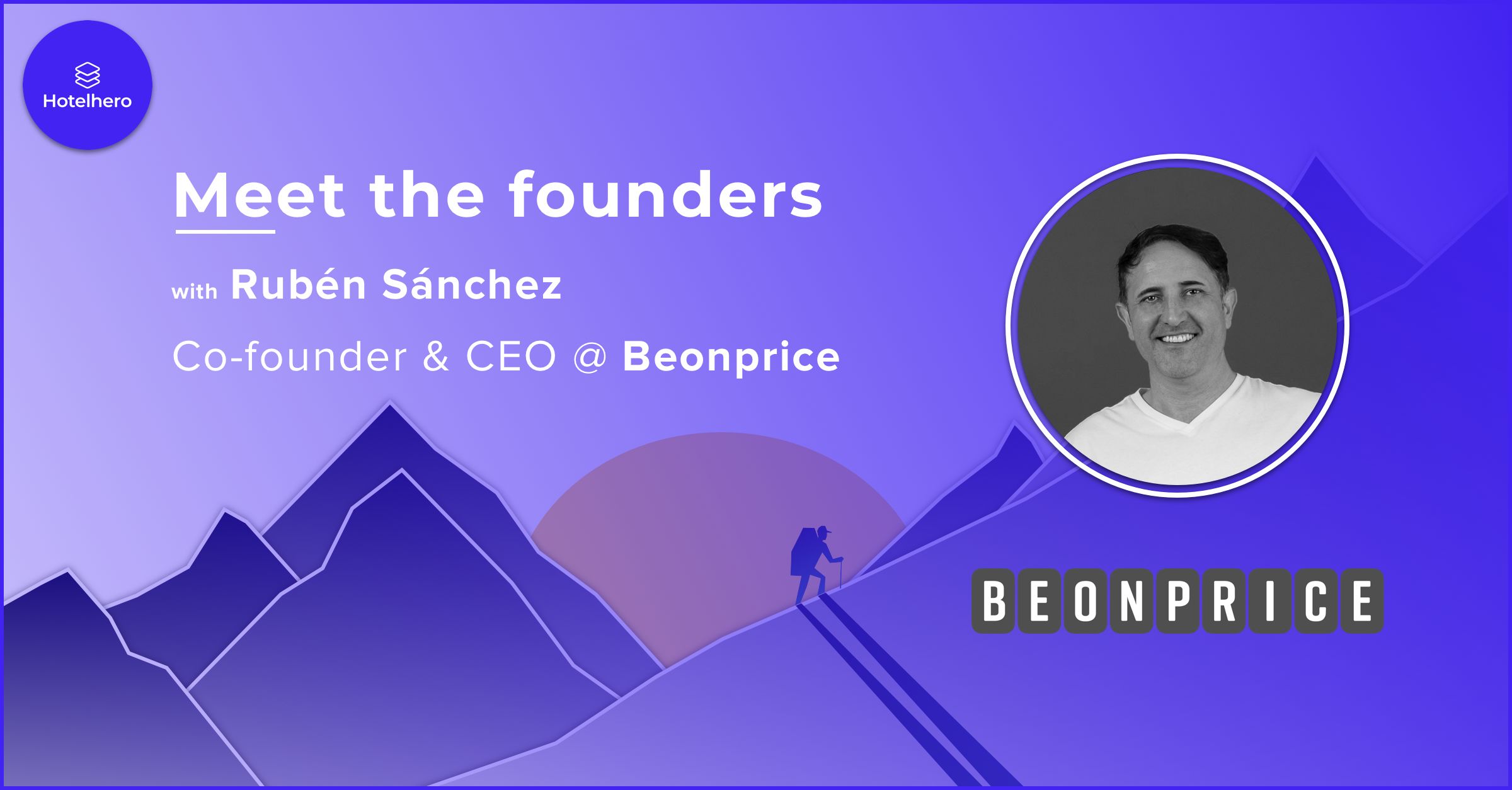 November 18, 2019
From love for data to building pricing technology for hotels, meet Rubén Sánchez
By Thibault Gence , Co-founder @ Hotelhero
Beonprice provides a revenue management system and market intelligence tool based on a unique proprietary "hotel quality" index to power pricing recommendations.
We had a chat with, co-founder & CEO, Rubén Sánchez to hear the story behind the company.
---
Let's get started Rubén! Before we talk about Beonprice, tell us a bit about your story and how you got into the hotel industry?
Beonprice was born out of the love and admiration for data, and the power it can have to optimise key metrics like RevPar. Emilio, my co-founder, and I both wanted to use our expertise in technology and data to take on one of the most complex industries: the hotel sector. The mission was not to replicate what had been done before, but to revolutionise the way hoteliers manage, look at and work with data.
A simple idea became a fast-moving Silicon-Valley demo product in 2013; an office in Salamanca, Spain, followed by immediate growth in Spanish-speaking countries. In less than six years the company has grown to 2,000 customers worldwide and, in 2017, we won €1.4 million in our first round of capital investment funding.
So tell us about your product? Why did you decide to build Beonprice or what problem are you trying to solve?
My sister worked in hotel chains and told us about the great opportunity that existed in the tourism sector with the disruption of the Internet, where the conditions of selling hotel rooms are changing and the sale is greater. At that time there were not many tools on the market. The existing ones were mainly American and provided a lot of data, but in practice it was very difficult to make decisions based on that information.
We both wanted to start a new project. In the previous years we had worked in technology companies and we were determined to create a new company where we could develop a product to be sold in all the countries of the world. With the business idea we began to analyse the business model at the Founder Institute (a Silicon Valley accelerator that had landed in Spain). For four months we were modeling the idea, developing the business plan and creating a company with the mission of transforming the hotel sector, especially distribution, providing high-value solutions, very simple to use in all areas of the hotel: from the presidency, partners, revenue managers or even receptionists.
We can still see that 84% of hotels do not use revenue management technology but its adoption is growing. There is a big chance it will become a key feature of the hotel tech stack, with the ever-changing online landscape, and with technology becoming more affordable.
Agility, innovation and organization are the engines of our brand, with the aim of offering profitable innovation and being part of the DNA of each of our customers. We have developed the HQI™, the only index in the hotel market that measures the overall quality of a hotel in order to understand its competitive positioning and price elasticity. It takes into account more than 350 objective quality features, such as location, hotel services and facilities, catering, hotel room size, as well as online reputation. HQI™ also monitors customer booking behaviour, while bearing in mind the quality expectation of the establishment before and after booking.
What type of properties uses Beonprice? Can you tell us a bit about the different accommodation providers your product caters for?
We have democratised Revenue Management and allow hoteliers to focus on what really is their business: customer service.
We want to help hotels, taking into account that intermediaries become stronger and stronger, increase commissions and the hotelier feels helpless. Our vision is to provide innovative technology based on artificial intelligence to help the hotel sell the maximum number of rooms with the highest possible margin taking into account the very competitive ecosystem.
Our main clients are hotel chains, although we also have independent hotels and apartment managers in our portfolio, who are concerned about getting the most out of their marketing. All this through an easy and intuitive solution that gives them the information they need to make strategic decisions for their business and increase profitability.
How is your product different from what is already existing in the market? Any key differentiators or USPs?
We wanted to be disruptive and base the price recommendation taking into account the behaviour of people who book a hotel on the Internet and the services that hotels have. We have developed a cloud-based hotel revenue management system (RMS) based on big data and machine learning technologies. Beonprice combs public market intelligence like competitors' pricing, customer demand, and a hotel's online reputation on sites like Booking.com and Trivago to recommend the optimal price for each type of room. Beonprice has further perfected its algorithm with the first-of-its-kind quality index (HQI™), which takes into consideration the quality of a hotel from a guest's perspective in order to generate the price elasticity of demand and predict consumer behaviour.
Linear forecast
Our solution offers a dynamic pricing system that evaluates and generates a new optimal price for a room several times a day, allowing hotels to stay on top of dynamic market conditions and maximize their revenue per available room (RevPAR).
Amongst all others, what is one of the key features your customers love the most?
The first feature that comes to mind is our custom dashboard. It helps you manage your hotel in a personalised way from a single control panel that allows you to define, prioritise and quickly control the execution of strategic actions.
Custom dashboard
Another feature our clients really like is our personalised alerts which enable you to stay up to date with everything that happens without interrupting your daily life.
What were some of the biggest challenges while building the product early on and how did you solve them?
One of the biggest challenges in terms of product evolution is to be able to satisfy the constant needs of our customers who are accompanied by the change that the hotel distribution is constantly undergoing.
The advantage is that our customer-centric vision allows us to think as a strategic partner who goes along with its customers and anticipates the needs of the hotelier.
To wrap things up, we are in an industry were collaboration and partnerships are crucial. Is there any specific 3rd party software that brings the most value to your clients? Or is there a product on the market that really caught your eye?
As the penetration of revenue management systems grows, it will become a key feature of the hotel tech stack. The hospitality sector is going to explode technologically speaking in the next few years.
Beonprice becomes the brain of the organization making decisions taking into account hotel reservations and real-time information of what happens on the Internet (demand, weather, flights, events...). So, the integrations with third companies are vital to bring maximum value to the hotel, we have more than 65 accredited partners already: the most important PMSs, channel managers and CRSs in the hospitality industry.
For us all the partners of the hotel industry are important because we understand that the result comes from the sum of all those involved and that is why we always like to be accompanied by the best to help us grow along the way and join forces.
---
About the Author
Thibault is Co-Founder of Hotelhero and a graduate of École Hoteliere de Lausanne. Passionate about hotels, service excellence & technology Hotelhero is built on the belief that independent & small chain operators should be leveraging technology for the better. Our platform and services strive to give every hotelier a chance to compete in this highly competitive market by implementing the right technology.