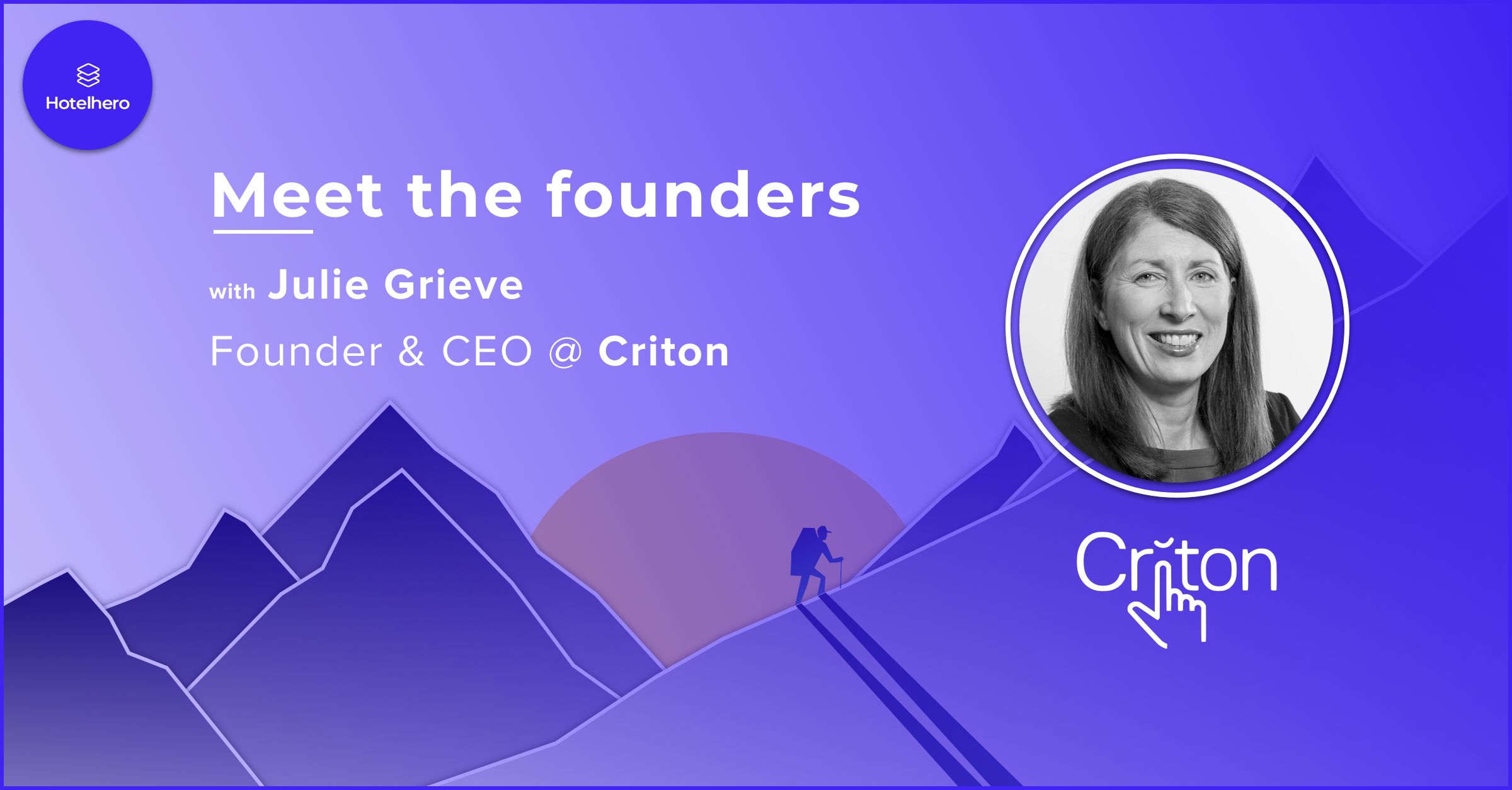 From opening serviced apartments to building apps for hotels, meet Julie Grieve
October 1st, 2019
- Thibault Gence
Criton is a drag & drop mobile app builder for hotels and services apartments. It enables accommodation providers to better cater to the new generation of travellers, increase ancillary revenue through upselling and streamline operations for your staff.
We interviewed the company's founder and CEO, Julie Grieve to know more about her story.
---
Let's get started Julie! Before we talk about Criton, tell us a bit about your story and how you got into the hotel industry?
Prior to founding Criton, I set up and ran a luxury serviced apartments complex in Edinburgh. When finalising the build, I created a guest information book, which took a significant amount of time and financial resource; yet as soon as it was printed, it quickly became out of date.
I thought it would be ideal to digitise the guest information book and allow guests to access the information on their own devices. The app quote of £8,500 was far too expensive for the business. So I looked for a solution like Wordpress for apps to allow me to create a guest app. I then realised there was no such solution in the market and decided to sell my house to found Criton.
So tell us about your product? Why did you decide to build Criton or what problem are you trying to solve?
I launched Criton to give independent hotels and serviced apartments access to the same technology that large hotel chains already adopt. Modern travellers are increasingly using their mobile devices to find everything they need, book services and send orders and requests. There's a plethora of neat guest-facing technologies out there in the market from messaging and ordering to digital key and loyalty. However, driving guest engagement therefore ROI across multiple interfaces is hard and a poor guest experience.
Criton enables hotels to integrate all their guest-facing technology and digitise all their guest information into a branded mobile app to offer a better guest experience and drive guest engagement with the technology which improves the ROI. With Criton, guests don't have to use different platforms anymore. By simply using the hotel app, they can check-in even before they arrive, message the hotel, request in-room service, book services and much more. This helps hotels enhance the guest experience, boost engagement and increase direct bookings, upsell and loyalty.
Bespoke app design for each hotel
What type of properties are offering Criton to their guests? Can you tell us a bit about the different accommodation providers your product caters for?
A guest app will be used by any accommodation provider who wants to take the guest experience to the next level and cater for the next generation of travellers. Our clients include small independent hotels, large resorts and groups of hotels and serviced apartments. From low cost through to luxury it's about putting the tech of choice into the guests' hands.
How is it different from what is already existing in the market? Any key differentiators or USPs?
Most of our competitors offer in-room devices or apps with limited functionality. We believe what research has shown: guests don't want to use an in-room device they don't feel comfortable with, don't know how to operate and fear they will break. And I genuinely don't believe it's a good investment for hotels to invest in depreciating technology for their rooms. Guests bring their own device(s) with them and this is the platform they clearly want to use. Think about all the travel apps modern travellers use every day to get an Uber or go through security at the airport using the app of the airline they are travelling with and yet when they get to a hotel, they have to queue.
Criton is a technology aggregator. We are technology agnostic, we want hotels to be able to choose which technology they want to use and give their guests access via their own app. This means that we should be able to work with a good majority of the market and deliver a cost-effective solution for hotels which is used by guests.
Amongst all others, what is one of the key features your customers love the most?
Well, it depends, our operators love the push notification feature to upsell and gain rebookings. Our clients' guests love in-app check-in and the food page in equal measure :)
Customisable push notification messages & scenarios
What were some of the biggest challenges while building the product early on and how did you solve them?
We used an open-source system to launch, although it meant we got to market quickly it has caused us issues and held the product back in some places. We're about to launch our new solution which is built from scratch and if I may say so pretty nifty.
To wrap things up, we are in an industry were collaboration and partnerships are crucial. Is there any specific 3rd party software that brings the most value to your clients? Or is there a product on the market that really caught your eye?
I'm a huge fan of digital key. I believe for any hotel it's a step-change in offering guests the choice of how they consume our hospitality and for staff not having to issue keys it's going to allow them to get back to providing that hospitality rather than doing admin. Our new solution integrates with Assa Abloy to begin with but we will add all the major digital key providers shortly thereafter.
---