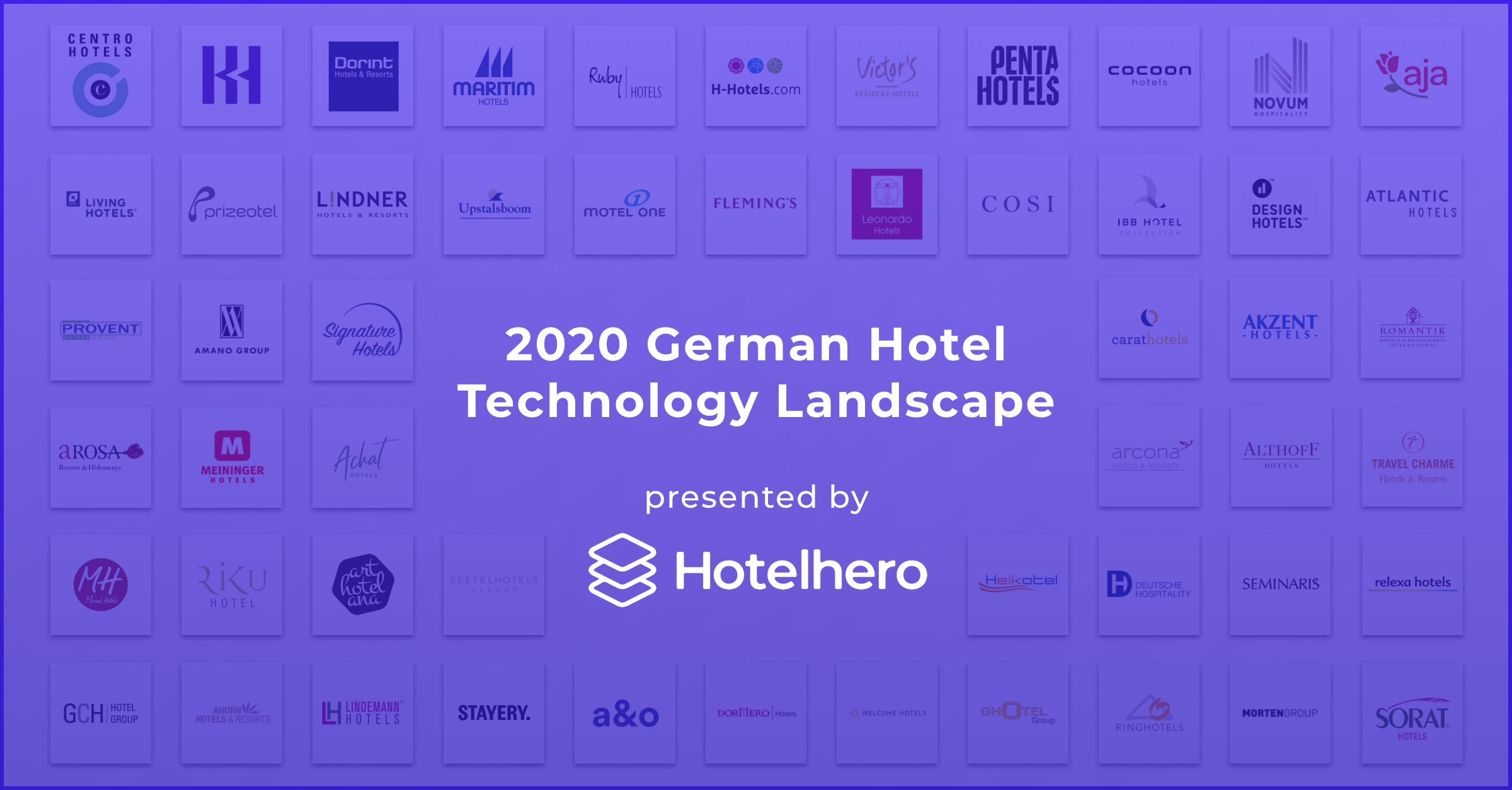 German Hotel Technology Landscape 2020 | Hotels must pursue a strong digital strategy to succeed in the market after the crisis 
Berlin, 2.12.2020 - To give hotel executives an insight into the hotel tech market, the first report about the German Hotel Technology Landscape was published today by Hotelhero in partnership with the Hotelverband Deutschland (IHA) and in cooperation with HSMA Deutschland e.V and techtalk.travel. This report underlines the importance for hotels to rely on a strong digital strategy in order to succeed in the market after the lockdown. At the same time, 80% of the surveyed managers in the hotel industry still complain about fundamental problems with regard to interfaces, budgets and data standardisation.
Otto Lindner, Chairman of the Hotelverband Deutschland e.V. "Although the COVID-19 pandemic is currently overshadowing almost all areas of everyday hotel life, it is particularly important to set the right course for the future. A major challenge for the hotel industry lies in the implementation of new technologies in existing infrastructure and their flexible interchangeability. More than ever before, hotels are required to adapt their business models, renew processes, make IT architectures more flexible and consistently expand digital communication channels. The need for action and support on the way to digitalisation is very different and individual for each hotel company."
Florian Montag, Managing Director and co-founder of Hotelhero, explains: "One can see that the subject of digitalisation, as a result of the pandemic, has become more important in the industry, but unfortunately there are still too many obstacles for hotels. Many experts hoped that the only positive outcome of the pandemic would be a digital boom for the industry, but this has not materialised due to lack of budgets and investment uncertainties." Montag emphasises: "Hotels must rely on an overall digital strategy and make sure that their system landscape is fully connected. The automation of processes and a technology ecosystem that offers flexibility will be more important than ever in the future".
The lack of interfaces, budgets and data standardisation make it difficult for most hotels to adopt the model of the interconnected plug & play platform known from other industries, such as retail. Given the lack of innovation in industry-specific solutions, some hotel groups, such as H-Hotels.com or Maritim Hotels, are turning to cross-industry solutions to meet their needs and requirements. It is to be expected that this trend will become even more important in the future.
The report shows that the focus for hotels is on digitalising processes around the guest journey and automating tasks around the check-in/out process. Currently, most executives see online check-in as the most important trend in the industry. Out of 41 analysed German hotel brands, almost 44% have a solution to either completely or partially digitalise the check-in process. Fully automating these processes is much more difficult for existing properties than for new builds. "After the pandemic, however, the human component will also come back to the forefront, because being able to automate a check-in/out, payment and invoicing process does not mean that there can be no more human interaction. It only means that manual tasks are automated. The technology will streamline processes and enable reception staff to act as real hosts," says Martin Stegner, CIO Novum Hospitality
"The Report about the German hotel technology landscape and our IHA Marketplace, where association members can register free of charge to find the systems that best fit the hotel's particular system set-up, are two excellent tools for quickly and easily gaining an overview of the latest technologies and respective providers. We are very pleased that with Hotelhero at our side we can bring more transparency and comparability for hoteliers into the tech jungle." rejoices Otto Lindner
The report is available for download to IHA members at www.hotellerie.de or can be downloaded free of charge from https://info.hotelhero.tech/en/german-hotel-technology-landscape-2020
---
About Hotelhero
Hotelhero is dedicated to helping hotels better discover, manage and purchase software. Founded in Berlin in 2017, the company has built a best-in-class database of over 1,500 software products and over 25,000 hotels using them. Hotelhero has been cooperating with the German Hotel Association (IHA) and the Austrian Hotelier Association (ÖHV) since 2019. The Hotelhero contract management tool enables hotels and hotel chains to manage all their contracts and subscription, and track the associated costs and budgets
About Hotelverband Deutschland (IHA)
Hotelverband Deutschland (IHA) is the national trade association for the hotel industry. Established in 1992, we represent more than 1,300 leading hotels in Germany ranging from hotels in the midscale market segment to hotels in the upper upscale and luxury category. Its primary role is to lobby government across Germany and in Europe representing the views of the industry and promoting and protecting the interests of all operators in the industry. We also provide members with a wide range of services designed to keep them informed of industry issues, help grow their business and save them money and time.
Contact information
For more information please contact: Florian Montag, Co-Founder & Managing Director at Hotelhero GmbH
florian@hotelhero.tech | +4915150878586
Never miss a post
Join theBrief newsletter and stay up to date on all the latest hotel tech news
No spam. You can unsubscribe at any time.