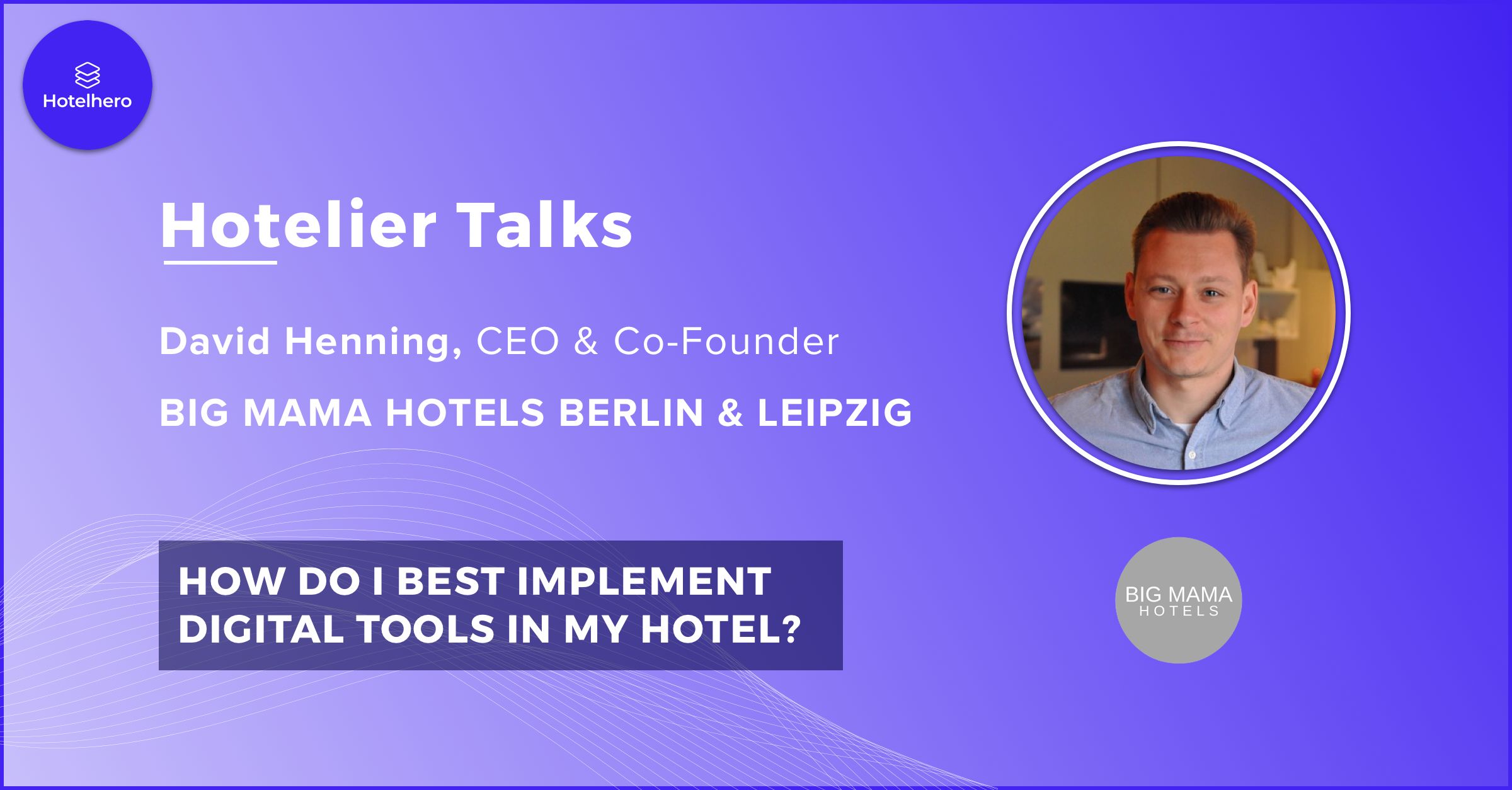 June 15th, 2020
How do I best implement digital tools in my hotel?
By Florian Montag , Co-Founder @ Hotelhero
In today's interview we talk to David-Friedemann Henning, Co-Founder & CEO of the BIG MAMA Hotels Berlin & Leipzig. David shares with us his experience on how to implement new digital tools in a hotel and how these tools can benefit your operations as well as guest experience.
You can listen to the german interview in full by clicking on the video, or you can read the most important questions and answers below.
---
Hi David, could you introduce yourself and the BIG MAMA Hotels to the Hotelhero community in a few sentences?
I have changed careers and joined the hotel industry at later stager, as I am a trained real estate agent. My mother founded the BIG MAMA Hotel in Berlin in 2013 and I fully joined the business in 2015, also as managing director. Since then we have tried out a lot, among other things we have implemented the hostel floors, we have implemented many technologies and simply tested a lot. This worked out quite well and that's why we decided in March last year to open our second hotel in Leipzig.
What differentiates us as a brand is that we don't do everything like the others but rather look at things from a different angle.
How is your current state of mind and what did you do during the lockdown?
At the beginning I watched one webinar after another to get new inspirations. We noticed relatively quickly that things were getting more serious and thought about what we could do. We communicated quickly with our guests that we are still open and that we will remain open throughout. We set up most of the teams in home office in Berlin and Leipzig.
In Berlin we still had an occupancy rate of 50-55% due to our construction companies we have and they were also very happy that we remained open.
Of course this phase was nerve-racking and we also had to send employees on furlough schemes, but I believe that the situation will help us in the long term and that we will be stronger in the future than one or the other company.
Do you currently have specific campaigns to attract local guests to your hotels? Especially with regard to #staycation?
Yes, in the beginning we sent out mail campaigns to our local guests, we could easily do that by filtering through our guest profiles in our CRM.
We don't do any price reductions, but we do offer a free drink at the bar, two for one breakfast, etc.
We communicate a lot with our guests both by email and social media. Especially Instagram is very popular. We do cocktail training via video and much more. Nowadays almost everybody does it, but we do a lot to give our guests something to enjoy.
Why does the topic of digital transformation play such an important role for you? And did your vita as a newcomer in the industry hamper this process or support it even further?
Absolutely, especially as a newcomer, all the tools and systems have helped me tremendously. It was always important for me to understand things and to learn them, but the tools help me to save a lot of work and costs and I have learned a lot from them.
Overall, we have a relatively lean personnel concept. Of course, we have a bar and reception, but no back office or reservation department, everything is automated. That's why we were able to scale down and up relatively easily during Corona times, and all these tools really help us a lot to do that.
Are your digital tools and process automation helping you to keep your hotels profitable despite lower occupancy rates?
Yes, that helps us considerably. Most of the people who work for us are full-time employees and we place great value on them. But of course, our tools help us to automate many processes and therefore our break-even point is lower than in some other hotels, which sometimes need 60% to 70% occupancy.
How did the process of digital transformation look like for you and what are your experiences?
When I started, we had a really old-school PMS. You had to do everything by hand: the reservations that came in, we had to print them out and type them into the system, add the city tax... The employees had a stack of reservations that they had to process each shift and therefore had less time with the guests.
Because of my fresh perspective and many conversations with others from the industry, I knew that such systems existed. Then I just started to search on Google and looked at a bunch of demos.
For me it was clear at that time that the PMS is in the center and everything else works around it. - That's changing a bit now that the CRM is taking over the central role - I wanted a system that could already map quite a lot of the needed functionalities and we were lucky that we made the right decision back then.
It was also particularly important to me that the interfaces were really open interfaces and that I could test the interconnectivity of the tools beforehand. I tested them in the demos. We added more tools over time.
What role does the digital customer journey play for you in your hotels, and has Corona changed something about it?
We've always been offering both options, you can do the whole process from booking to check-in either with a human or completely digital.
To date, we of course push our guests to fill out the online check-in form so they can go directly to their room and avoid having to spend time at the reception desk. Naturally, we are here for our guests and we want to talk to them too, but we see that at the moment more and more guests are taking the digital route. It is nevertheless important that hotels do not neglect their core competence, which is personal contact.
How do you assess the role of the CRM and guest communication in the hotel industry?
I think that the topic CRM and PMS have to be seen extremely close together, because the data often comes from the PMS but is better processed in the CRM and then comes back to the PMS. I think that this has to work together very well, that is the interface that has to work in any case and where there is no way around it.
When it comes to guest communication, nowadays guests are pretty much flooded by all communication channels, be it email or social media from hotels. As a hotel you need to send various emails and messages to guests, but you should also once book a room at your hotel yourself and see what kind and how many emails you get from your own hotel. When communicating with your guests, it is important to think about what, when and through which channel you communicate with them.
Are there certain tools that have saved you a lot of time and nerves through back-office automation?
We never had a big back-office team and had always said that the front desk would do that, but at some point, there were a lot of things that the front desk had to do. For example, with the direct interface from the booking engine to the PMS we saved up to 4 hours per day by simply eliminating the manual inputting of new reservations into the PMS.
Something we have now relatively new is the DATEV interface. Our accounting in our house in Leipzig runs completely automated and we have no accounting here at all, everything goes directly and already prepared to the tax advisor and everything is already processed.
Are there also risks in relation to new digital tools?
Risks are of course always long-term contracts and if the provider does not provide a trial period. You should always have the opportunity to test a tool. Another risk with start-ups is that they can go bankrupt, you have to be aware of that, but then again you haven't lost more than having to set up a new tool. This is of course a question of attitude.
With almost every tool you can decide whether you prefer to work with a small and slim tool or with a big and sophisticated one, that is also reflected in the price.
In the end, you should always be open to change your system and not have one system forever. Everyone has to make their own risk assessment and see what fits best to them.
Which competence and resources are needed to be able to go through the digital transformation process in a hotel?
You don't need a great deal of expertise, we are the best example for that. You have to have the will and take the time to understand the topic. It's also important not to simply delegate the process, but to deal with it yourself.
When it comes to budgets, it depends on which option you choose. The ROI (Return on Investment) has to be measurable, for example our reception staff have much less work to do today than before and can spend it now on taking better care of the guest. In this case you definitely see that it is worth it.
Start-ups can often be very grateful that you try something new with them and reward you with a discount and at the end of the day we are also business people and you just have to negotiate well.
About: David-Friedemann Henning
CEO BIG MAMA Hotels
David-F. Henning is CEO and co-founder of BIG MAMA Hotels.
BIG MAMA is an individually managed design and budget brand that currently operates two hotels, in Berlin and Leipzig. As a trained real estate agent, the 29 year old found his way into the hotel business 7 years ago and completed a BA Hotel Management course at the IST University in Düsseldorf.
About the Author
Florian is a Co-Founder of Hotelhero and a graduate of École Hoteliere de Lausanne. Passionate about hotels, service excellence & technology Hotelhero is built on the belief that independent & small chain operators should be leveraging technology for the better.