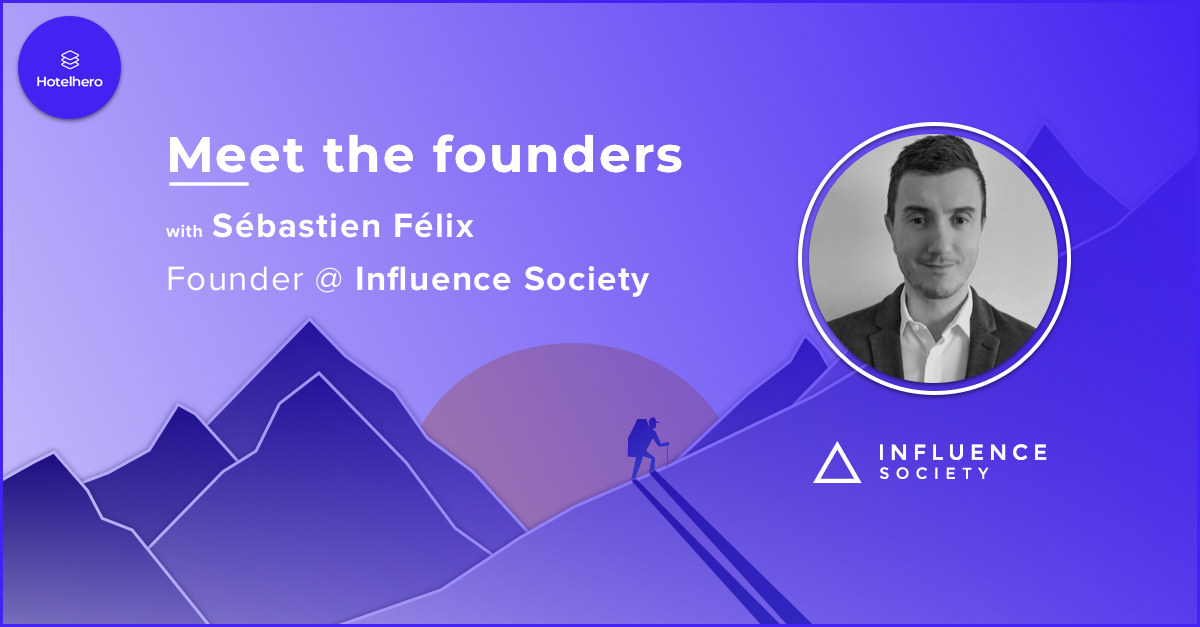 Increasing hotel revenue through storytelling, meet Sébastien Félix
By Thibault Gence
September 19, 2019
Influence Society is a next generation digital marketing agency specialised in web design, story telling campains and social media bots. The company recently launched a coaching and learning platforms to help its clients become more autonomous in their marketing activities.
We sat down with Sébastien Félix, its founder, to know more.
---
Sébastien, let's get started! Before we talk about your Influence Society, tell us a bit about your story and how you got into the hotel industry?
I started my first steps within the Maisons & Hôtels Sibuet, a luxury family-owned hotel group based in Megève. I was in charge of the digital marketing activities of 11 hotels (4 and 5*) from Les Fermes de Marie (a ski-resort in Megève) to Villa Marie St-Tropez.
I then continued as digital manager at the WIHP agency in Paris for 4 years before creating my first start-up (Buzz&Go) where we aimed to connect Instagrammers and hoteliers.
For almost 3 years now I have been creating and launching Influence Society, a brand new marketing agency model for pioneering hotel brands.
So tell us about your product? Why did you decide to build this or what problem are you trying to solve?
We provide several digital marketing solutions for luxury and lifestyle hotel brands: advertising campaigns, community management, websites creation, courses, etc... We combine storytelling and data to create awareness and conversion campaigns for our clients.
I made 2 observations when I launched Influence Society: On the one hand there are creative agencies with real branding expertise and on the other hand there are classic marketing agencies that only talk about return on investment and direct sales. A hotel is above all a brand. It needs a strategy that involves both design and advertising performance if you want to make it a success.
Secondly, I personally love learning. And I think that knowledge sharing is the key to changing consumption patterns and the way business is done. That's why I wanted to put customer education and transparency at the heart of the agency's DNA. As a result, we have created dozens of courses and content on digital hotel marketing that we share with our customers through our mobile application.
What type of properties uses your product? Can you tell us a bit about the different accommodation providers your product caters for?
We currently work with almost a hundred hotels in Europe.Our clients are mainly family hotel groups with between 3 and 25 properties. They are unique hotels, far from the hotels of traditional chains with strong brands or concepts behind each of them.
How is your product different from what is already existing in the market? Any key differentiators or USPs?
We do not define ourselves as a marketing agency but as a digital partner for our customers. Our main asset is the long-term relationship we build with our hotels. Our best customers are hotels that have understood that it is no longer enough to have rooms but you have to build a brand. To build a brand, teams and the human beings who make it up are key. Technology is there to accelerate when it is understood and well used.
E-learning platform for hotel marketers
Amongst all others, what is one of the key features your customers love the most?
We have revisited the traditional digital agency model to enter a new era with our hotel customers.

Our hybrid formula allows us to support clients in their skills development in all digital marketing subjects. This allows us to both create creative campaigns for them (and generate revenue) and at the same time train and empower internal teams.
Today, traditional training is ineffective. 70% of the content transmitted during a training day is lost after 15 days if you have not put it into practice.
For this reason we have developed a mobile application dedicated to microlearning, accessible 24/7 from your smartphone, and which meets today's challenges:
On-demand training from anywhere and with the ability to download offline your lessons to your phone.
Courses and a learning system that adapts to your level. Each person progresses in an individualized way and at his or her own pace.
Operational tasks at the end of each course that allow you to put into practice what you learn and get a return on your training investment.
What were some of the biggest challenges while building Influence Society early on and how did you solve them?
Our biggest challenge is having two market opportunities at the same time: education and autonomy. We want to empower hoteliers by giving them tools where they are autonomous and at the same time the education and learning time necessary to build a brand over time.
To wrap things up, we are in an industry were collaboration and partnerships are crucial. Is there any specific 3rd party software that brings most value to your clients? Or is there a product on the market that really caught your eye?
We work extensively with Facebook & Instagram which offer the possibility of targeting travelers in search of their next hotels in a very precise way. We will continue to work with them to provide the best possible experience for our customers.
---
About the author
Thibault is Co-Founder of Hotelhero and a graduate of École Hoteliere de Lausanne. Passionate about hotels, service excellence & technology Hotelhero is built on the belief that independent & small chain operators should be leveraging technology for the better. Our platform and services strive to give every hotelier a chance to compete in this highly competitive market by implementing the right technology.
Never miss a post
Join theBrief newsletter and stay up to date on all the latest hotel tech news
No spam. You can unsubscribe at any time.