October 15th, 2018
Independent Hotel Show Partners: Meet Dorian Partner Manager @ myhotelshop
By Florian Montag , Co-Founder
We are celebrating our UK Entry at The Independent Hotel Show in London this 16 & 17th of October. To celebrate this big step, we are joining forces with 6 of our amazing partners and are hosting the most exciting hotel technology stand at the show. In this series of interviews we are having a chat with the different founders and managers about what makes their company special, trends in the industry and of course what they appreciate most about our community.
Tell us a bit about you and myhotelshop?
Myhotelshop is an online software and service marketing agency specialized in providing marketing solutions for independent hotels to increase their direct bookings. With a big focus on metasearch and adwords campaign management, myhotelshop helps more than 1800 hotels across Europe to drive traffic to their hotel website and Booking engine and increase direct bookings.
Some value propositions from new software companies are saving costs, process optimisation or data integration but hoteliers are often still reluctant to invest in new systems. What is your key reason an independent hotel should invest in your solution?
When looking at what new solutions to invest in, it is very important for a hotel to look at what return on investment it will get. For us, it's quite simple, on one hand, we allow hotels to reduce their costs by shifting OTA booking to direct bookings at a much lower cost than their commission and on the other, we drive new traffic to their website allowing them to get even more revenue. In the end, it's a no brainer - save costs and make more money.
Looking at the market and your competitors, what would you say is your key differentiator (USP)?
A lot of tech companies want to offer marketing however, they all make the same mistake thinking a hotel is the same as any other company and just make a tool to put in the hands of the hotelier to manage himself. We believe that's completely the wrong approach.
There are over a thousand things going on in a hotel and hoteliers for sure don't have the time or expertise to manage CPC (cost per click) campaigns. That's why we give the hotelier an expert that will take over the entire campaign management for him, including setting strategies, reporting and analyzing the results. Save money - increase revenue - save time.
For hoteliers looking to stay on top of the latest in hotel technology, it can be difficult to separate trends from immediate necessities. What would you say are the key aspects to watch out for when selecting new systems?
In my opinion the most important is to clearly identify the value of both. Trends are important to look at because if everyone is staring in the same direction, there is most likely something there. However, it's essential to not get blind-sided and miss the immediate necessities. Hotels must always have an eye on what's going on and not jump too soon but also keep an eye on their needs and not wait too long before it eats them.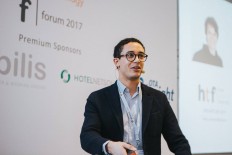 Tell us more about what's most exciting about the UK market and what are you're expecting from the Independent Hotel Show?
Indeed the UK is a very exciting market, hoteliers are very knowledgeable, the digital affinity is at its peak and there are all kinds of cool technologies popping up every year. I hope to be able to get a real feel of what the hoteliers are like and how the market responds to direct marketing.
Last but not least, could you give us some insights on why you joined the Hotelhero community and what makes it special for you?
I think Hotelhero is a great initiative and onto something really important. Hotels clearly want an easy solution where all their technology is managed from one hand. However, no company will ever be able to provide a 360 degree solution that works as well as an assembly of several products. I believe the Hotelheroes of this world are really the future in this aspect for helping hotels.
We're excited to be there! Book a meeting and come meet us at booth 339.
About the Author
Florian is Co-Founder of Hotelhero and a graduate of École Hoteliere de Lausanne. Passionate about hotels, service excellence & technology Hotelhero is built on the belief that independent & small chain operators should be leveraging technology for the better. Our platform and services strive to give every hotelier a chance to compete in this highly competitive market by implementing the right technology.