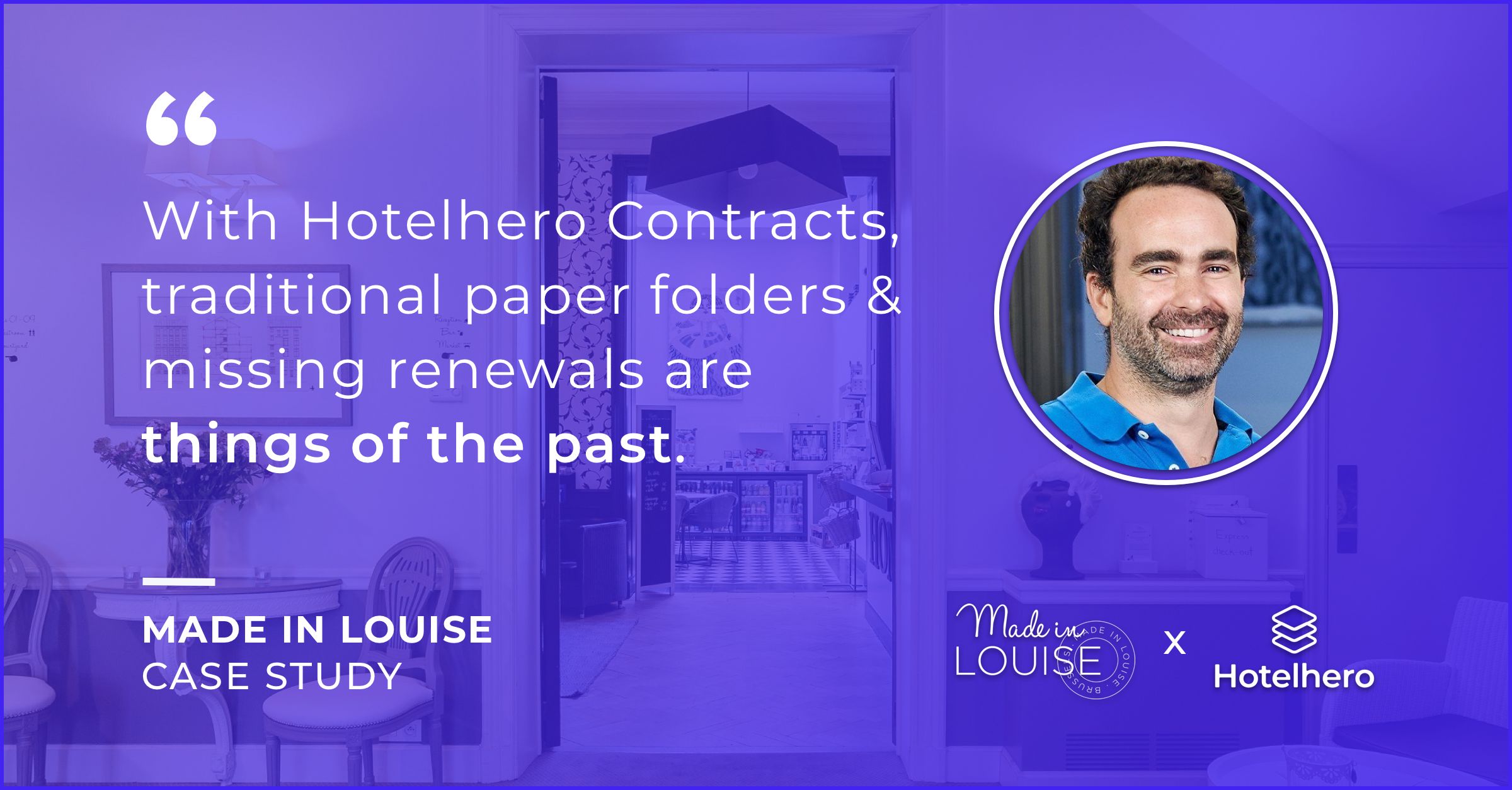 Made in Louise digitises its hotel contract & vendor management with Hotelhero Contracts
Jan 19, 2021
- Thibault Gence
We sat down with Martin Duchateau, Founder & Managing Director of Made in Hospitality, to have a chat about how Hotelhero Contacts has changed the company's approach to contract and vendor management and given it extra control in managing renewals and negotiation deadlines.
"Hotelhero's contract solution arrives at a perfect time as it's now easier to change providers due to shorter contract lengths and open APIs"
A quick intro to Made in Hospitality
Brussels-based Made in Hospitality consists of two hotels: Made in Louise and a new opening in 2022. The company has been using Hotelhero since mid-2020 and hosts over 15,000 guests every year. The brand combines the casual & authentic atmosphere of a boutique hotel with ecological and environmental initiatives enabling it to obtain the Green Key label in July 2020.
Now onto how Martin & his team at Made in Louise solved various pain points with Hotelhero Contracts.
Challenge #1: Missing auto-renewals
Despite the team's attempt to keep up with dozens of contracts through Google Calendar, the lack of a dedicated tool led Made in Louise to experience the frustration of missed cancellation deadlines multiple times. Depending on the type of contract (software or service), the negative impact can be big: a loss of money, sometimes thousands of euros or a missed opportunity to innovate by replacing an existing software with a better one.
Solution
The advanced notifications system now enables Martin to streamline deadline monitoring by setting custom alerts for all relevant team members simultaneously depending on the contract's terms and conditions:
Start & end date
Auto-renew duration
Cancellation policy
Thanks to Hotelhero's calendar synchronization feature, the Made in Louise team can also have an overview of important dates in Google Calendar on top of the email notifications.
Result
No more renewals missed
No more unexpected costs
Piece of mind for the team
Hotelhero interactive calendar offers synchronization to all popular calendar applications
Challenge #2: No overview of contracts, related costs, and digital document formats
Previously, the Made in Louise team had no clear overview of all active contracts, whether it be important dates, related costs or digital PDF formats of each document. All this information was accessible physically in multiple locations with no up-to-date data leading to searches in:
Paper folders
Email history
Google Drive
Google Calendar
Solution
With Made in Louise's contract index within Hotelhero, any member of the team can remotely access all the above-mentioned information, download files when necessary, and on top of that, track costs related to each provider easily through its analytics dashboard. With its analytics dashboard, Martin can also dive into specific time frames and pricing models to identify key cost drivers and hidden costs.
Result
Improved time-efficiency to retrieve information when needed
The data is available at any time from any device
One tool for all things related to contracts
The Hotelhero contracts Index provides an overview of all contracts, key dates & enables easy filtering of contracts categories & departments
Challenge #3: Rushed decisions
Martin generally used to take notice of potential contract cancellations or renewal deadlines when realizing their renewal date was coming up or when his providers sent a notice email.
This meant, that for him to have a reasonable decision-making timeframe, he should either have the necessary tool and SOPs in place or a provider acting in good faith and timing.
Because of that, the Made in Louise team did not always have the time to think back on the service's return on investment, their overall satisfaction, and the need for a potential change.
Solution
Hotelhero's real advantage for Made in Louise is the tool's ability to help Martin & his team think back, in due time, on their relationship with each provider asking themselves three key questions:
How was my year with this provider?
What are the provider's vision and future plans?
Is the timeframe I have, big enough for me to start a change to another alternative?
Do I have the energy, resources, and knowledge to find a better alternative?
When it comes to finding alternatives for software, Martin is happy to count on his Hotelhero account manager for recommendations based on Hotelhero's Marketplace data.
Result
The first notification arrives on an average of 90 days before the cancellation policy deadline
Never renewed a contract because he didn't have time to research alternatives
More time to negotiate better prices with providers
"The notification system allows me to plan ahead and be proactive instead of reactive when it comes to questioning the need and return on investment for each service we subscribe to."
Challenge #4: No-time to digitise documents and set up the data in the tool
Even though interested in digitising the full process of contract management, Martin apprehended the need of dedicating time to digitise all of Made in Louise's contracts, especially in times of COVID-19 and furloughs.
Solution
To remove this hurdle, Martin opted for the contract uploading service relieving him from spending even one minute setting up the tool. One email to his Hotelhero account manager, a small one-time setup fee and his contracts were 100% digitised.
Result
One happy general manager!
Looking to the future
With physical contract management now behind them, Made in Louise can look at more ways to automate and streamline some of their back-office tasks and processes, but also spend more time doing what they do best, taking care of guests.