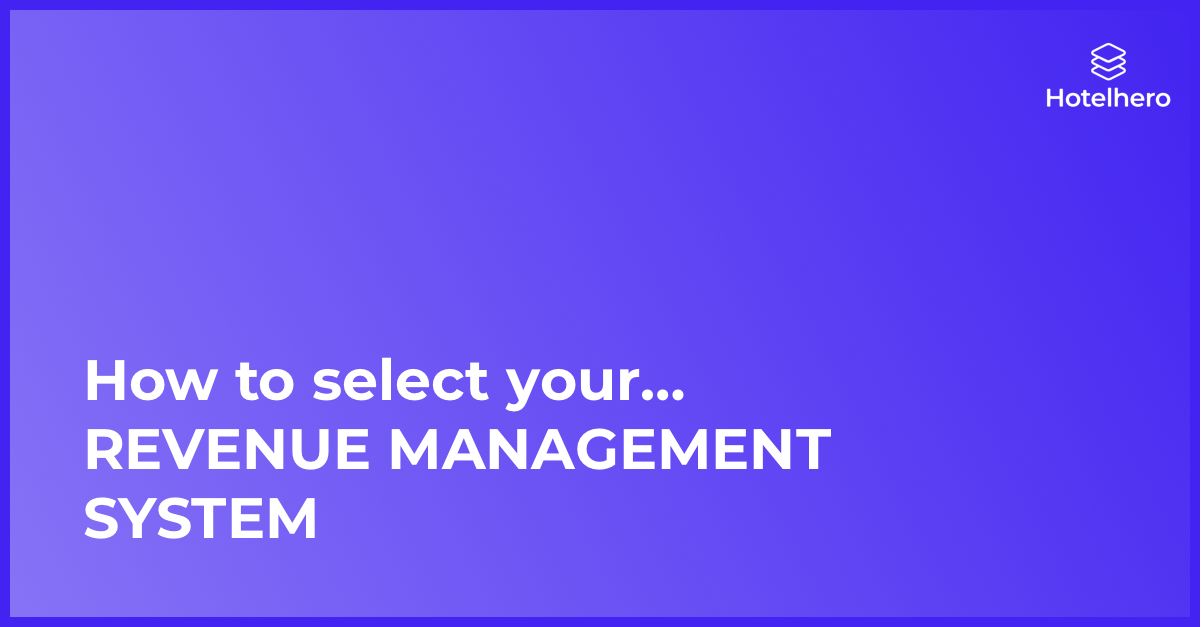 Make the right choice on your new Revenue Management Solution
July 3, 2018
- Florian Montag
Revenue management is always a hot topic in the industry. Specially at the moment there a lot of new revenue management systems (RMS) coming to market, all claiming that they have found the secret sauce to accurately forecast the right pricing for your rooms.
In today's world, hoteliers should use tools like an RMS to help them build their revenue management strategy. According to research from Starfleet midsize to limited service hotels have seen a 7 percent average increase in RevPAR after implementing a revenue management system.
Conducting the preliminary work
Before thinking of implementing a new revenue management system a hotel needs to make sure that the groundwork is done.
- It is vital that the RMS is seamlessly integrated with the property management system (PMS), channel manager (CM) or central reservation system (CRS).
- Inputting clear and clean data is crucial for accurate revenue forecasting. It is better to have less data, which is precise than having a large chunk which is unstructured or faulty
- Having a specialised revenue management person in your hotel is important to be able to use revenue management effectively.
- The revenue management capabilities of your team and the willingness to spend time and effort on Revenue Management will determine what kind of RMS you will want to work with
- Building a detailed revenue management strategy including all of your revenue streams. It should have clear goals focusing on your most important KPI's (RevPAR, GOPPAR, etc.)
Three questions to ask when selecting a new RMS
1. Will the solution provide the answers we need to our pricing questions?
Sit down with your team and discuss the main problems and questions you have concerning your pricing strategies. Build a comprehensive list of these questions and make sure that the new RMS can help you answer the most important questions.
- By how much should we increase or decrease our rates for a given type of room?
- How far in the future can we forecast?
- How many groups, and what size groups, should we accept on a given day?
- How much should we charge walk-in guests?
- What should be the floor and ceiling for our rate range?
- What price for what channel?
2. Is the system intuitive and meets your needs?
When conducting the demo and analysing the functionalities of the system make sure that your team members who will need to use the system in the future feel comfortable with the system. This is not only about a beautiful interface or extensive functionalities, some revenue managers prefer having a more complex system being able to dissect the data into more detail, as others prefer having most of the processes automated and trust the system.
3. What is the solution provider's track record of success?
Speak with current references of the provider. The best references are the ones which have a similar profile, as your hotel.
- Why did they choose to implement the system?
- What are their experiences with the system?
- How the customer support (24/24, account manager)?
- What are the best/missing features?
Most importantly find out if the hotel could see a clear improvement in their key KPI's and on their final bottom line.