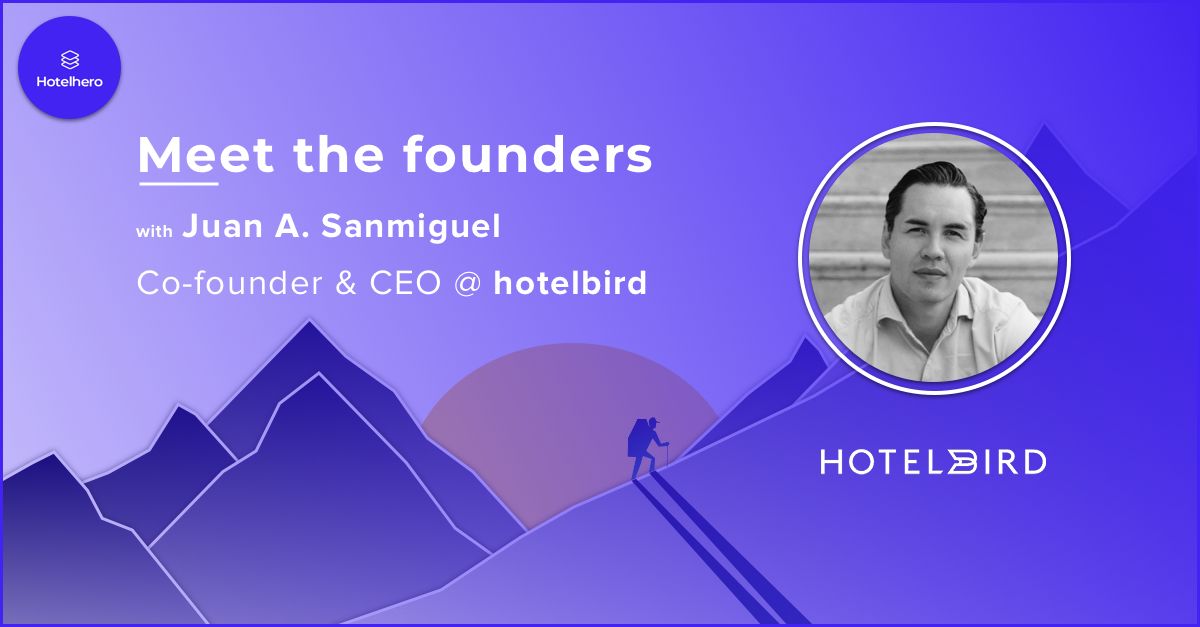 Making customer touch points and guest journeys frictionless, meet Juan A. Sanmiguel
October 10th, 2019
- Thibault Gence
hotelbird provides fully automated guest journeys through integrated mobile apps that let guests check-in and out, open their room & pay their bill online all from the comfort of their smartphone.
We sat down with founder & CEO, Juan A. Sanmiguel, to know more about his journey in the industry and the vision behind hotelbird.
---
Let's get started Juan! Before we talk about hotelbird, tell us a bit about your story and how you got into the hotel industry?
Almost everyone in my family works in the hotel business, so throughout my whole life I have always been connected with the tourism industry. I thought a lot about what annoys people when staying in a hotel and how I could solve this problem. Eventually, I came up with a concept for digitizing various processes in the hotel business and improving services for the guest. hotelbird was born!
So tell us about your product? Why did you decide to build this or what problem are you trying to solve?
I came up with the idea for hotelbird when I arrived in Miami after a long flight and had to queue for more than 45 minutes at the hotel reception. That experience was strenuous. There had to be another way, I thought to myself, and the idea of hotelbird took shape in my head. But I didn't want to tackle the adventure of founding a company alone: a team had to be formed. For half a year, I talked to freelancers, agencies and consultants until I finally met my co- founder Korbinian Hackl. We realized immediately that we share the same pioneering spirit and visions for the hotel business. He took my idea, played around with it and developed and refined it. Our team is the key for success.
What type of properties implement your product? Can you tell us a bit about the different accommodation providers hotelbird caters for?
Our product is used in every kind of hotel, from properties without reception to 3-4 star hotels, which usually offer the hotelbird digital services as an additional option to their reception. Depending on the hotel concept, the technology is used in different ways and by all different types of hotel guests. Business travellers avoid annoying waiting times at the reception desk due to the app and benefit from significantly higher flexibility and independence when it comes to dealing with recurring formalities in the hotel. Especially the younger generation is used to automated solutions and digital offers from other industries. Therefore, millennials are also enthusiastic about our technology and use our products frequently. In addition, the luxury hotel industry highly appreciates digital offers. Through the integration of hotelbird, employees at the reception have more time for personal service and individual consulting of their guests.
How is hotelbird different from what is already existing in the market? Any key differentiators or USPs?
Basically, our technology digitizes and automates the entire hotel stay, from online check-in to digital registration forms and room keys to mobile payment and digital check-out. The digital key via the app is an additional option to conventional key cards. Key points that distinguish us from our competitors are our advanced technology including two-way interfaces to the leading system provider in the hotel industry, flexibility in integration into existing technical infrastructures, independence from large booking platforms and our 24-hour availability and flexibility in the use of our digital services.
Amongst all others, what is one of the key features your customers love the most?
What hotel guests love most about hotelbird and our services is the tremendous flexibility and freedom we give them. The use of our software is very easy and efficient. All bookings are clearly listed in the software for recurring stays in the same hotel. The system is compatible with common booking platforms such as booking.com. The check-in including the digital signature for the registration form can be carried out on different platforms - according to the guest's wishes either via our app, online via the respective web browser or soon also at a self-service terminal directly in the hotel. But with the check-in and the digital registration form, the digital guest journey only begins. The digital key is also very popular among hotel guests, because you always have your key with you on your smartphone. For this function, we work together with the leading locking system manufacturers. A retrofittable Bluetooth module in the door lock enables the use of the digital smartphone key. "Digital keys" and ordinary key cards can be used at the same time. This means that guests can choose between modern and traditional services at any time. Our payment function is also thought through to the end. Hotel guests can distinguish between private and business invoices. The appropriate invoice is then sent to the guest by email. Of course, the mobile payment process is carried out by a certified and PCI-compliant payment provider. Sensitive payment data is not stored with us or on the server.
Digital key
Thus, the automation of check-in and check-out, the registration form or the payment process save a lot of time at the reception desk. This allows employees to focus on their primary task: excellent personal service. Digital services help hoteliers even in times of skills shortage, as they significantly relieve employees and save costs through the use of the software. This is the basic idea behind hotelbird. We support hoteliers in increasing the satisfaction of their guests and in increasing their turnover.
What were some of the biggest challenges while building the product early on and how did you solve them?
First, we had to build upon the existing Property Management Systems (PMS), some of which were complex and outdated, and develop interfaces with PMS partners to communicate with the systems. This was our biggest challenge, which cost a lot of time and money. Today we have two-way interfaces and can automate the whole check-in/out processes and reduce a large amount of time and costs for hotels.
To wrap things up, we are in an industry were collaboration and partnerships are crucial. Is there any specific 3rd party software that brings most value to your clients? Or is there a product on the market that really caught your eye?
We cooperate with many leading property management and locking systems and integrate them into our software via intelligent interfaces. We are excited to further intensify those partnerships in the future and to start new innovative collaborations. There are many interesting products on the market right now, which I will definitely keep an eye on. I am very curious about the development of the hotel industry in the coming years and I am sure we can expect even more digitalization and automation in that sector.
---