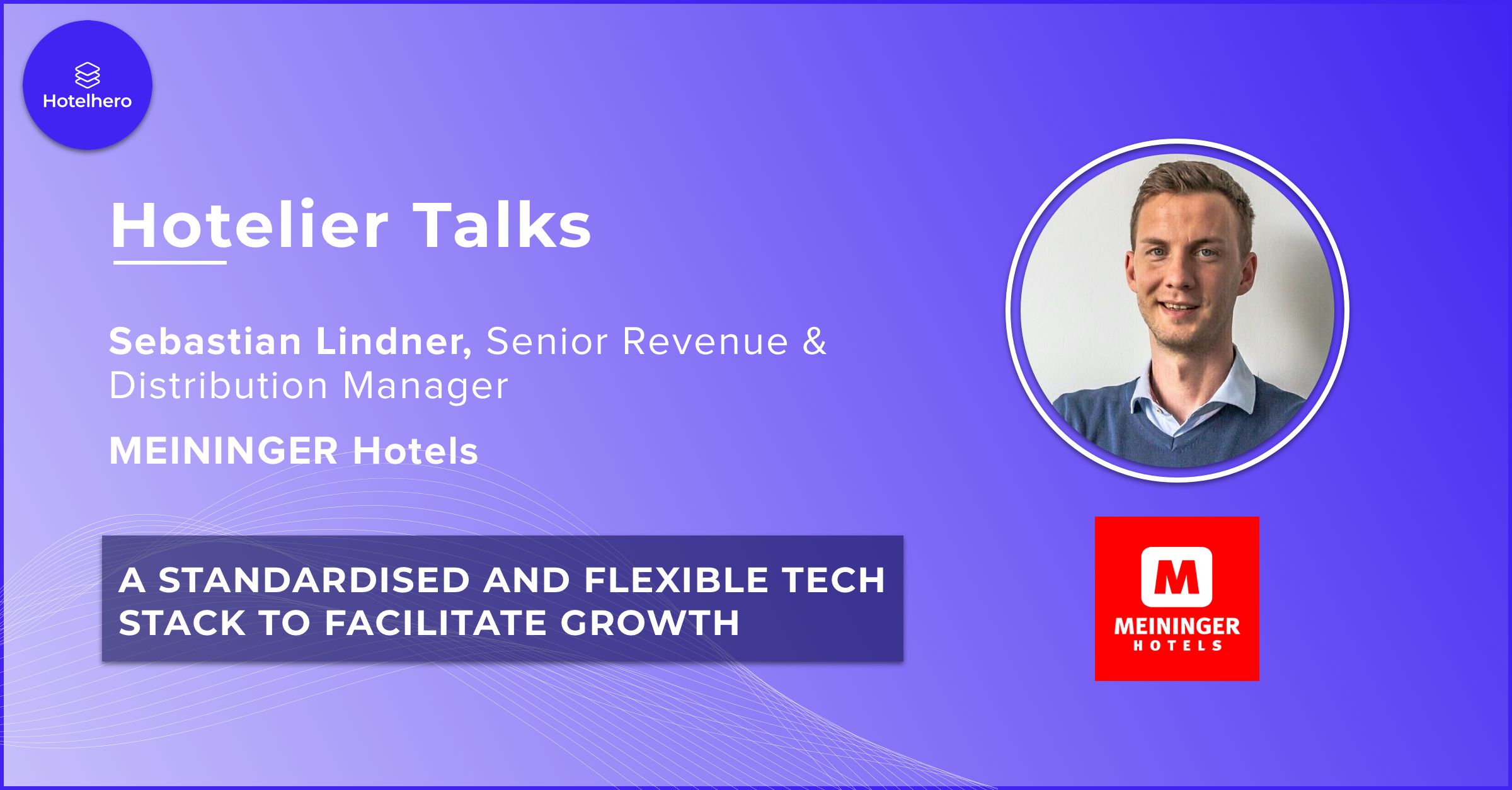 MEININGER Hotels - A standardised and flexible tech stack to facilitate growth
Jan 19, 2021
- Florian Montag
As part of the German Technology Landscape 2020 report, we had the opportunity to talk with Sebastian Lindner, Senior Revenue & Distribution Manager at MEININGER Hotels, a hybrid hotel concept combining the service and comfort of a hotel with the convenience of hostels. In this interview, Sebastian opens up on MEININGER Hotels' digital strategy, the group's unique approach to sourcing or building technology, and more.
You can listen to the interview in full by clicking on the video (only available in German), or you can read the most important questions below.
---
INTRODUCTION TO THE BRAND
What makes MEININGER HOTELS special?
MEININGER Hotels is a hybrid product, which means that our hotels combine the best of two worlds. The service and comfort of a hotel meet the conveniences that you normally only find in hostels. We offer the classic double room, an extensive breakfast buffet, but also a guest kitchen, private shared rooms, and dormitories. This combination appeals to the most diverse target groups: families, school groups, business travelers, and backpackers.
What role does digital play in your company's philosophy?
Approximately 75% of our guests are younger than 34, and we naturally want to offer this clientele digital touchpoints to simplify processes and bring our services a little closer to the customer.
THE TECH STACK
What does your Tech Stack look like?
All hotels use the same systems. Until recently, we had different PMS systems in the respective hotel. However, as we are expanding rapidly in Europe and each country has its own regulations that have to be complied with, we have now decided on a uniform PMS system and have converted all the hotels to this uniform PMS system.
MEININGER Hotels' Technology Stack
System inventory:
Property Management System: SIHOT.PMS

Channel Manager: SiteMinder

Website Personalisation & Conversion: The Hotels Network

Metasearch & Ads Management: wihp

Point of Sale: SIHOT.POS

Staff Collaboration: Microsoft Teams

E-reputation: TrustYou | Meltwater

Instant Guest Messaging: Freshdesk

CRM: NextGuest

Upselling: Oaky

Business Intelligence: Microsoft Power BI
What is the central component of your tech stack?
As a central component, we have our PMS, which is currently SIHOT, to which we connect all data and third-party tools. Nevertheless, we also work with a data warehouse, where an XML snapshot report runs daily at night from SIHOT into the data warehouse. There the data is processed and cleaned up. For example, the forecast software tools are filled with this data and our reporting also comes from there. But the PMS is and remains our basis, where we have the CRS and channel manager connected and all other tools that are relevant for the guest journey
What would be your preferred way of having it?
I am quite happy that our PMS is the basis. So we really only have one point to take care of and the whole thing is taken care of. From our own experience we can say that it is not easy to work with multiple PMS providers in one chain. This is because they all use a different account structure or market segments to then combine these in reporting is relatively complex.
TECH PROCUREMENT
How do you search & select new systems? (Is it more a long RFP or trial & error with a pilot hotel)?
As our team is relatively well connected, we are always up to date and know what's new on the market. In a small internal group we first look at whether we should start a pilot process with a new tool. Once a pilot process has been set up, we evaluate together whether the tool works, the pros and cons, the costs and whether it is worth implementing it throughout the chain.
Do you build some of your tech in-house or do your buy off the shelf?
We also develop in-house, for example, we have developed our own pricing tool. It was important for us to have a tool that fits our own pricing philosophy. Especially as we have a hybrid product (rooms & beds) we found that the existing systems on the market did not offer us the flexibility to implement our pricing philosophy.
We then developed our own algorithm, first on Excel, and then built the software, which we can now easily adapt with parameters to fit our philosophy. This modular approach has continued to benefit us throughout the crisis. But of course, such a large in-house development also requires a lot of internal resources, not only in building but also in maintenance.
Do you have specific prerequisites when you are buying new tech (cloud, interfaces, data security)?
We have no specific requirements. For us, it is decisive that the product that the company offers is helpful to us. It can be a start-up as well as an established company!
Do you have contractual minimum criteria for things like duration and payment method?
We work with master agreements for the chain, this helps us with the terms and conditions when opening new houses. We try to have as much flexibility as possible in terms of the duration of the contract and conclude contracts for no longer than 12 to a maximum of 24 months. For us, it is crucial that the product the company offers helps us. It can be a start-up as well as an established company.