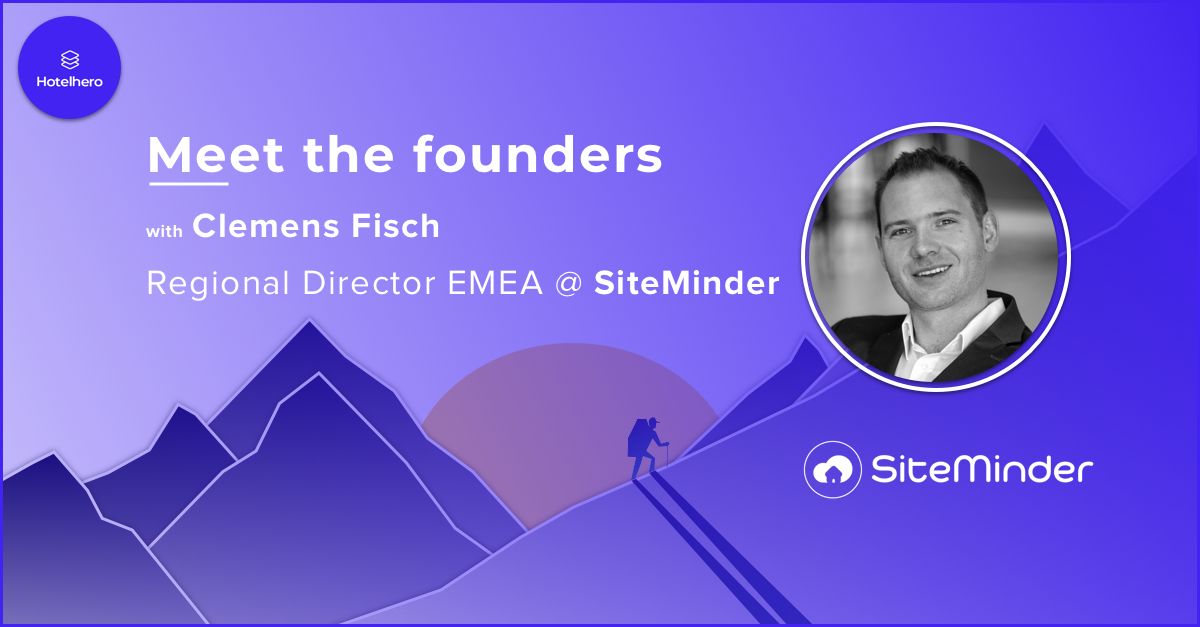 September 17th, 2019
Pioneering efficient online distribution, meet Clemens Fisch
By Thibault Gence , Co-founder @ Hotelhero
SiteMinder provides a range of tools to help hotels, hostels, serviced apartments and even B&B's in management of their direct and indirect channels. Its main product, The Channel Manager, connects to more than 500+ booking platforms.
We interviewed its Regional Director of EMEA, Clemens Fisch, to know more about the company's journey.
---
Let's get started Clemens! Before we talk about SiteMinder, tell us a bit about your story and how you got into the hotel industry?
I started out as a tour-guide, discovering Europe together with students from Canada and the US. At EF Cultural Tours, I was securing hotel space for student groups across Germany, Austria, Switzerland and France. I love travelling, so I decided to spend 1 year in Brazil improving my language skills, thereafter just to return to Austria to work for an incoming tour-operator.
After that experience, I wanted to keep working within the travel industry to I joined Booking.com to a team of account managers in Vienna . It was at this company where I first learned in depth about the world of travel technology, and loved it.
Now, at SiteMinder, I'm lucky enough to be working with this cutting edge technology everyday.
So tell us about your product. Why did SiteMinder decide to build this? What problem were you trying to solve?
SiteMinder's founder, Mike Ford, had an investment in a hostel at the same time that he was working at a health tech startup, digitising paper-based claims sent from hospitals to medical funds. Through that investment, he learned how travellers were increasingly looking to the internet to book their accommodation, and moving away from traditional booking channels such as wholesalers and brick-and-mortar travel agents. The change in consumer behaviour created a problem for hoteliers, as they had no means to centrally manage all of the booking websites that had suddenly become available and to keep their pricing and availability up-to-date on each. They were missing out on the opportunity the internet presented.
With our technical co-founder, Mike Rogers, Mike Ford found a way to connect hotel systems with different online channels – as he did in the medical funds world – to keep hotel pricing and availability updated in real-time. That was the birth of both SiteMinder and SaaS in channel management. Before then, hoteliers were charged a percentage of their channel revenue or a transaction fee per booking. We made distribution affordable for every hotel.
What type of properties use your product? Can you tell us a bit about the different accommodation providers your product caters for?
Our products evolved over the last 13 years to provide much more than distribution to both third parties and a hotel's direct channels. Today it provides solutions that put hotels everywhere their guests are, at every stage of their journey.
The breadth of our offering means we truly cater for every type of hotel, from a five-room boutique hotel based in the south of France to an international hotel chain like Pestana Hotel Group. It's a big reason we've been able to grow such a global footprint. Essentially, any accommodation business that wants to welcome more guests, domestically and from around the world, without spending a lot of money, effort or human resources, is the perfect user of our platform.
How is your product different from what is already existing in the market? Any key differentiators or USPs?
Our ability to serve every type of hotel is unmatched. Since our roots in channel management, our product has evolved into a comprehensive platform that not only provides hoteliers the ability to win guests using our own technology, but to plug into an ecosystem of more than 700 other best-of-breed solutions that help to solve for the complete guest journey, through such things as revenue management and property management. The openness of our platform is a reflection of the essence of our brand, and, where so many other providers have felt the pressures of market consolidation, we've remained completely independent.
Additionally, the global scale of our product provides hoteliers stability and security, as well as assurance it is met with localised extranets and customer support.
Amongst all others, what is one of the key features your customers love the most?
I'd say the simplicity of our platform, itself. It's specifically designed to be intuitive and user-friendly, so it can be used by anyone, anywhere. We know most hoteliers are not technology experts, so we make sure we don't add another burden to their already busy and demanding day.
Intuitive inventory & rate management grid
What were some of the biggest challenges for your founders while they built the product early on and how did they solve them?
Like most other founders, ours were faced with strong competition that had much larger sales teams and deeper pockets. Their belief in the functionality and useability of our product, combined with their speed-to-market, is ultimately what allowed them to persevere – and 35,000 hotel customers later here we are.
To wrap things up, we are in an industry were collaboration and partnerships are crucial. Is there any specific 3rd party software that brings most value to your clients? Or is there a product on the market that really caught your eye?
We're in the business of helping hoteliers to win and be visible to more guests, so all of our 700 partners provide value – to the tune of 87 million reservations worth over €25 billion in revenue, in fact. The choice of partner comes down to the hotelier user and the type of guest they want or need.
---
About the Author
Thibault is Co-Founder of Hotelhero and a graduate of École Hoteliere de Lausanne. Passionate about hotels, service excellence & technology Hotelhero is built on the belief that independent & small chain operators should be leveraging technology for the better. Our platform and services strive to give every hotelier a chance to compete in this highly competitive market by implementing the right technology.