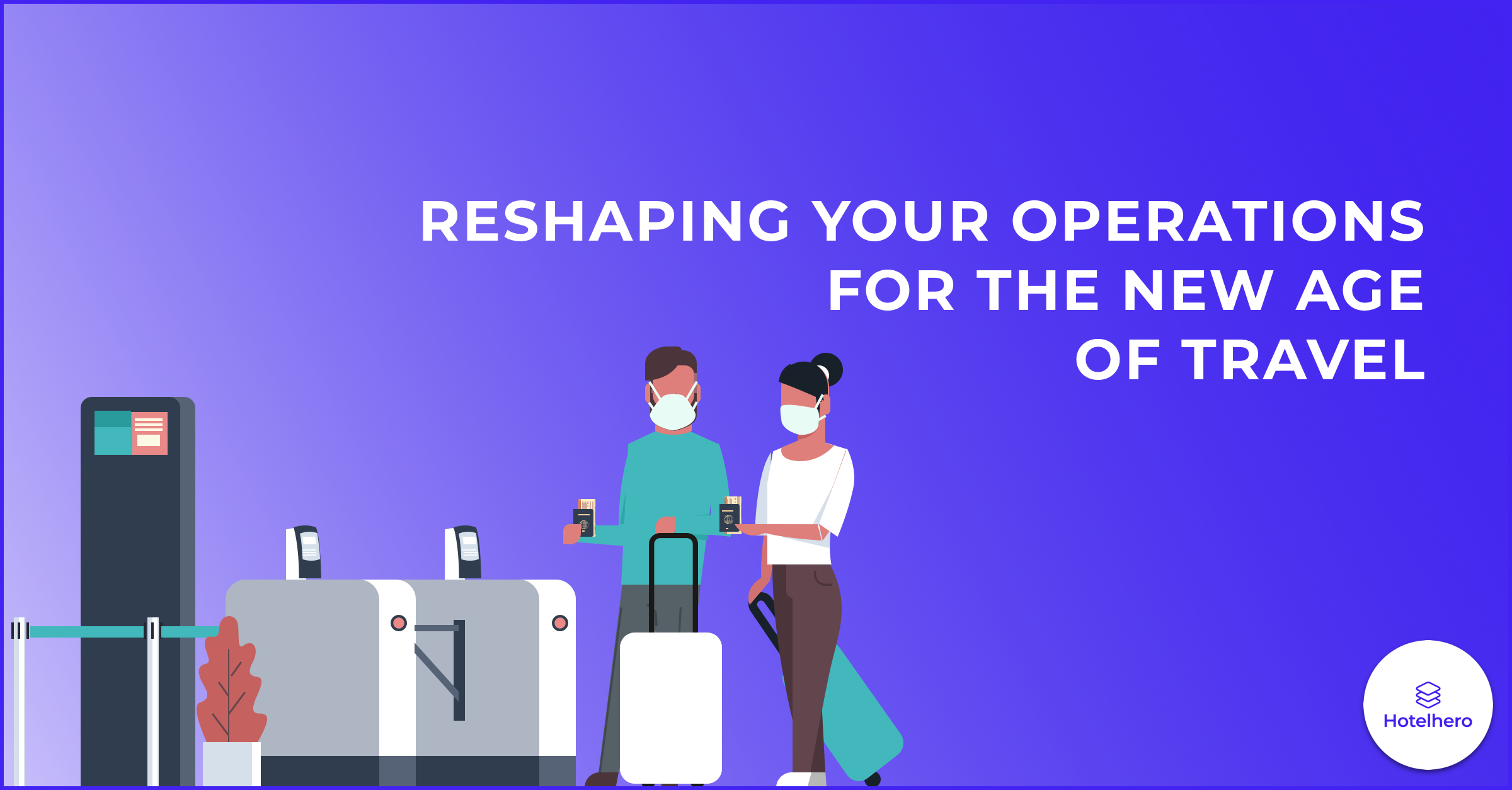 Reshaping your operations for the new age of travel
Since the beginning of the 2010s, the hospitality industry has been experiencing a continual growth. After a record-breaking year in 2019 with $550 billion in room revenue globally, the coronavirus pandemic put a stop to the rise of our industry. The hospitality sector is undeniably the most affected at the moment and while recovering from the losses due to this crisis will be extremely complicated, hoteliers should still focus on preparing the best reopening possible. Here are 5 ways technology could act as one of the enablers to a successful reopening.
Table of Content
▸ Reassure your website visitors
▸ Maximise revenue from every guest
▸ Offer a contact-free guest journey
▸ Generate revenue from outside customers
---
The first step in the customer journey is the research period. Potential guests might currently be looking at your website, wondering when they'll be able to come. Reassure these prospects during this first vital step and maximise the chances of them becoming future guests, by being as transparent and informative as possible. Discover the two ways you can reassure your website visitors with the help of technology.
Website conversion tools
Being agile about updating your website content continuously should not hinder your efforts. Many solutions are available out there and do not require any coding skills.
Web conversion tools, such as Hotelchamp, TheHotelsNetwork and Sweetnr, act as a layer on top of your existing website and allow you to personalise the experience depending on the user's demographics and browsing behaviour. Here are a couple of ideas, which you could deliver through different pop-ups (also known as web conversion or engagement tools):
Share a special offer on exit-intent popup (when visitors are about to leave your website)

Communicate safety measures you have put in place and link them back to an article or FAQ page you have created

Make your cancellation policy and fully-refundable rates plans loud and clear

Ask people to share their email to receive a limited-time promotion
"The bigger hotel brands that are able to advertise their new hygienic and socially distancing measures will outperform all other hotels," stated Konrad Waliszewski, co-founder and CEO of the travel app TripScout. Overall, implementing these tools will have a positive impact on your conversion rates, increase the number of leads for your sales team to convert and decrease your website's bounce rate through a better experience.
Exit-intent pop-up message by The Hotels Network
Website chat
Implementing a website chat is also a great way to enhance your website visitors' experience and inform them of what you have put in place to make their stay as safe and memorable as possible. Simple and accessible tools such as Tawk, Livechat or HotelDirectBooster (if you are low on resources, HDB also provides reservation agents which answer the chat on your behalf) will enable you to offer this option to guests but will require your staff to be available at all time.
If you have a high daily website traffic, an international crowd and would like to cater to every request in due time, artificial intelligence powered chatbots like HiJiffy, Easyway, Dialogshift or Quicktext understand most recurrent requests from prospects' and can instantly deliver the right information in their preferred language. Of course, if and when needed, your staff can take over the chat for a more personalised answer. This will allow your staff to focus more time and attention on high value requests.

→ Find providers of website conversion tools and website chatbots.
There are various opportunities to maximise revenue once guests return. Recovering all the losses from the pandemic won't be possible but investing in a few solutions could help you generate some extra revenue and increase your margin on each room sold. Here are 3 ideas that you could implement.
Upselling
Upselling ancillary services and products to guests can be a great way to increase your revenue, especially after the crisis. After months of being unable to travel, a new phenomenon called "revenge travelling" is expected to arise and customers will be more keen to spend extra on services and products they miss out on during the lockdown. Therefore, guests will potentially allocate more of their holiday budget in transportation, food and activities to enjoy their stay to its fullest. Invest in an upselling software and take the burden of upselling off your front desk team and reduce friction in the booking process (less add-ons in your booking engine increase conversion).
Upselling systems like Oaky, GuestJoy and UpsellGuru send a customized pre-stay email to your guests and provide various offers, such as adding breakfast, getting transportation from the airport, adding flowers and champagne in the room, upgrading to a superior room type and more. Guests feel in control and are more likely to purchase extra services that they might not have thought of at the time of their booking. Upsell emails are purposely sent 10 days and 3 days before arrival as travellers start to plan and imagine their stay.
Gift vouchers
Some other guests might be tempted to book holidays at the moment but are turned off by the risk of trips getting cancelled again. Securing some future bookings and generating cash flows early on to cover some of your fixed costs could also be a solution. With an online voucher system, like ones by Giftpro, Incert and E-guma, get pre-paid sales and sell gift vouchers from rooms, set menus at your restaurant, to spa treatments. Focus on targeting your historical clients, as you are more likely to sell vouchers to people who have already experienced your hotel.
To do that, a customer relationship management system can support your outbound marketing efforts by retrieving your guest data from the PMS to enable segmenting your offers by demographics and historical consumption data (such as the room type they typically stay in, usual spending at the restaurant and average length of stay). As an example, domestic tourism (leaving business travel aside) is one of the most promising options for travellers. Segmenting your client database and sending out "staycation" email through geographically targeted campaigns to past clients living in your country might be a great way to generate additional bookings at a low cost of acquisition.
Staycation offers
The Hoxton, for example, offers staycation deals multiple times a year in their various locations, whether it is for a long bank holiday weekend, for an anti-Valentine's day celebration or to promote temporary partnerships with local businesses (take a look!). Beneficial to successfully conduct campaigns like these but not only, a great CRM is nowadays a crucial investment to make. Pandemic or not, guest data is one your hotel's most valuable assets. Knowing your guests and gathering relevant data will help you conduct successful marketing campaigns, increase your bookings and improve personalised service. Invest in a good CRM today and see positive results for years to come.
Staycation offer on The Hoxton's website
→ Find providers of upselling platforms, online voucher management and customer relationship management.
Implementing back office automation will unlock multiple benefits: seamless operations, improved efficiency, increased availability for your guests. Here are various areas where automation can have a great impact on your business, post pandemic and long-term.
Task management and staff communication tools
As hygiene will become one of the top priority for hotels reopening after the pandemic, a task management software will enable you to create hygiene checklists, know exactly which staff member is in charge of them and inspections will eventually become faster and more efficient. As hygiene measures will need to increase when reopening, use tasks management to create specific checklists for :
High-touch points cleaning every 30 minutes (elevator buttons, front desk, door handles, etc)

Personal protection equipment for cleaning staff as recommended by the WHO (make sure to check your regional hygiene requirements as well)

Check and change hand sanitizer at guests' disposal twice a day (morning and evening)

Check and recharge supply of face masks, cleaning wipes, gloves, hand sanitizer at reception twice a day (morning and evening)

Fitness center cleaning checklist (disinfect machines, mats, water supply, door handles, weights, change hand sanitizer when empty) to be done depending on occupancy

Disinfect check-in kiosks after each guest
Moreover, implementing a staff communication tool, such as Überblick, hotelkit or Beekeeper, will also help your staff improve cross-departmental collaboration. On a central platform, staff members from different departments will be able to assign tasks, check their status and interact with each other. Whether it is requesting the housekeeping team for a room to be made up, asking for a maintenance fix or reporting lost & found items in rooms to the front desk, such a solution represents a great long-term investment to improve internal communication and save a valuable amount of time.
Features of hotelkit
Online reputation management tools
The next step after enforcing some new safety and hygiene measures is to find out if your guests are satisfied with them. In 2019, 81% of travelers said they frequently or always check online reviews before booking a hotel and after the current crisis, guests will most likely take extra care in looking at reviews demonstrating measures taken by hotels. Using an online reputation management software will make it easier and faster to gather in-stay and post-stay feedback from guests.
Providers like Revinate, Customer Alliance or Trustyou can, amongst other things, send surveys by conducting email and/or text message campaigns and will also conduct sentiment analysis, benchmark your reviews to those of competitors and help you analyse and understand them. Taking these comments into account will help you improve your services and your overall guest satisfaction, and using a good ORM system for this process will save you a tremendous amount of time, after the crisis and later down the line.
Instant messaging
Another aspect that can easily be simplified with the use of technology is communication with guests. Staying in contact with upcoming and current guests is also primordial and providing an instant guest messaging option, preferably with an actual staff member available at all time, is a convenient way of answering questions and providing personalised service. By integrating these tools to your PMS, you will also be able to trigger automatic messages to guests depending on where they are in their customer journey. You could set templates to send automatic messages like:
Transportation and check-in information a day prior to arrival

A welcome message after check-in with wifi code and restaurant & fitness center opening hours

A special events announcement sent every day at 11am to all guests with relevant demographics
This modern way of communicating through platforms such as Whatsapp, Facebook, Wechat is slowly replacing emails and phone calls, making communication more seamless and faster than before. Instant messaging platforms also centralise incoming messages from various channels in one dashboard, so you won't need to check various social media channels to find unanswered messages anymore. If you have more than two contact options, this will help answer guests more rapidly and efficiently.
→ Find providers of staff communication and task management, online housekeeping applications, instant guest messaging and e-reputation & feedback.
Coming out of the pandemic, guests will expect and want a more contact-free journey. Pre-crisis, some hotels had already started catering to the rising demand for tech enabled experiences. With millennials being amongst the first segments to start travelling again, it is crucial that you provide options to these digital natives. Learn about how technology can help you develop this new kind of guest experience.
Check-in kiosks and online check-in
Try offering your guests different check-in options that reduce human interactions depending on your concept. Either through a mobile app, which also turns their mobile phone into their room key. Or through a digital check-in form to reduce time spent at reception to the sole purpose of getting their physical room key. Another option would be to install check-in kiosks to offer your guests the possibility to check-in on premises without having to interact with a human. For instance, hotel brands like The Student Hotel and Premier Inn already offer the service of 24/7 check-in kiosks, and successfully meet guest's expectations and needs. This feature will enable guests to take control of their stay and could make them feel more comfortable. Of course, don't forget to have hand sanitizer on disposal and to disinfect the kiosks after each guest.
Check-in kiosks at the Student Hotel in Florence
In-room tablets and apps
In-room tablets or apps can help you develop a contact-free guest journey. If actual tablets, like ones from Betterspace or Suitepad, represent a too big investment for your hotel, consider implementing a progressive web application, such as CODE2ORDER, LoungeUp or Criton. Overall, their functions will enable you to cater to the rising need for self-service, modernize your guest journey and can help you make your services more accessible after the pandemic. Replace your physical information booklet with a tablet or an app, offer digital newspapers there instead of having them on display in the lobby or add an interactive map of your neighborhood with unique recommendations.
Furthermore, make it easy for your guests to order from your room-service menu and give them the ability to order meals easily through a web or mobile application (accessible by scanning a QR code or connecting to you Wifi) or with an in-room tablet. After the pandemic, guests might not want to come down to your restaurant to avoid contact with other guests, so this new modern way of ordering food will let them enjoy your F&B offer from the comfort and safety of their room. Eventually more quick and efficient, this system will also decrease order errors and make your staff available for other tasks. Renowned chains like Four Seasons and Mandarin Oriental followed the trend and guests can now order in-room dining directly with a tablet (only available in selected locations for Mandarin Oriental).
In addition, use tablets or apps to let guests book ancillary services. By giving them the option to sign up for a specific gym or spa time slot, you will be able to make your spaces available while limiting contact between guests and keeping them safe. This system will also help your housekeeping staff stay organised and know when to disinfect the facilities.
Online newspaper with the CODE2ORDER app
Cashless technology
A contact-free guest journey also includes an overall cashless approach. From a hygiene point of view, contactless payments are recommended, so you might need to update your payment terminals to make sure they enable contactless card payments. Additionally, you could offer more alternative options such as ApplePay, Google Pay, Samsung Pay or Twint to increase hygiene measures to a maximum. Even with card contactless payments for example, customers sometimes need to add their pin code if the amount is too high, which means contamination can occur when touching the payment terminal. When paying with ApplePay or similar solutions, guests only use and touch their own phones, which definitely decreases risks.
→ Find providers of mobile key technology, connected door locks, online check-in and check-in kiosks, bookable in-house experiences & services, in-room tablets, interactive local attractions map and mobile & web applications
Hotels have more to offer than just rooms. Take advantage of your ancillary services, branded products and new customer needs and generate revenue from outside customers. Find three ways you can do so with the help of technology.
Food delivery platforms
During the pandemic, many hotels jumped on the food delivery bandwagon. The Ritz-Carlton in Hong Kong, for example, decided to offer meals from their restaurants on food delivery platforms to increase revenue. From picnic baskets to full roasted dinners at home, the hotel decided to extend its exclusive offers to outside customers. Add your F&B outlet to local delivery companies such as Deliveroo and JustEat in the UK, Lieferando in Germany and UberEats throughout Europe or Smood in Switzerland, and start selling meals to local customers.
E-shops
Additionally, add an e-commerce shop to your hotel's website and sell products to customers worldwide. Your e-shop can include any product you would like, from your branded toiletries and merchandise, room vouchers or even furniture. With providers like Shopify, Mycommerce, Mangento and PrestaShop, you'll be able to create your own e-shop. Hotel brands like Sofitel, W Hotels and Sheraton already sell their beddings, linens and fragrance online. The website Hotelshop.one also regroups products from multiple hotels and sells them on their central platform, which could give your products extra visibility. They also make the process perfectly seamless, by taking care of packaging and logistics. By selling your products for customers to enjoy at home, you develop your brand experience and awareness. Clients will be able to use their favorite products and even potentially promote it to their friends and family. Eventually, the e-commerce technology is an excellent way to increase profit and promote your hotel.
Mercure e-shop by Hotelshop.one
Hotel rooms as office spaces
Finally, as most people need to work from home, but don't always have an ideal office area at home, selling rooms as office space can be a great way to generate revenue during the pandemic. Brands like Zoku, Big Mama and Oderberger decided to take advantage of this problem and now offer their rooms during the day as the ideal private office space with speedy wifi, high tranquility and access to coffee and tea. Propose your rooms as offices directly on your website as a day-use offer or use a channel manager to add yours on websites like Dayuse.com or Hotelsbyday.com. If you have other facilities that could be interesting to local customers, platforms such as Minutup enable you to sell various ancillary services, such as your spa & fitness facilities, food offerings, meeting rooms or even parking space.
→ Find providers for channel managers and hotel shops.
As we enter a new age of travel, reopening after the pandemic will certainly be a challenge, but perhaps a stimulating one. General managers around the world have proven to be extremely resourceful and creative, and have gracefully embraced the complex situation. Furthermore, various technology providers are currently offering special rates, in order to help you come out stronger from the COVID-19 crisis.
Check out our

COVID-19 Assistance Package

to discover some useful deals and feel free to reach out to us for more personalized recommendations.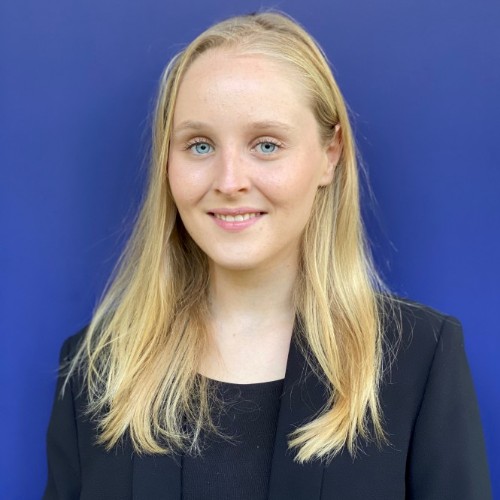 About the author
Student at the École Hoteliere de Lausanne, Léa is passionate about hospitality, marketing and technology innovation. She strongly believes that hoteliers should take advantage of technology to improve their operations and address the needs and expectations of their customers.
Never miss a post
Join theBrief newsletter and stay up to date on all the latest hotel tech news
No spam. You can unsubscribe at any time.