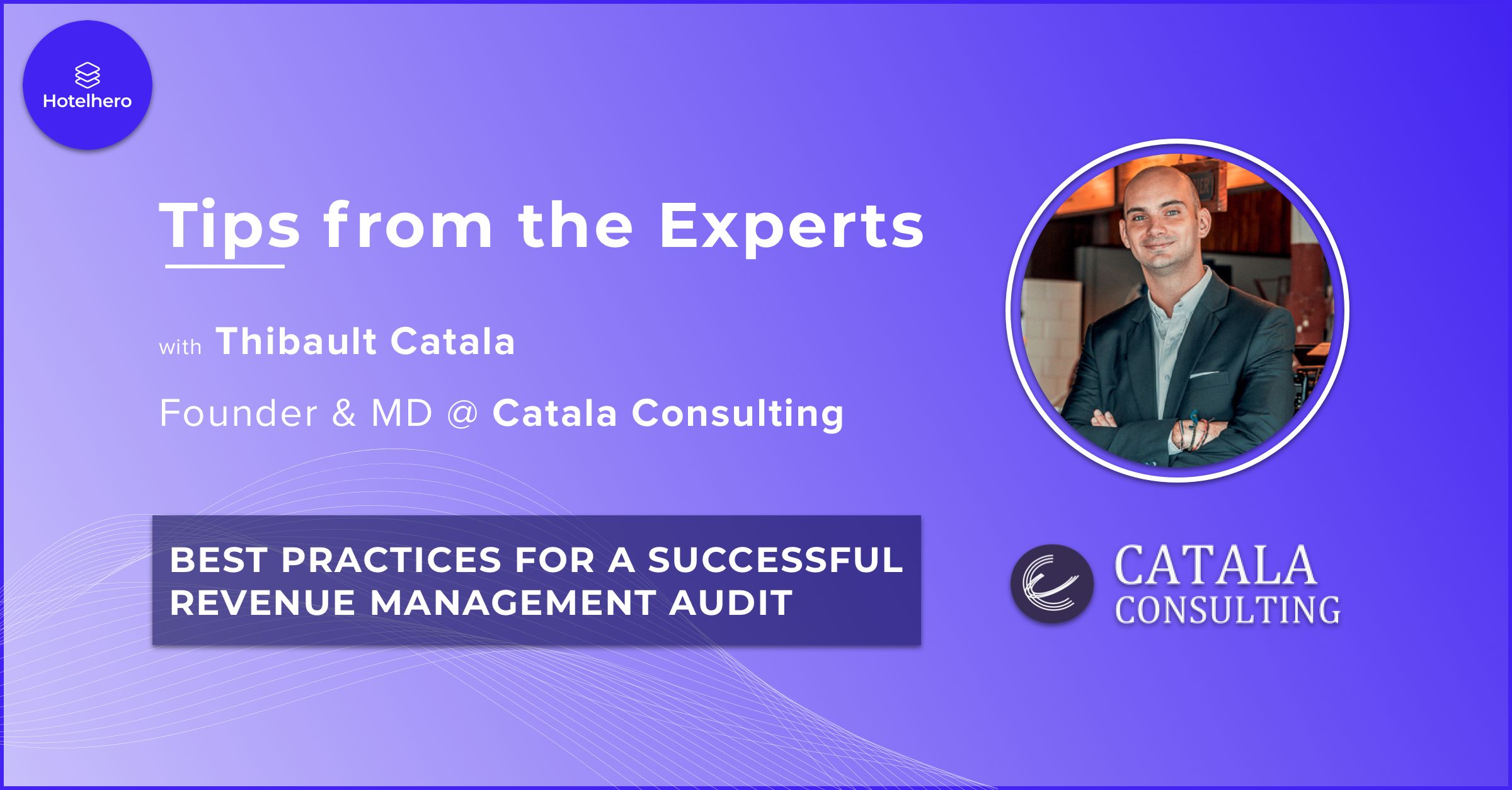 Best practices for a successful revenue management audit
Aug 19, 2020
- Thibault Catala
Successful revenue management strategies need strong foundations. Those foundations are built by analysing and interpreting your current approach to revenue management. That is where your revenue management audit comes in.
At Catala Consulting, we take a holistic approach to revenue management which moves beyond room pricing and occupancy. We believe the goal is to help you optimise all revenue streams, embed revenue management culture, and help you provide the best possible experience for your guests. With that in mind, our revenue management audits involve an in-depth review of your people, processes, customers and competitors.
What Steps are Involved?
1. Market Segmentation
To build an effective revenue management strategy, you need to understand who your guests are, what they care about and how valuable they are to your business. This process of market segmentation will help you group guests in several ways. However, we often find the reason for the booking is the most insightful grouping. Leisure, business and corporate guests have different motivations and behaviors, allowing you to optimise your pricing and revenue strategies accordingly.
2. Competitive Analysis
After analysing your customers, it's time to move onto your competitive set. An in-depth SWOT (Strength, Weakness, Opportunities, Threat) analysis allows you to compare each competitor's offer with their pricing models. From there, you can develop a rate/value assessment for each competitor. The resulting matrix should give you a clear indication of how your offer compares with theirs. It's also important at this stage to consider the impact of indirect competition, such as Airbnb.
3. Business Practices
It's also crucial to understand your people and processes. Implementing your revenue management strategy will involve a significant shift in ways of working, new technologies and recording processes. By reviewing your current practices, you can identify and resolve roadblocks, communicate with your entire team, and help them embrace a revenue management culture.
4. Technology Review
The most successful hotels in the future are going to be those that take advantage of software today. There are property management, channel management and revenue management systems that work 24/7 to optimise your pricing and distribution. Humans cannot replicate this work as quickly and accurately. More importantly, however, implementing the right software allows your team to focus on things they do far better than machines: creativity, strategy and guest relations.
5. Inventory Management
In this step, you should review your current distribution channels to understand where improvements opportunities lie. OTAs often have excellent brand awareness and provide a massive reach for your hotel. When taking commission into effect, however, these bookings can be far less profitable than direct bookings. Direct bookings involve no commission, but you often need to accept lower rates. Finding the balance between your channels, lead times, and overbooking is an art and a science. When done well, it offers huge benefits for your revenue.
6. Financial Performance & KPIs
Conducting in-depth financial reviews are vital to understand your current performance and set realistic goals. In the past, revenue managers focused on setting prices to maximise RevPAR. We believe that today's revenue managers must be more strategic and take an approach which drives total performance.
With that in mind, an essential step your financial performance review is to look at what should be measured in the first place. We, at Catala Consulting, often expand metrics (depending on your concept) to include:
Net Revenue Per Available Room
Total Revenue Per Available Room
Total Revenue Per Client – TRevPEC
Gross Operating Profit Per Available Room – GOPPAR
Conference & Banqueting Revenue Per Available Square Metre – RevPAM
7. Pricing Strategies
The final piece in the revenue management audit puzzle is to review your pricing strategies. Each hotel will be unique in its approach, but the concept which underpins revenue management is dynamic pricing. In its purest form, dynamic pricing simply reacts to supply and demand to set prices that maximise revenue.
As we've seen, however, there is a vast amount of data, which you collect throughout your revenue management audit. Revenue management software can be used to analyse and interpret this data in real-time. It makes complex adjustments to optimise your pricing and distribution automatically - often several times throughout the day.
Building Your Revenue Management Strategy
Once your revenue management audit is complete, you should come up with a weighted score out of 100. This score will help you identify patterns, risks and opportunities. It also highlights the priority areas to address first.
An effective audit doesn't just mark your scorecard, however. It provides the building blocks to develop your strategy and take the first step on the road to optimising your revenue. Each property is unique, and there is no one-size-fits-all solution. By conducting a thorough revenue management audit, you can ensure your approach is tailored to your business, and based on evidence rather than assumptions. The next step is to decide whether you need on-property, centralised or outsourced revenue management support to implement your strategy.