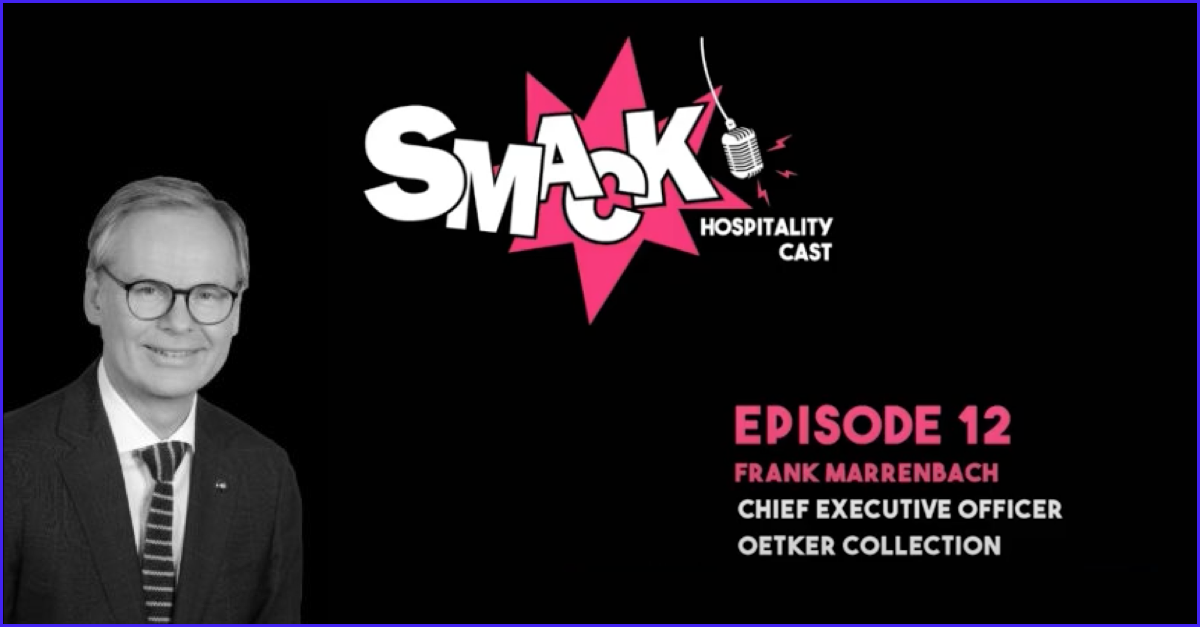 April 20th, 2020
SMACK #12 - The art of ultra luxury hospitality with Frank Marrenbach (Oetker Collection)
By Florian Montag , Co-founder @ Hotelhero
Fritz and Florian had the pleasure of meeting Frank Marrenbach, CEO of Oetker Collection.
They discuss the luxury sector within the hospitality industry, talk about Oetker Collection, its origin and its future and Frank shares his thoughts on technology and new trends in the industry.
---
Today's episode's topics :
Oetker collection (1:00)

Frank's journey, from 1997 until now (7:20)

Expansion of the luxury sector (14:17)

Strategy changing for Oetker Collection (19:20)

New tourism trends (32:37)

Digitalization and luxury (37:34)
---
Today Fritz and Florian welcome Frank Marrenbach, CEO of Oetker Collection.
Oetker Collection
The brand Oetker started off as a baking powder supplier back in 1891. It isn't until the 1920s that the family expanded its business to the hospitality industry. In 1923, Mrs Oetker bought the family's first hotel in Baden-Baden. That is how the Brenners Park Hotel became the first property of Oetker Collection. Back then, Mrs Oetker only decided to buy the property because she loved the place. As Frank says, it is important to know why you do what you do and it always starts with a strong passion. "It's the beginning of any business, you love something and you turn it into a business." A few years later in 1967, Mr Oetker was on a boat with a friend on the Mediterranean sea, when he saw the Hotel du Cap and said that someday he would like to own it. A year later the property was for sale and he purchased it without ever being inside the hotel. When Frank joined the company in 1997, he asked Mr Oetker how/why he bought the place without even visiting it and his response was "it's the sea, it's the park, it's the trees, everything else can be renovated." Location was really key. No other hotel in the area has a park and a sea directly surrounding it. The location is definitely the most attractive feature of the property. Years later, the Oetker family bought the Hotel Le Bristol in Paris, followed by a property in Provence, le Château Saint Martin. In 2010, the Oetker family decided they needed to give the company some perspective and do some more. They saw great market opportunities, guests loved the hotels, regulars came back. However, young talents were leaving because the four hotels could not retain them. That is when they decided to create Oetker Collection. Back then, the name collection wasn't popular and did not mean much to people. Nowadays, the public understands that "collection" represents a certain kind of hospitality, a certain kind of hotels. Back then, it basically referred to Mr Oetker, a very knowledgeable entrepreneur, that collects hotels. Today, the collection counts nine masterpiece hotels, as they call them.
Frank's journey, from 1997 until now
When Frank started working in the luxury hotel industry 30 years ago, there weren't a lot of hotels. The market of people staying at these luxury hotels was also much smaller. Luxury hotels were very formal, infringed in protocol. Tuxedos had to be worn in the evening, morning suits were worn in the morning. "It was like a theater in a way.", he recalls. "In the evening the tie was mandatory." Today things have changed. F&B offers have changed, clothing is different, the way hosts communicate with guests, as well as guests' expectations. Frank recalls that in his early days, the target market mostly consisted in adults over 30. Today, the target market has evolved, including younger people than before and the luxury market has expanded, counting about 20 times more hotels than 30 years ago. When Frank started his career at Brenners Park, guests were mostly regular guests, coming every year for a month in the summer, always requesting the same table, same sun beds, etc… Guests knew each other and the overall atmosphere was very different. Brenners Park still counts some regular guests today but no one stays that long anymore, says Frank. When the spa movement emerged in the late 1990s, Brenners Park Hotel was the first hotel that decided to include the word spa and became Brenners Park Hotel & Spa. People back then didn't really know what spa even meant but it certainly added some kind of entertainment. Spa and wellness introduced a brand new concept for luxury hotels. It gave guests a new reason to stay at hotels. In the 90s, the hotel had a restaurant with 160 seats, where guests would eat three times a day. Now guest's behaviour and habits have changed, people rarely eat at their hotel 3 times a day and management decided to turn the one big restaurant into four smaller outlets.
Expansion of the luxury sector
According to Frank, the expansion of the luxury sector has helped the industry overall. There is an obvious correlation between growth of demand and offer. 2 years ago, 1.2 billion people travelled. This number is scheduled to increase to 1.8billion in 2030. This expansion has helped the luxury sector and created great competition. Each hotel offers something different and this has developed the need to question yourself and try to differentiate yourself as much as possible. "Let's face it, a hotel cannot be unique. But it should be rare." Embracing the notion of rarity is key, according to Frank. There are not multiple Eden Rock on Saint Barth, for example. The exclusive locations have always represented a key differentiator for Oetker Collection. Frank talks for example about London. "You have to be in the sweet spot of an already attractive location." When Oetker Collection decided to implement in the british capital, they wanted to be in the golden triangle of the city. Furthermore, you have to stay focused on what you want for your hotel and remember you cannot appeal to everybody.
Strategy changing for Oetker Collection
Frank decided to focus on being the company's CEO rather than also being the General Manager of Brenner's Park, because he did not have the time to do both. "Wonderful hotels need wonderful hosts. [...] There is a fundamental difference between a super service provider and a host." In the future, the company wants to expand to major cities such as New York, Los Angeles, Rome and later on in Asia, in cities like Tokyo and Singapore. "Growth is good, we need growth. For us it means that we want to be present in the places where our guests love to go." To Oetker Collection, all their properties are masterpieces. They chose that name because their unique and beautiful hotels seemed similar to masterpieces to them. When they decided to start Oetker Collection, they had to explain what the name represented. Of course, it represents luxury hotels but not only. It represents individuality coming together to create Oetker Collection.
Palais Namaskar in Marrakech used to be a part of Oetker Collection. When it was sold to a new owner who wanted to turn it into a 4-star hotel, Oetker Collection had to let go of that property. The company is still a family-owned business. They always aim to find hotels that personally appeal to them. As Frank explains, they try to "sense and read" a potential Oetker property. They also evaluate whether or not the place would appeal to their usual guests. A lot of intuition comes into choosing a new property. When it comes to destinations, Frank says the priority is to find a destination that will always be great and attractive. "You need to think sustainably." For Frank, Rome would be a great location for an Oetker masterpiece hotel, whereas South Korea for example, just wouldn't be the right fit. South Korea is trendy and amazing, but its popularity will most probably fade after a certain time.
New tourism trends
According to Frank, one of the most important tourism trends nowadays is "skip-gen travel". "Skip-gen travel" is the phenomenon occurring when grandparents take their grandchildren on holidays because the middle generation needs to work. This new trend is definitely a challenging one, as the generation of the grandparents and the generation of the grandchildren want very different things. Hotels need to be able to provide services, facilities and activities for both generations simultaneously. Another major trend is multi-generational travel. When big families decide to travel all together, three generations or more combined, hotels need to be able to offer a different kind of accommodation. The idea is to offer luxury vacation rentals, big homes, valuable pieces of real estate with lots of land, where guests can do activities, eat together and overall just spend quality time together. "The time together is so valuable and you need spaces and proposals which accommodate the needs of three generations."
Hotels also need to remember that cities are not only for business. It can also represent a great leisure market. Referring to the London property of Oetker Collection, Frank explains that no business man would pay 1000£ for a room. For such a property, management needs to focus on attracting leisure travelers. Moreover, the luxury sector counts multiple different luxury markets. "Diversity is beautiful but it's very hard to manage." Guests from all over the world come with different expectations, different needs and different behaviours. Managing diversity is something managers need to focus on on a daily basis.
Digitalization and luxury
For Frank, digitalization and luxury are a perfect couple. Especially for smaller companies like Oetker Collection, digitalization is a great way to increase visibility and represents a huge opportunity for them. For Oetker Collection, it remains nonetheless essential to keep some kind of tangible marketing and they therefore offer Oetker magazines in the properties' rooms. Other than that, the rest of the marketing is purely digital. Social media is obviously crucial, between Facebook and Instagram. Frank points out that today Instagram has become the number one channel to attract guests and develop an interest. The question Frank and his marketing team focus on is: "How can I get across the emotion which we believe we create at our places." Nowadays, marketers attempt to appeal to a "persona" and try to feel and understand what tonalites, stories, pictures resonate with that "persona". Every touch point, both digital and on premises, needs to work well, be appealing and represent the hotel, by always being in harmony with the image of the brand. You always need to learn. Frank personally learned the try and fail attitude from digital people in his company. "You come up with an idea, you test it immediately, even if it's not "finished finished" and you listen to your guests actively."
When Frank started his career in the hospitality industry, the concept of marketing "persona" did not exist. This has changed his marketing approach drastically. The goal is not just to know if guests like the content you approach them with, but to know whether or not it's relevant to them. With digital marketing, you need to have an open mind and make some mistakes, says Frank. Of course there is a trial and error phase but "Every business leader is curious." You have to give some thoughts into every picture you decide to post. You need to know your target. Oetker Collection does not try to appeal to teenagers, as they don't represent their target market. However, the marketing team focuses on people from 25 years old and above. With younger people, the trick is to be around and present. They represent the main market of tomorrow and will little by little be increasingly interested in their product. It's essential to appeal to various generations. This one you are able to see what people like, what works and what doesn't.
10 years ago, Oetker Collection hired their first ever digital marketer. Slowly, they shifted budget from other areas into digital marketing and today a full team in Paris is only working entirely on digital marketing. But the company did not stop there in terms of technology. Frank explains that about a year and half ago, he didn't know how to reach out to his team easily. Emails did not really work, as typically, in the Caribbean where the brand has a hotel, not everyone has an email address. The company therefore decided to create a modern platform, where everyone can communicate easily, share content and engage with one another.
At the moment, the company is trying to find the best digital structure for the future. It is a lot of work and one employee is solely working on that. One of the things Frank wants is to know what guests think. Before, they used to do printed surveys in the room. The idea now is to find a new way to get some feedback. Frank wants to know what makes guests tick. There is an enormous potential through technology to connect with guests and understand them better.
Last four questions
My favorite part about hospitality is : the people.
The last trip I took was to : Jumby Bay Island, Antigua.
The most memorable part of that trip : meeting our bar keeper who's been there for 40 years and is just a gem.
The next big thing in hospitality in my opinion is : If I knew...
---
About the Author
Florian is a Co-Founder of Hotelhero and a graduate of École Hoteliere de Lausanne. Passionate about hotels, service excellence & technology Hotelhero is built on the belief that independent & small chain operators should be leveraging technology for the better.