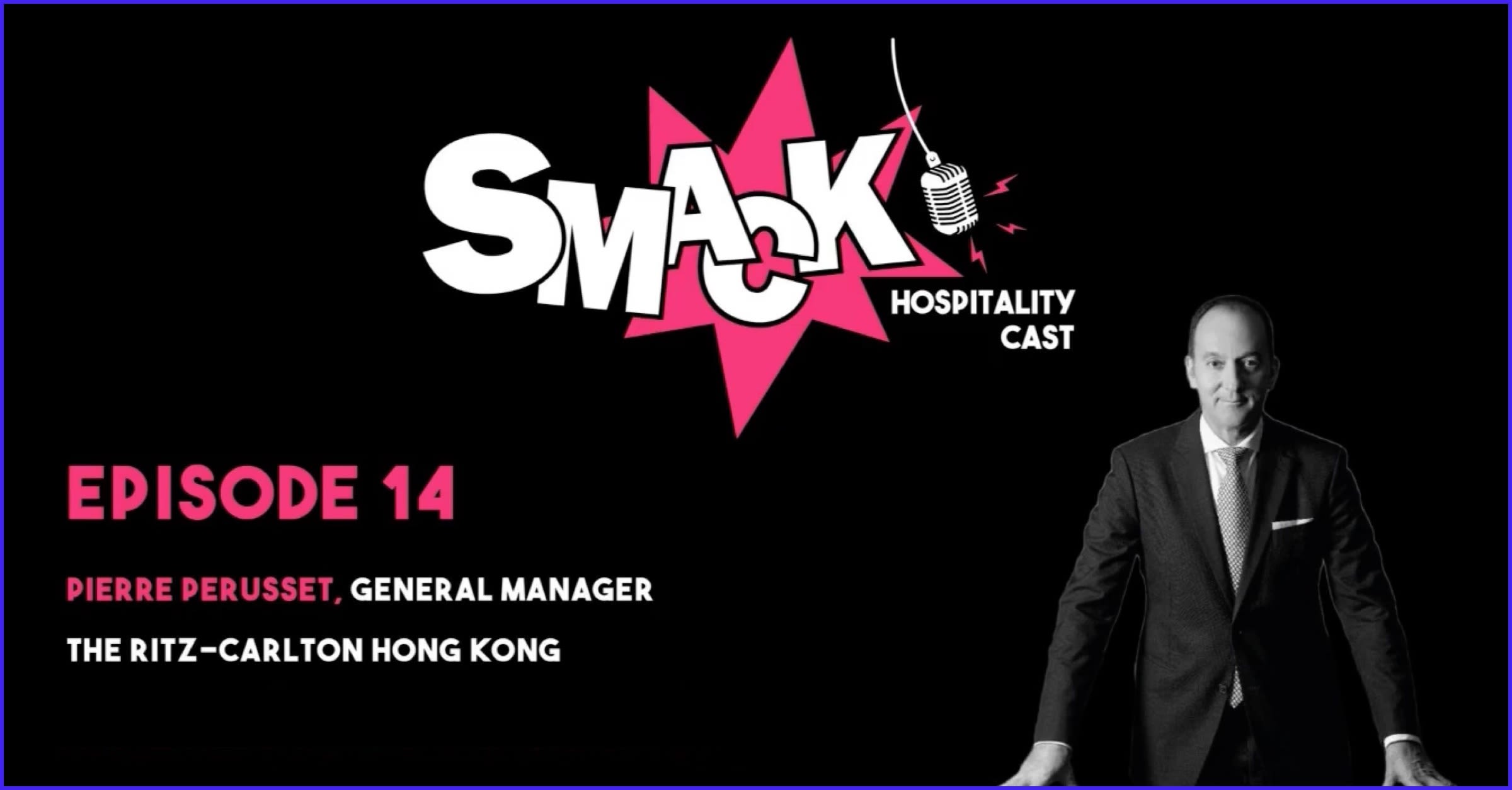 SMACK #14 - Hotels during & after Covid-19 with Pierre Perusset (The Ritz-Carlton Hong Kong)
Apr 28, 2020
- Florian Montag
With Covid-19 taking the world by storm, here's a reminder that there will be a life after the pandemic. Fritz and Florian were joined by Pierre Perusset, General Manager at the Ritz-Carlton Hong Kong, to discuss scenarios for hotels and how General Managers can deal with the Covid-19 crisis during and after lockdown regulations around the globe.
Pierre Perusset shared some great examples of how hoteliers had to go from "managers to inventors", let us in on how travel in Asia is slowly resuming, gave us his opinion on what he thinks lies ahead for hotels around the world and shared how yoga is contributing to the solution.
---
Today's episode's topics:
Being a general manager during the COVID-19 crisis (1:15)

Creating experiences to attract locals (14:00)

Dealing with the situation (19:30)

Changes that will occur after coronavirus (24:25)

How operations company deal with the situation (33:30)

Technology and luxury (40:25)

Advices for GMs around the world (46:00)
---
Today Fritz and Florian recorded their first remote podcast episode and had the chance to talk with Pierre Perusset, the General Manager of the Ritz-Carlton in Hong Kong.
Being a general manager during the COVID-19 crisis
The last three months have been particularly exciting for Pierre. "It's been very energizing to live through this crisis". According to him, in times of crisis you can either look at it from a pessimistic perspective or try to look at it in a positive way. The coronavirus crisis is not his first crisis in his career and he only sees opportunities in dealing with this new crisis. The situation in Hong Kong had been rough for a few months already, prior to the current pandemic. Protests in the city started in June 2019 and ended around the end of January 2020. After the Chinese New Year celebrations last January the protests started to come to an end and the virus slowly spread around Asia. The protests already had a significant impact on the occupancy, which went from a usual 85-90% down to 50%. The hotel's F&B outlets were also affected, so the hotel overall was already in the midst of a crisis, even before the COVID-19 crisis started. Pierre emphasises the necessity to stay calm and positive. Too often people lose their cool and take actions they later regret. For Pierre the first question you need to ask yourself is "How can I protect my guests and my employees?" When reservations started to decrease, the priority was to find ways to reduce costs. They decided to close the buffet restaurant, some floors of the hotel and relocated the club lounge to another restaurant in the hotel. However, Pierre decided to never reduce the labour costs by letting go of staff members and no one lost their jobs. Even today, the hotel remains open. Of course, the safety measures have been increased. They've implemented temperature checks at the entrance of the hotel and the restaurant. The capacity in the restaurant is lowered to 50% with a maximum of four people per table. Every 30 minutes or so, the whole hotel is disinfected and hand sanitizer is always on display for guests and employees. The bar, the fitness center and the spa also had to close down. So far, having the hotel and restaurant opened to 50% capacity has been working well. The measures will remain the same until May 7th at least. Hopefully after that date the situation in Hong Kong will improve.
Currently, there are absolutely no tourists, as only Hong Kong residents are allowed on the island. The occupancy of the hotel right now is about 5%, which is of course very low. However, the two star Michelin restaurant worked well during the Easter Holidays. People in Hong Kong overall are being cautious, wear masks and feel safe with all the measures being taken.
Creating experiences to attract locals
"We are in survival mode. [...] We have to be super creative." As locals are the hotel's only potential source of business, Pierre had to find new ways to attract them. "In the last two months, I had to change from being an hotelier operator to being an hotelier inventor. You have to be super innovative, super creative and full of energy." One of the ideas he came up with was to do a flash sale. Basically, any product from vouchers, set menus to room rates were sold at a 31% discount. The success was unexpected. They sold a lot of afternoon tea vouchers and are now fully booked for the following months. Pierre realised the importance of using e-commerce and how much it could help them.
They also created the "Ritz Kids Hotelier", a day activity for children. Children spend four hours at the hotel and learn various skills related to hospitality. Members of the staff teach children table manners, how to clean their room and how to set a table properly. They also offer a cooking class for kids where they learn how to make pasta from scratch. At the end of the day, they organise a small ceremony and receive a certificate.
The Ritz-Carlton is also now doing food delivery with a special menu, special prices and sustainable packaging. They offer picnic baskets that guests can enjoy on one of the hotel's terrasses or on the land in front of the hotel. Customers can also order a full roast meal at home. Moreover, because the fitness is closed, Pierre decided to set up some fitness equipment in some of the rooms so guests can still use and enjoy parts of the facilities. These initiatives have proven to be successful and during the Easter Holidays, the hotel's occupancy went up to 12-14%, which is of course extremely high considering the circumstances.
Dealing with the situation
For Pierre, there are two types of managers: managers that embrace the crisis and try to be resourceful and creative and managers that give up and just wait until the situation gets better on its own. At the Ritz-Carlton Hong Kong for example, there were too many housekeepers, so they moved some of them to other positions, such as guest relations or waiter. This gave them the unique opportunity to be trained for new jobs. According to Pierre, if employees have the right mindset, it's a great opportunity to let them learn new things and you can definitely take advantage of the situation to make some good things happen.
The government is also trying to help as much as they can and are encouraging companies to keep all their staff members.
Changes that will occur after coronavirus
In the future, cleaning processes will certainly have to be elevated. But the hygiene level in Hong Kong is already pretty high. According to Pierre, there are three potential scenarios for the future:
Hong Kong will recover and business will be able to go on normally. Weddings and social events, that were until now cancelled, will be able to happen again from June onwards. The business they will get from F&B and catering will already be a big improvement.

Hopefully by July, the area of Greater China will open again. 40% of business travelers come from Mainland China, so if travels from Mainland China can resume, that would be great for hotels in Hong Kong.

Tourism coming from Europe and the US probably won't resume before September at least, according to Pierre. He thinks hotels will have to wait until 2021 to experience a full recovery in terms of European and American tourism.
According to Pierre, hygiene measures in Hong Kong are already better than in most European cities. No matter what, business travelers will have to return. Tourists will certainly return at some point, because of the attractiveness of the city. Pierre is certain that occupancy will pick up again. Of course, if social unrest comes back again, it would impact the occupancy but it would still be better than today.
How operations company deal with the situation
According to Pierre, Marriott has always been great at handling crises. The number one priority is always to reduce costs. Marriott works with its hoteliers to help them be creative and find ways to reduce costs. "The crisis will not be here forever." reminds Pierre. He believes that the crisis might go on for maximum 6 months but should then calm down. "As soon as you can travel, what are you going to do? You are going to travel right, and everyone will do the same." Pierre is certain and positive that business will eventually return.
Currently, really big measures have been taken and guests can see that. "We always put the safety of our guests as the first priority and they know that. They know we can't do anything about the virus but they know that if they stay in any of our hotels they will be very safe." Bonvoy members will certainly return and travel again because they know they will be safe, says Pierre.
Communication is key. Pierre is communicating every day with his executive team and with his staff. Furthermore, Bonvoy members receive, almost weekly, updates on the state of the situation and the impact of the hotels. Communication from the head office has been very appropriate and this should help business return when the time is right.
Technology and luxury
The role of technology during the crisis has certainly increased and will have an even bigger impact after the crisis as well. Technology has enabled Pierre and his hotel to communicate, sell, and maintain some business activity. For the Ritz-Carlton Hong Kong, e-commerce grows every year and has become a very important platform. Pierre also explains how social media is becoming more and more important. Everything they do needs to be mobile friendly, as they've realised most of their customers use their phones instead of a computer to do most things. The Ritz-Carlton Hong Kong is now researching and investing in using a better platform of e-commerce to make their e-shop more user-friendly and more aesthetically pleasing. "This crisis will make us a lot stronger than we were six months ago."
However, Pierre explains that in a luxury hotel, guests like and want interaction with the hotel's staff. Guests want the kind of personalization that only a human can provide. "Yes technology is great because it makes everything quicker, but why guests return to our hotel is not only because of the view or because we're the highest hotel in the world, but I can tell you it's because of the warmth and genuine care of our people." Touch points will probably change, people won't be shaking hands for a few months but eventually the human interactions will resume as normal.
Advices for GMs around the world
Pierre say he didn't personally feel challenged by the situation, as this is not the first crisis he experiences in his career. He experienced terrorist attacks in Indonesia in 2009, for example. This crisis was unexpected, of course, but as a General Manager, you need to always stay calm and positive, says Pierre. "Every week almost we need to modify the way we operate because the virus is a bit uncontrollable." His advice to other managers is to adapt and stay calm and positive. "You need to become an inventor rather than just an operator." Focus on being creative and keeping your team happy. Being an inventor will enable you to find positive aspects from this crisis.
The last three questions
My favorite thing about hospitality is : the guests and employees.
The last place I traveled to for leisure was : Chiang Mai, Thailand. I did a week-long yoga retreat. It was a spiritual retreat with yoga and vegan food, which was amazing. I recommend yoga to everyone.
In my opinion, the next big thing in hospitality is : delivery and pick-up for F&B outlets.
---