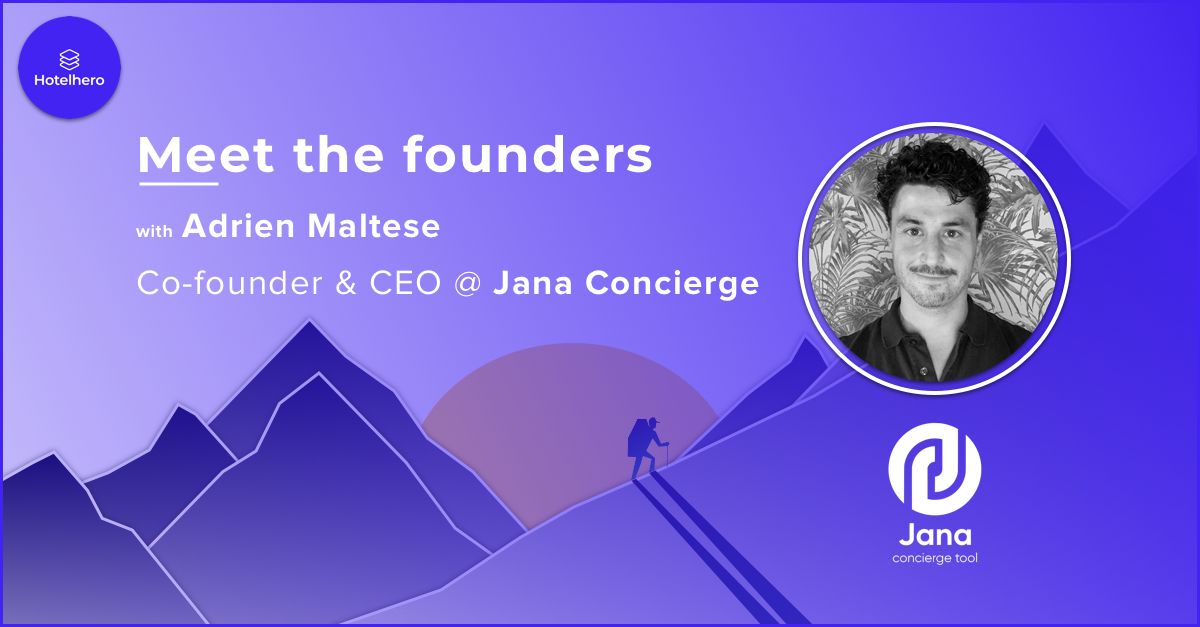 October 24th, 2019
Taking the hotel concierge to the next level, meet Adrien Maltese
By Thibault Gence , Co-founder @ Hotelhero
Jana Concierge offers a 360° solution to manage concierge operations, daily tasks and guest communication.
We interviewed, founder & CEO, Adrien Maltese, to hear the story behind the foundation of the company.
---
Let's get started! Before we talk about your product, tell us a bit about your story and how you got into the hotel industry?
Long story short, I started working in high-end hospitality when I was 15 during school holidays and weekends. From porter to pool boy, waiter to receptionist, for three years I pretty much did it all. I was proud to be working and making money. I loved it so much that I decided to study hospitality management at the Vatel Institute in France to become Hotel Manager one day.
So tell us about your product? Why did you decide to build this or what problem are you trying to solve?
After having tried the aforementioned jobs in the industry, I found my path as a hotel concierge. It was an amazing job in amazing places but very hard and stressful, and definitely not made easier by any software solution. We used old fashioned processes and obsolete ways of communicating with our guests. As an example, we would confirm guests' bookings by printing them out and hand-delivering them to their rooms. "Classy," you may think but what happens if the guest is out and doesn't see your confirmation? It happened every day… True story.
So, to help concierges, we decided to create an app to help them manage their job and the tasks of their daily routine: handle guest requests, keep track of guest profiles and preferences, list their preferred service providers, help them with accountancy... And do all this through multiple channels of communication such as email, SMS, WhatsApp, or Messenger to communicate easily with their guest.
For the guest, the app is available via internet and no download is necessary. They can ask for new bookings, read recommendations, look at the hotel directory, or just look at their reservations.
Bookings overview
What type of properties uses your product? Can you tell us a bit about the different accommodation providers your product caters for?
Though our main focus is boutique hotels (small hotels usually characterized by a strong identity and younger management and staff) at the moment, our solution fits any hotel willing to improve their guest experience and provide a unique and personalised service.
Even the most conventional hotel groups tend to be interested in digitalization and meeting guests' digital expectations, were are currently in talks with different in France.
How is your product different from what is already existing in the market? Any key differentiators or USPs?
There are plenty of good products out there for instant communication, internal communication, guest experience, CRM, management… However, there are no good ones for managing a concierge desk. Your life as a concierge is busy and you don't want to use 10 good software solutions or apps. You need that one good app that allows you to perform the main features of all the other apps. This is what we offer our clients.
Amongst all others, what is one of the key features your customers love the most?
Without hesitation, it is the possibility to confirm a booking almost instantly; a task that used to take concierges about 5 mins (15 to 30 times a day) now takes 5 seconds.
They also love our omnichannel inbox which allows them to chat with the guest and drastically reduce the volume of emails. All this saved time which can be re-invested in what matters most: personally communicating with the guest and ensuring they have an unforgettable stay.
Centralised inbox
What were some of the biggest challenges while building the product early on and how did you solve them?
Well, we are still at our early stage, so I'd say that we are continually facing challenges. But, one that comes to mind is when I looked at my partners who are the technical assets of the team and told them: "Guys, we need to build a guest app that does not require downloading or logging-in." They thought I'd gone mad! But they did it! I'm sorry to say that I cannot share the details with you... That's a secret.
To wrap things up, we are in an industry were collaboration and partnerships are crucial. Is there any specific 3rd party software that brings the most value to your clients? Or is there a product on the market that really caught your eye?
Yes, I would say that the most valuable API integration—one we are continuously improving—is the connection to various PMS solutions. Being able to import all data concerning the guest and their stay into our app is priceless!
A product that I really like on the market? Maybe more of a philosophy: I think Mews Systems is really interesting. They want to break codes, change habits, and make things move in the hospitality industry. These are values we definitely share with them!
---
About the Author
Thibault is Co-Founder of Hotelhero and a graduate of École Hoteliere de Lausanne. Passionate about hotels, service excellence & technology Hotelhero is built on the belief that independent & small chain operators should be leveraging technology for the better. Our platform and services strive to give every hotelier a chance to compete in this highly competitive market by implementing the right technology.