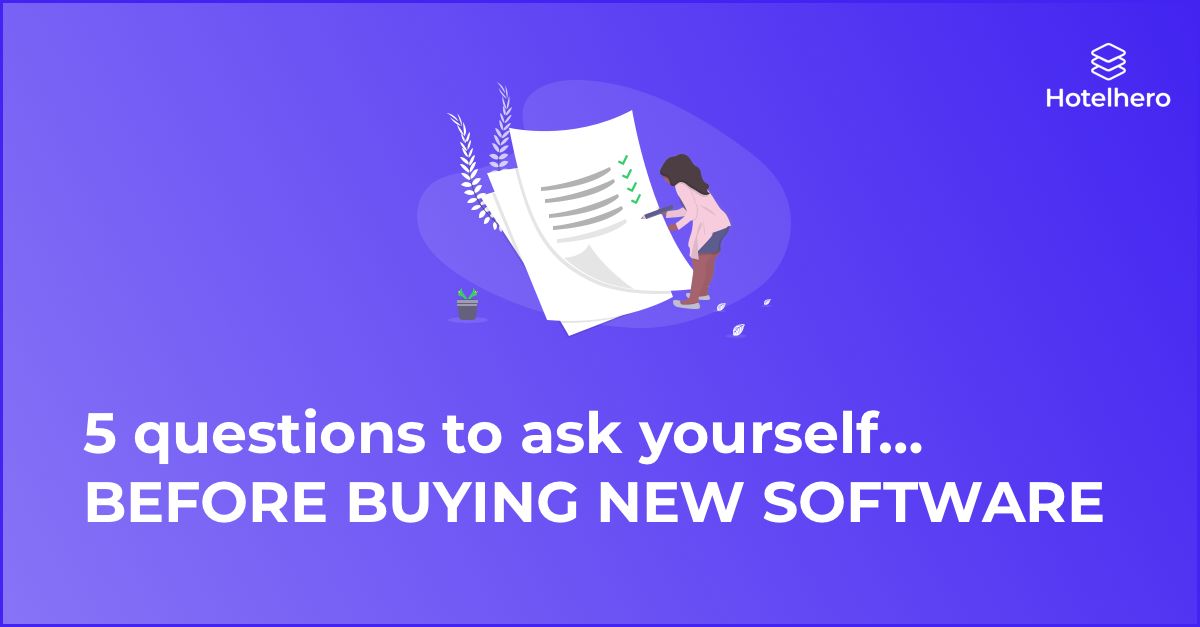 November 25, 2019
The 5 questions to ask yourself before buying new software
By Thibault Gence , Co-founder @ Hotelhero
Deciding to invest in new software is difficult, especially when it comes to adding an additional piece to your existing ecosystem. In the past, hotels generally had one or maybe two different providers to cater to all the different needs throughout the value chain, which made it easier from a management, usage and monitoring stand point. On the other hand, these systems were (maybe) not offering quality functionnalties for all aspects of the business and the customer journey.
The new era of software, with the rise of cloud solutions, offers hoteliers the possibility to implement specialised tools and systems for each area of their property's, that it be distribution, guest facing technologies, business intelligence or back of house processes. This can sound frightening at first but can also unlock new potential and better agility.
To help you in your search for new systems, we have put together a list of questions that you should be able to answer before actually taking a decision, depending on the type of solution and the business processes or areas you would like to improve.
---
1. Will this new technology improve guest service?
What problem or need will this technology solve?
How easy or intuitive is this solution for the guest to use?
Will explaining this technology to the guest take up a lot of your staff's time ?
Here, you can think of a self check-in kiosk for example. These systems are very different in their value proposition but can both have a very positive impact on both the guest experience and customer journey. They will allow you to cater to different types of guests and segments whilst leaving some space for personalised service and humain touch.
To name a few, brands like Citizen M or Zoku as well as some independent hotels have been pioneers in understanding and anticipating the new wave of consumers. Already today, guests are more and more proactive towards self-service so offering them options is becoming critical if not the status quo. These hotels would rather adapt their processes to the "old school" consumers by assisting them in using their check-in kiosk for instance, rather than the other way around.
Citizen M has seen 100% usage rate of its kiosks and is able to allocate its human ressources on welcoming and helping out the guest rather than doing the administrative work that come with a manual check-in. The guest check-in time in less than 1 minute, the guest is happier and the staff has more time for human touch. Everybody wins!
2. Will this technology improve the lives of your team?
How will this technology benefit your employees?
How difficult will it be for them to adapt or learn its use?
How will you be able to monitor the team's utilization?
When companies are working on a project, they use dedicated tools to communicate, coordinate tasks assignment and track each others work. When you are organising an event with friends, you use Whatsapp, excel sheets or other platforms. Why are your housekeeping teams or other departments still operating with pen & paper or unorganised Whatsapp groups?
There a dedicated staff collaboration and communication tools out there that will significantly ease the way for your teams. Implementing one will increase their engagement, productivity & accountability. For you, as a general manager or head of department, it will mean better monitoring of their work and easier on-boarding processes for new employees.
Think about:
task checklists leading to better standard operating procedures
knowledge books for easier management of staff turnover and new employee on-boarding
automated real-time room cleaning prioritisation and assignment for better productivity (no need to assign them everyday)
individual & department specific chats
etc...
This just serves as an example, but many other tools like a new generation property management system (PMS), customer relationship management system (CRM) could have a positive impact on the hapiness and productivity of your staff.
3. Who will be the product champion on your team?
Will there be a service interruption and, if so, how will you manage this?
How complex will it be to learn the system?
How long will the implementation and learning curve take?
Quality over quantity! Many decision makers implement new system for the sake of technology without thinking about the stakeholders and daily users. When you start looking into a new system to implement in your establishment, make sure you get buy in from your staff by getting them involved early on in the purchasing process. One critical aspect for successful implementation and change management is identifying the best person in your team that will educate and support other team members in embracing the new solution: the product champion.
4. Will this new technology increase revenue?
Will you gain efficiencies in how you execute your current processes?
Will you learn more about your guests, thereby leading to improved long-term success?
Will it give you access to new markets or business opportunities?
Return on investment remains the driving force for a new technology investment but hoteliers often just look at it from a monetary perspective. There are also non-traditional ROI metrics that you can explore when evaluating a new tool. Here are some concrete examples:
Saving time
Unlocking better data for decision making and reporting
Shifting your team from reactive to proactive work
Increasing your hotel's service level
enhancing personalisation of the guest experience
reducing the number of staff members for a task or department
5. Will this new technology reduce operating costs?
If so, what is the payout or breakeven point on the investment?
What assumptions have been taken in calculating the payout such as staff reduction, interest rates, software installations or server upgrades?
Have the costs of training and implementation been factored into these calculations?
Same creed goes for analysing the potential decrease of operating costs. Don't just look at the direct impact the solution can have but also the long term benefits of seeing staff members adopt it more independently without the need for training consultants or dedicated on-boarding sessions for your different software pieces.
About the Author
Thibault is Co-Founder of Hotelhero and a graduate of École Hoteliere de Lausanne. Passionate about hotels, service excellence & technology Hotelhero is built on the belief that independent & small chain operators should be leveraging technology for the better. Our platform and services strive to give every hotelier a chance to compete in this highly competitive market by implementing the right technology.