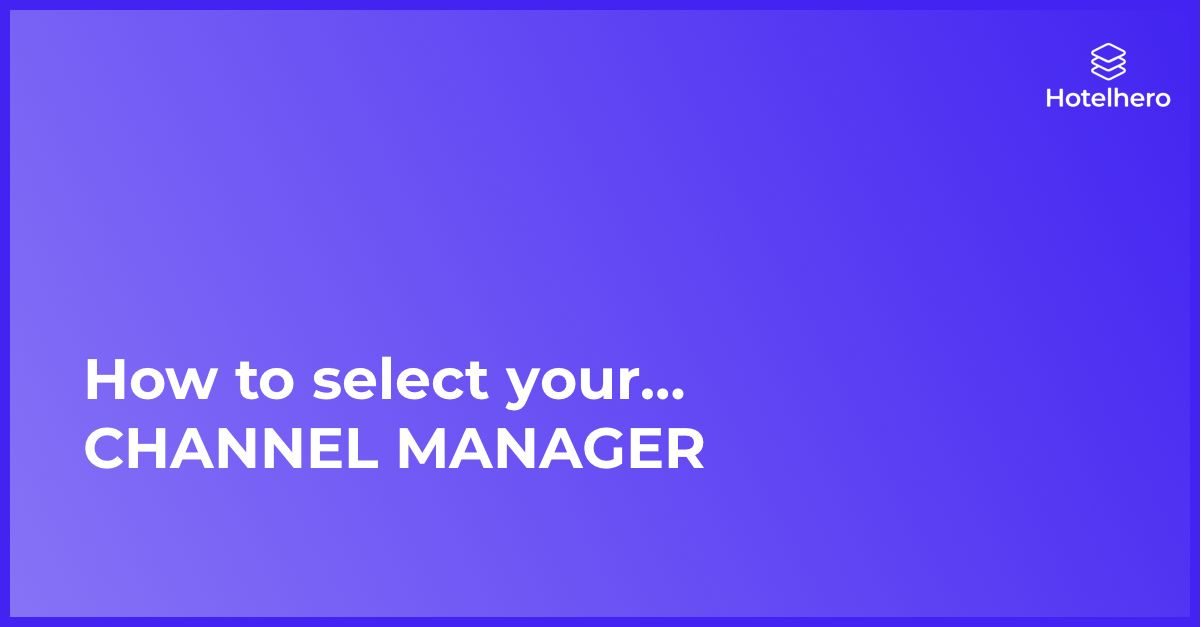 The guide to choosing your channel manager
July 6, 2018
- Florian Montag
The channel manager takes care of connecting and automating your distribution throughout all your channels. It connects to your PMS and the different OTA's, Brand.com, GDS's and other channels you need. It allows you to manage your room inventory and pricing strategy from one centralised place, without needing to log-in and update your information in the different extranets.
However, not every channel has the same functionalities. There are a few features a hotel needs to look out for to make sure it's selecting a state of the art channel manager.
Connecting to the right channels
It seems quite obvious, that when selecting a new channel manager you are looking for a system which gives you access to a maximum amount of channels at no additional cost. This is definitely true, but as a hotelier you should first do a due diligence if that Channel Manager actually connects to the channels which are relevant to you.
You do this by determining your optimised channel mix (see article 1.). The channel mix will highlight your most profitable channels and segments (demographic, geographic, etc.).
Based on this data you will need to make sure that your new channel manager connects to your existing most profitable channels and to the channels which could bring you new business based on the popularity of that channel in your segments (for example a CTrip connection to reach Chinese travellers)
Check out SiteMinder's infographic to find out the most popular channels by country.
The quality of the integrations
It is important that your channel manager integrates with your current systems in your hotel (PMS, IBE, & CRS), so that all your inventory and bookings are centralised in one point.
You should be able to update your rates and apply rules per channel and stop-sells at the click of a button. The channel manager will automatically update your settings. In a more detail analysis, the speed at which the updates are send to the OTA's can be interesting, the industry standard is up to 2 minutes, but modern channel managers take on average below 30 seconds.
Extensive reporting capabilities per channel
A modern channel manager will not only allow you to connect to a variety of channels, but also allow you to track and measure the revenue generated by your different sales channels.
The more channels you connect to the more important extensive reporting capabilities per channel become. This will allow to highlight which channels are successful in reaching your target markets and which you should cut down.
Pooled inventory
Pooled inventory means that all of your rooms or beds are put into one bucket across all channels. If your property connects to Hostelworld, booking.com, and Brand.com, all three sites have access to your total inventory. Once a room or bed is booked, your total inventory will decrease to prevent overbookings.
Pooled inventory has not only the benefit from increased automation, but arguably it improves your ranking on the OTA's. This is because OTA's reward hotels who give access to their whole room inventory to the OTA's. Inverse, if a booking is cancelled, the auto replenish feature, will help you maximise your chances of reselling that room.
Pricing
Last but not least, the pricing is an important factor. Typically, there are two different payment models either commission-based or monthly flat fee. We recommend having a flat fee, as this will help your budgeting and as you perform better allow you to increase your margins. For hotels still receiving most of their bookings via offline channels a commission based model can be beneficial, as you only pay for what you get.
SUMMARY
These points will help you determine if a channel manager has the most current functionalities and fits to your property.