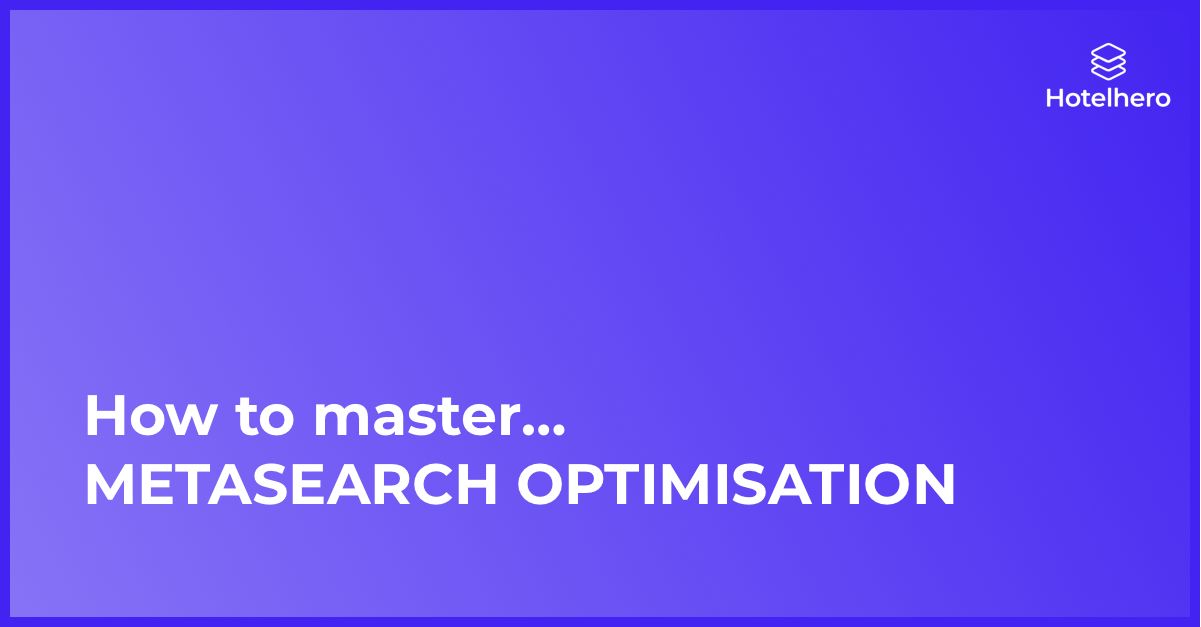 Things to know when getting into metasearch
July 9, 2018
- Florian Montag
Cost of advertising is rising, OTA commissions are rising, in other words cost of distribution is on the rise. Countering that requires smarter advertising systems that will take advantage of the cents that can be shaved off around at the various points. This leads to the shift towards performance-based advertising. The ideal place to do this is via metasearch engines (Google, Trivago, Kayak, Tripadvisor).
What is a Metasearch website?
Metasearch engines in the travel industry are used to compare multiple OTAs and the hotel's own website (if you do your job well). The great advantage of a Metasearch engine is that it allows the transparency and freedom of choice that a guest is looking for when booking a hotel. Recent research conducted by Statista shows that 39% of Millenials use Metasearch when planning a holiday.
How does it work?
They are based on a PPC(pay-per-click) business model and make money by the fee paid be the OTA or the Hotel. It allows advertisers to bid for an ad placement when a guest types a certain keyword that is related to their business offering. Let's say a guest booked a hotel via Booking.com, but found the offer on Trivago, Booking.com will owe Trivago the set CPC (cost per click).
To date, metasearch results are dominated by the big OTAs, due to their significant marketing budgets compared to independant & chain operators. According to SimilarWeb, more than 10% of the Booking.com traffic comes from metasearch, and that number used to be way higher, up until when the Priceline Group (which accounted for more than 40% of Trivago's revenue) decided to dramatically reduce its investments in metasearch ads. Expedia shares similar numbers.
Benefits of successful Metasearch advertisement
- Drive traffic
Optimizing your positioning on metasearch engines will allow you to drive direct bookings and reduce your commission spending and dependency on OTAs
- Less cost per reservation
By targeting your campaigns on the right placements it will allow you to retarget your advertisement budgets based on KPI's and determine your exact conversion costs.
- Based on your target groups
Understand your target groups and only become active on the channels which will be the most profitable for you.
How to get started and what to watch out for?
1. Setup a business account on the different meta channels
2. Make sure that you do not have already existing profiles
3. Make sure your Name, Address, and Phone number are identical, minor changes can lead to duplicate profiles
When running your campaign
1. Lower room rates on own website
You can improve your positioning on your Meta channels by decreasing your room rate on your website in comparison to OTA's. If you combine this with having your Cost-per-Click (CPC) bid above the recommended average bid you can move up in the listing
2. Make sure your content is always up-to-date
When running your campaigns make sure that your content is always up-to-date and relevant. There is no point of investing your marketing budget in better placement, if your content does not attract your target market.
3. Make sure you only show when availability
They great advantage of advertisements on metas in comparison to traditional pay-per-click sites, is that your ads are automatically updated with your room availability and pricing. Ideally, you would have a booking engine which has an built-in meta channel advertising.
4. Test, test ,retest
Metasearch optimisation is all about testing. Every campaign needs to be meticulously monitored and optimised to find its success. This is important to be able to identify the change in conversion rates based on your keywords, impact of rate changes, or CPC bids.
Work with experts
There are experts out there who help you to manage the world of hotel online marketing, working with you to understand your individual goals and needs and develop successful strategy. Furthermore, they help you monitor, analyse, and optimise your campaigns to maximize your success.