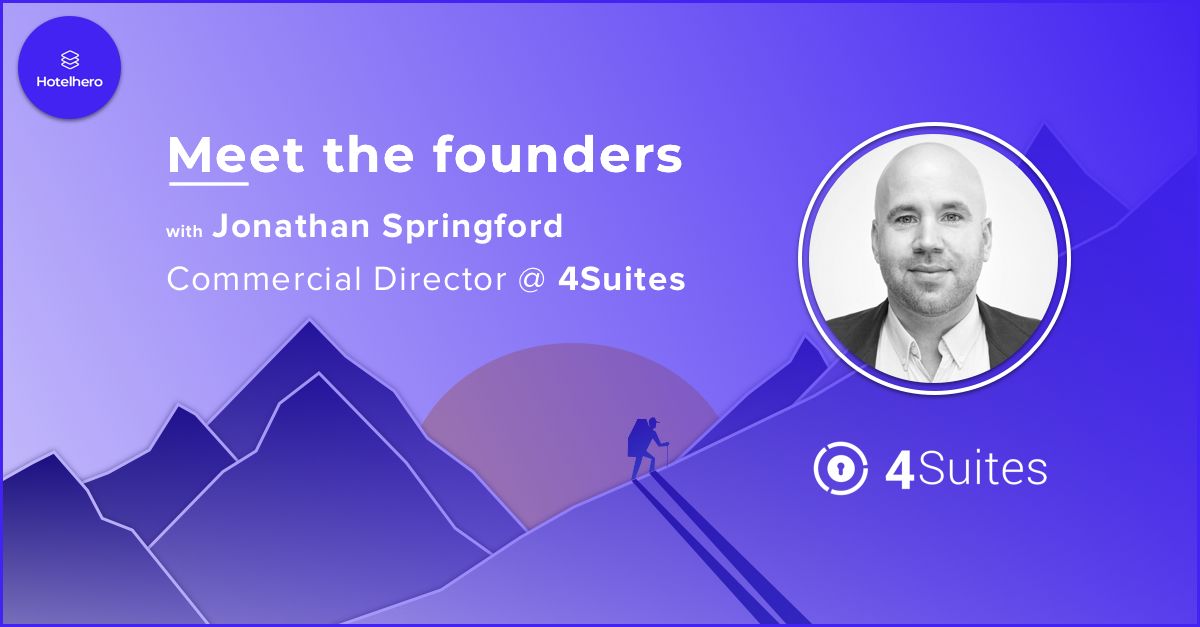 September 10th, 2019
Unique door locks for unique hotels, meet Jonathan Springford
By Thibault Gence , Co-founder @ Hotelhero
4Suites provides smart access technology for hotels. Through innovative technologies and well studied guest experiences, 4Suites helps to streamline the front desk hassle, reduce operating costs and cater for forward-thinking guest journeys.
We interviewed Jonathan Springford, Commercial Director, to find out more about the future of hotel access control and understand the difference between existing solutions on the market and what 4Suites offers.
---
Let's get started Jonathan! Before we talk about your product, tell us a bit about your story and how you got into the hotel industry?
We're a company specialised in smart access technology. We discovered early on that by changing the way we manage and get access, major advantages fare offered to the hotel industry. This founded our decision to tailor our platform and solutions specifically towards hospitality's unique requirements.
So tell us about 4Suites? Why did you decide to build this or what problem are you trying to solve?
4Suites offers an advanced access control platform and mobile key solution for hotels. Our solutions allow hotels to simplify their current operations resulting in reduced costs, improved service levels and an optimised overall guest experience.
A high-demand solution in this vertical is mobile keys for hotel guests. The problem we discovered here was how current suppliers and hotels were struggling to live up to the grand promise of mobile keys. With only 5% (and often less) of guests actually using mobile keys, there is no significant changes to the above mentioned operations, costs or guest experiences. Key problem factors here were staff adoption, guest adoption and solutions that were not tailored to fully meet hospitality's unique requirements.
Instead of finding out how we can get staff to adopt new technology, with extensive staff training and user friendly interfaces, we simply removed this need completely. Our solution is fully automated and doesn't require any actions by the hotel or an additional interface at the front desk. The same goes for guest adoption: instead of figuring out how we can get guests to download an app (with perks, loyalty points or great communication tools), we have simply removed the need for an app. We have simplified the entire mobile key flow from hotels to guests opening their doors to a simple two-click journey where guests are no longer forced to download an app.
The third hurdle was taken by selecting technology based on its ability to answer to hotels' unique requirements instead of expecting hotels to compromise towards the limitations of selected technology. By leveraging the power of IoT (Internet of Things), cloud platforms and API (Application Programming Interface), we can be extremely flexible and are able to act upon changes in real-time and without any human interference.
What type of properties uses your product? Can you tell us a bit about the different accommodation providers your product caters for?
We are active across the entire hospitality industry. From hostels to hotels, holiday parks and cruises. When talking about hotels we have noticed that our solutions cater to very diverse locations too. On one side we see hotels that aim to reduce operating costs by removing or cutting down their front desk and on the other side we see hotels that aim to increase the level of service by shifting the focus from operation and administration towards actual guest attention and service. Besides this, the new techy, smart hotels and/or unstaffed hotel concepts always prove to be an instant match to our solutions.
How is your product different from what is already existing in the market? Any key differentiators or USPs?
What sets us apart at the base, is the fact that our platform is specifically tailored to the hotel industry and that we have selected technology based on its ability to deliver the best answers to hotels' unique requirements.
This approach has already resulted in industry-first features and in the future this will continue to prove the source of differentiation. When we talk about competitive features it comes down to real-time actions, "over air" updates on locks, fully automated hotel workflows, unbounded connectivity and mobile keys for guests without the need to download an app.
Mobile key without app download
Amongst all others, what is one of the key features your customers love the most?
This has to be the mobile keys solution without needing to download an app. We were surprised to hotels from all across the world finding us based on their desire to use digital keys, but have experienced that only a minor percentage of their guests will download an app for this.
What were some of the biggest challenges while building the product early on and how did you solve them?

One of the biggest challenges, besides going to deep into the tech part, have to be the unique situations we came across at every single hotel. Each hotel has their own demands and preferred guest journey in mind. When building our platform we kept this need for flexibility in mind across all elements. This mindset has certainly paid off for us now. Whatever access requirements or guest journey the property has in mind – our platform can easily be tailored to answer to these needs.

To wrap things up, we are in an industry were collaboration and partnerships are crucial. Is there any specific 3rd party software that brings the most value to your clients? Or is there a product on the market that really caught your eye?
It's difficult to name one 3rd party that brings most value. I think a combination of our solution with on-stay applications (concierge, local services and on-destination experiences) can be highly beneficial to both hotels and guests. Our mobile keys connect the hotel to the guests' favorite device, their phone. Besides just opening the door, this space and connection can now be used to add value throughout the stay and deliver great guest experiences.
On the other side we have hotel PMSs, which of course can be considered as the heart of a hotel. The rise of some of these new property management system suppliers that focus on connectivity and aim to simplify operations as much as optimise guest experiences are right up our alley and prove to be great partnerships for us too.
---
About the Author
Thibault is Co-Founder of Hotelhero and a graduate of École Hoteliere de Lausanne. Passionate about hotels, service excellence & technology Hotelhero is built on the belief that independent & small chain operators should be leveraging technology for the better. Our platform and services strive to give every hotelier a chance to compete in this highly competitive market by implementing the right technology.