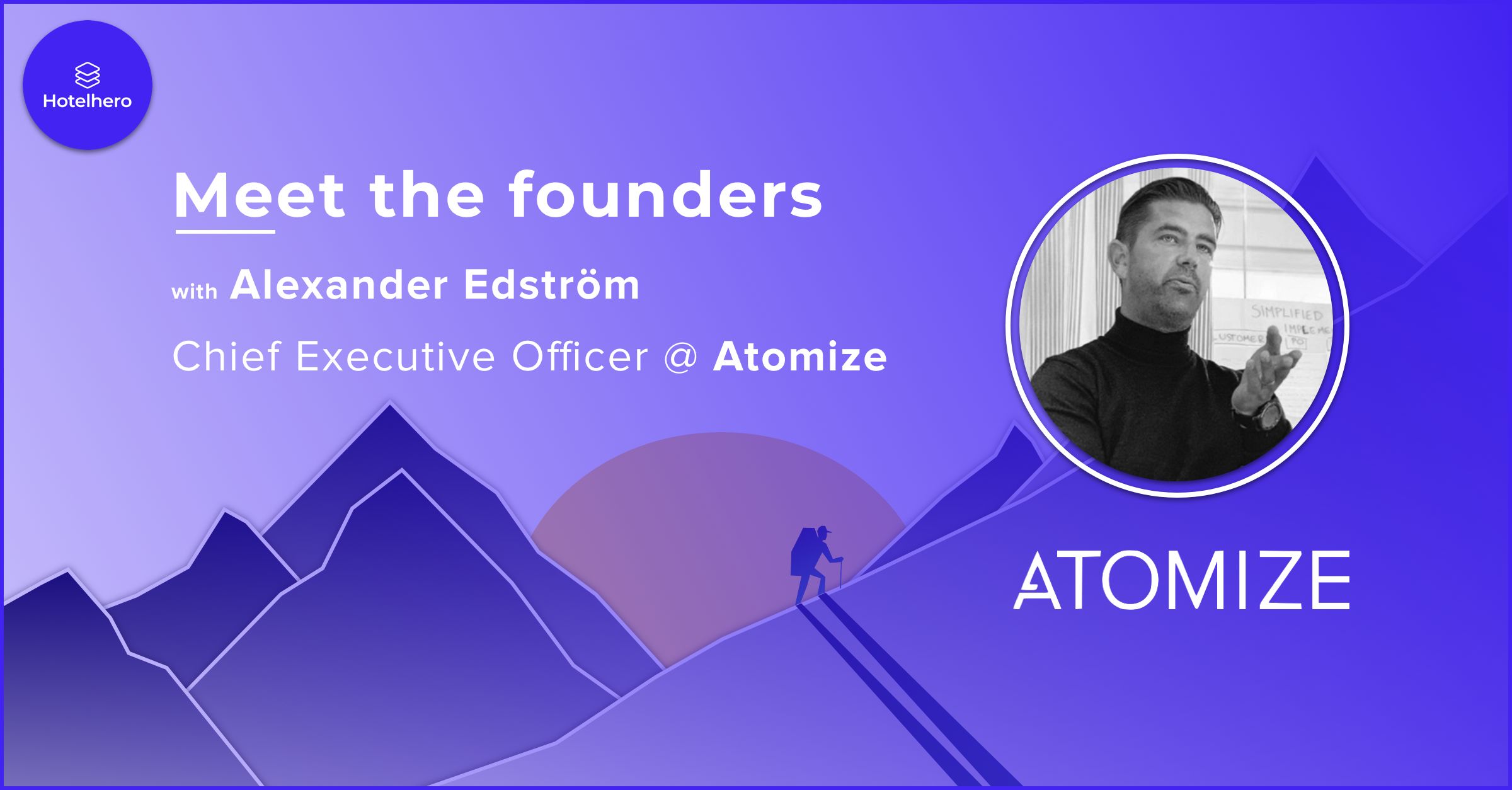 Unleashing real-time price optimization, meet Alexander Edström
Nov 05, 2019
- Florian Montag
Atomize provides a fully automated and real-time revenue management system based on historical data & performance, competitive data, search patterns, local macro-trends and more.
We had a chat with Atomize's CEO, Alexander Edström, to hear his story and the vision behind the company.
---
Let's get started Alexander! Before we talk about Atomize, tell us a bit about your story and how you got into the hotel industry?
Before Atomize I was the CEO of a company called Admeta, which got acquired 2014 by an American company called WideOrbit. Admeta became the world leader in optimizing online advertising revenue for online publishers – where we never lost a single optimization benchmark, not even against Google's competitive product at that time. After Admeta was sold, during a social dinner, we accidentally heard about the fact that the majority of hotels in general set their prices manually or by gut feeling in Excel. We could not believe this was true. The remaining ones who actually did use some sort of Revenue Management System (RMS), were using legacy and/or complex tools that were expensive and slow to set up – and once up, you needed a dedicated person/team to operate it. Hence; not a good match for the long tail which constitutes for the majority of the market. With our Admeta heritage where we did more than 130 billion pricing decisions per month and a world leader in the field; we saw an opportunity to launch something much more efficient and easier to use – without tampering with the revenue uplift output; rather the opposite.
So tell us about your solution? Why did you decide to build Atomize and what problem are you trying to solve?
At Atomize we claim that every report needed to set a price is a failure. Hence; Atomize offers hotels to automatically set optimal prices for their property 365 days into the future dynamically per room type. All this respecting room type hierarchy and the fact that you at times want to have the possibility to enter manual overrides.
I am very proud to say that Atomize recently launched real-time price optimization, which has been unheard of in the hotel industry. If you are running a hotel in a very dynamic area, changing your prices for your hotel once an hour is not enough – that hour it might require you to change prices up to 3600 times for maximum yield, especially as you are coming close to arrival date. With real-time price optimization your prices get updated instantly and you make sure your hotel is not missing out on revenue. What used to be a matter of days or even hours can today be a matter of minutes or even seconds, especially in hyper dynamic cities. A fully automated system working in real time gives your hotel an edge over the competition when you need it most.
What type of properties implement Atomize? Can you tell us a bit about the different accommodation providers your product caters for?
When we first decided to launch Atomize we simply asked 20 random hotels to enter a beta phase with Atomize. Already then, we made sure to have a mix of hotels in terms of size and geographical location since we wanted to understand the drivers, pains and requests for different types of hotels. Today, by looking at Atomize client base, this blend is still true. We are today serving hotels in the range from 30 rooms up to 1250 rooms in both rural and dynamic markets across 5 continents – and some smaller chains as well. However; we are now stepping up the game and building out more features to serve the bigger chains. That includes multi property features, Group Booking Pricing Optimization but more interestingly – building towards the end game which we believe is Total Profit Management. To optimize towards profit rather than revenue, Atomize needs to consider revenue and profit margins from all revenue streams in the hotel such as F&B, Spa, Meeting Area, parking etc but also the cost elements, such as cleaning fees, different channel distribution fees etc. We are living in a truly exciting era.
How is your product different from what is already existing in the market? Any key differentiators or USPs?
The most important USP is of course that Atomize, as the only RMS in the industry, now supports real-time price optimization.
Another USP that we constantly hear from our customers is "Ease of Use", by having a mobile first strategy. Then when you start drilling down into the tech, we are using sophisticated self-learning and machine learning algorithms running in the cloud. This enables you to have the most powerful revenue generator for your hotel in your pocket; many times, generating more than 15% uplift in room revenue.
Amongst all others, what is one of the key features your customers love the most?
I would simply say the ease of use. Our users don't need to spend time on setting prices; but if they want to, it is really easy and accessible.
Intuitive charts & optimal pricing recommendations per room type
What were some of the biggest challenges while building the product early on and how did you solve them?
The biggest challenge for sure is to fit everything into a mobile screen and still make it look slick. The challenge with a mobile first strategy is that you have to say no to a lot of great features; but the way we usually handle that challenge is to either discard them or if they are needed; using AI so they are considered automatically but not needed to be shown. One example of that would be market segmentation, our algorithm obviously tracks and optimize each segment to come up with the optimal price but the segments as such are not visualized.
To wrap things up, we are in an industry were collaboration and partnerships are crucial. Is there any specific 3rd party software that brings the most value to your clients? Or is there a product on the market that really caught your eye?
One important component in Atomize is the seamless integrated rate shopping data that automatically is fed to the optimization engine. To enable this, we have a seamless integration partnership with OTA Insight where Atomize fetches these rates through an API. In terms of other products that have caught my eyes; I would say that there are a bunch of cool tech coming on many fronts right now. To be a hotelier today is truly exciting, and many times I envy them for having the possibility to test all this cool stuff.
---