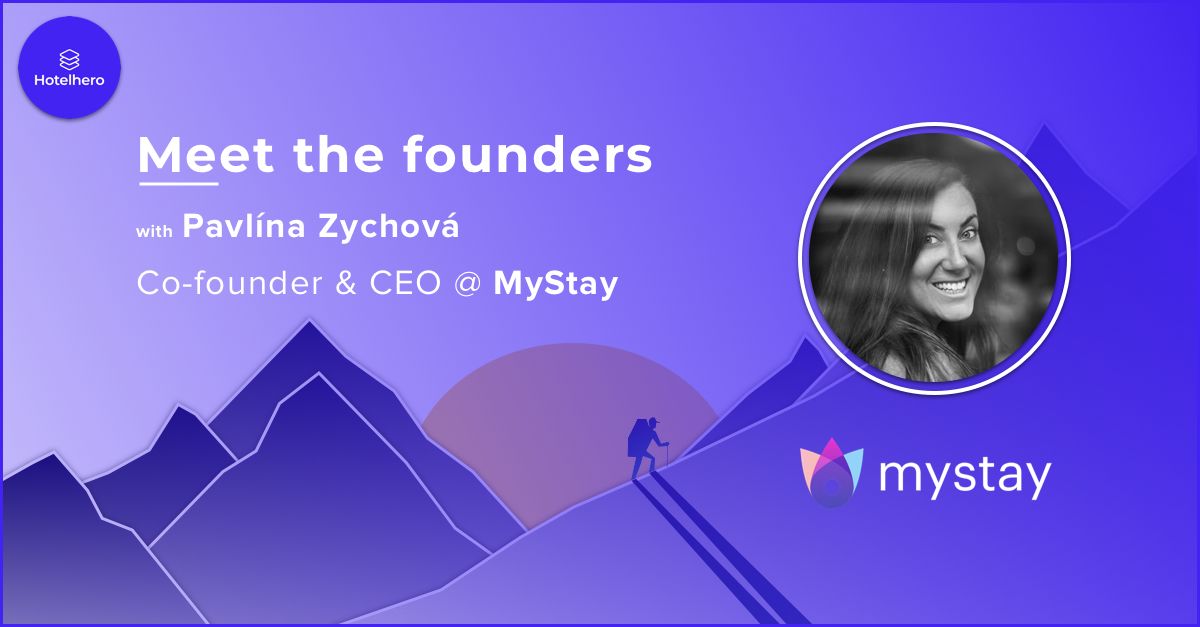 Unlocking a digital guest journey for independent hotel and vacation rental operators, meet Pavlína Zychová
Nov 07, 2019
- Thibault Gence
MyStay provides web application technology enabling medium to large accommodation providers to provide their guests with a digital hotel directory without the need of downloading an app.
We interviewed the company's co-founder & CEO, Pavlína Zychová, to know more.
---
Let's get started Pavlína! Before we talk about MyStay, tell us a bit about your story and how you got into the hotel industry?
I am graduated lawyer, but as I have been working in nearly all areas of the legal system during my studies, I found out that I didn't want to practice it my whole life. That is why I have been searching for another challenge after graduating. I loved traveling and I always wanted to manage people. On Facebook, I saw a request from one of my friends looking for a project manager in his IT development company. I applied, was accepted and started a Key Account Manager position. In that period the idea of MyStay was born and we managed to get our first clients so it was a perfect match.
So tell us about your product? Why did you decide to build MyStay and what problem are you trying to solve?
A couple of years ago my co-founder, Radek, was in Sri Lanka. When he got out of the hotel, he found out he had no internet data, he didn't remember the name of the hotel or the name of the street, so if he would always get lost or not know how to get back. When he finally got back to the hotel, he would line up in long queues and once he reached the receptionist, she would give him a paper map where she made a cross on the hotel's location. But you can always lose the paper map and be lost again.
He also questioned himself on why there still wasn't a way to directly get in touch with the hotel through something he always had in his pocket: his smartphone. So that is how the whole idea of MyStay started. The following years, the idea was approved by various hotel managers and nowadays we provide a direct communication line between a hotel and its guests (after the reservation) for hundreds of properties worldwide.
Personalised pre-stay emails & offers
What type of properties implement MyStay? Can you tell us a bit about the different accommodation providers your product caters for?
We mainly work with medium to larger size independent hotels between 30 and a few hundred rooms or smaller independent chains with up to ten properties. We also provide MyStay to vacation rental operators who operate apartments or b&b's.
How is your product different from what is already existing in the market? Any key differentiators or USPs?
MyStay is a global guest experience tool that connects hotels and their guests from the reservation to after the checkout. Through our web app and mobile app, hotels can easily and automatically send pre-arrival messages, offer digital check-in through a pre-arrival registration form or make upselling proposals for ancillary hotel services. Our main USP is that through one product, hotels can solve many complex problems of the guest journey after the reservation.
Amongst all others, what is one of the key features MyStay customers love the most?
It really depends on the type of property, but the most appreciated features by guests is the online check-in registration.
Online check-in with passport scan
What were some of the biggest challenges while building the product early on and how did you solve them?
I think handling a platform that is made for two different users was a big challenge. It was always complex to handle both, guests using MyStay and hoteliers using us to digitize and automate their front desk. Obviously, it is a huge task that is hard to tackle in one solution.
Therefore, we started off by narrowing down the product to focus on our core pillars described above: messaging, online check in, up-sell and web templates.
To wrap things up, we are in an industry were collaboration and partnerships are crucial. Is there any specific 3rd party software that brings the most value to your clients? Or is there a product on the market that really caught your eye?
I totally agree. Partnerships are essential for the industry and any newcomer in the hospitality tech space. We therefore focus a lot on PMS and CRM relationships by offering MyStay features on a software license basis as a white-labelled product. Such partnerships can bring MyStay's feature to hotels using PMSs who have not yet developed their own messaging, online check-in, up-sell or web templates (to digitize stay related information).
---