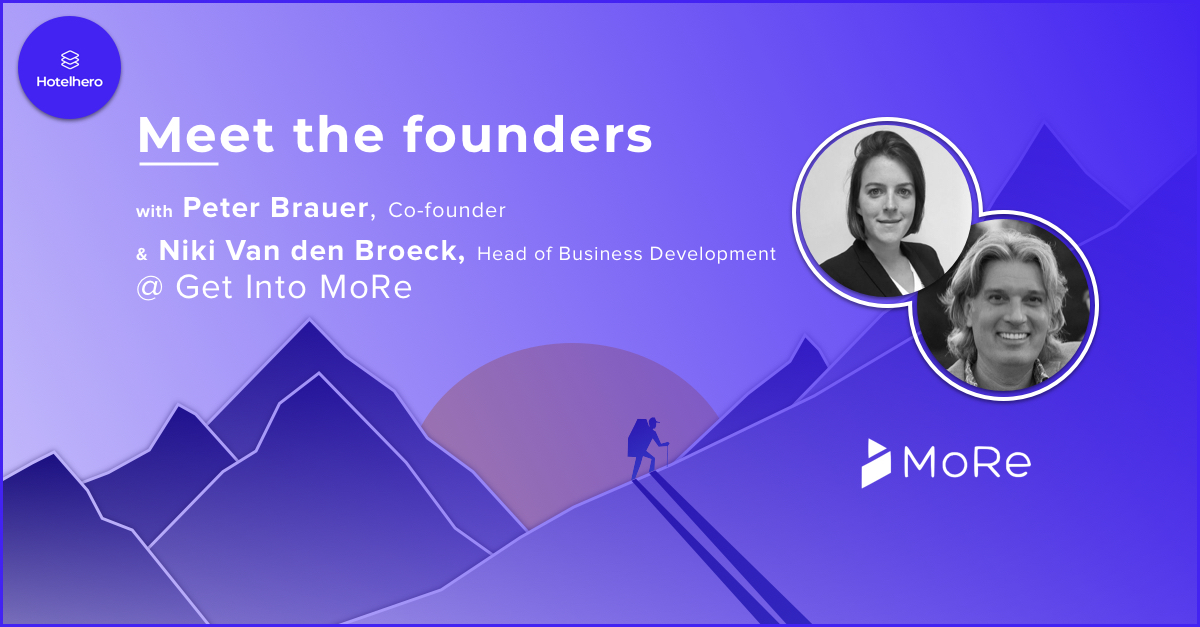 Unlocking the full potential in Meetings & Events and Group Business, meet Peter Brauer & Niki Van den Broeck
By Thibault Gence
September 12, 2019
Get Into MoRe is an an advanced Business Intelligence tool for hotels wishing to maximise Meetings & Events and Group Business.
We interviewed co-founder, Peter Brauer, and head of business development, Niki Van den Broeck, to know more about their journey & product.
---
Let's get started! Before we talk about your product, tell us a bit about your story and how you got into the hotel industry?
Peter: I got into the hotel industry by sheer coincidence. The initial plan for me was to become a lawyer, but it worked out differently when I followed the love of my life and moved from Amsterdam to Antwerp. In the local newspaper I read they were looking for a receptionist at a city center Accor hotel. I gave it a shot and started working just a few days after. The following 20 years were a whirlwind where I travelled through various commercial and financial roles within Starwoord, the Radisson Hotel Group and NH.
Niki: My story is a bit shorter in years. After graduating Hotel Management I started working as a Restaurant Manager for a small restaurant chain where I soon began making all sorts of reports to analyze performance. I loved the customer contact, but it wasn't the challenge I was looking for. It was actually my former boss who introduced me to the founders of Get Into MoRe as she believed I would love their data driven approach. After spending 2 minutes with Peter and Vassilis I knew I wanted to join them on this journey. I haven't had a dull day ever since.
So tell us about your product? Why did you decide to build this or what problem are you trying to solve?
Peter: Knowledge is the key factor in Revenue Management. That's why I was always on the lookout for innovative solutions to boost it. In my last role as a Revenue Director I worked closely with Vassilis, our co-founder. We saw the uncovered potential in Meetings & Events and started looking for a solution that could support us being strategic and optimize this important revenue stream. After scanning the market, we didn't find any solution that met our expectations. This meant we were stuck with Excel. After a few weeks of inputting data, errors and a lot of time wasted we decided to take matter in our own hands and started the process of creating Get Into MoRe a fully automated and intuitive tool that unchains the locked potential in Meetings & Events.
What type of properties uses your product? Can you tell us a bit about the different accommodation providers your product caters for?
Niki: When it comes to our users, I like to say size doesn't matter ☺. If Meetings & Events or Group Business is an important part of your total revenue you will definitely benefit from Get Into MoRe to optimize it. Looking at our current user portfolio I see hotels in the city center, the country side and near the beach going from 4 up to 40 meeting rooms. The tool is used at branded, independent and chain hotels.
Peter: Indeed, and it's not just hotels. We also have some conference venues in our user portfolio. I absolutely love special projects. We were recently contacted by a boating company that heard great things about us and wondered if they could use Get Into MoRe to optimize boat revenue. It would have never crossed my mind to introduce Get Into MoRe for boats, but when you think about it: floating square meters can also be optimized, right?
How is your product different from what is already existing in the market? Any key differentiators or USPs?
Peter: We are an agile company and develop our tool through valued feedback from our customers. This means we release new features quite frequently, go to our users and start the next development round based in the feedback received. It's the only way to make sure we actually deliver a tool that our users want to use. The hotels that were there from early on were of great value as they suggested many ways we could improve.
Niki: We really differentiate ourselves when it comes to user-friendliness. "A user interface is like a joke. If you have to explain it, it's not that good.". This is a quote we live by. I've seen systems that are so complex you need hours of training just to know where to find what information and in the end the tool only gets used by people on Director level, maybe. Get Into MoRe on the other hand is intuitive for all levels of experience. I love seeing both Meetings & Events sales trainees and more senior profiles using the tool to reach shared goals. It simply makes everyone's job so much more interesting.
Apart from being the most user-friendly solution out there we have an inspiring vision for the future. We are currently taking the first steps towards predictive models collaborating with the University of Brussels. The outcome will be a true game-changer.
Amongst all others, what is one of the key features your customers love the most?
Peter: Everyone loves Get Into MoRe's Dashboard, which is the compass for your Meetings & Events / Groups department. It points you exactly in the direction where you need to look or investigate further. It's a great starting point for optimizing Meetings & Events Revenue and Group Business.
Next to that the strategic Demand Calendar is a real favorite. It helps revenue teams spot the heath in a certain month while simultaneously showing occupancy for both rooms and meeting rooms. This helps tremendously in the process of flexible pricing for both group rooms and packages. Sales teams on the other hand use the same calendar to pro-actively shift demand when they see a certain week is high demand but the week before is under performing.
Strategic Demand Calendar
Niki: I get really positive feedback about our Lead Time Analysis. First of all, I've heard many times it's almost impossible to keep track of this manually. Secondly our users love to use it to predict future demand where before they had to rely on gut feeling when deciding whether to sell or deny a certain group inquiry. There is always that uneasy feeling creeping up when you take a decision based on "air". The lead time analysis gives our users the confidence to take data-driven decisions they can stand by.
Lead Time Analysis
What were some of the biggest challenges while building the product early on and how did you solve them?
Niki: Peter, the stage is yours.
Peter: Where shall I start? No, seriously I think we were lucky to have found a super skilled development team from the start on which saved us from any major software issues #kudos to them! I did underestimate the setup and validation of the data. It was an absolute mammoth task which took us almost a year of testing and going back and forth before we got it 100% right.
When it comes to developing new features or dashboards, I also learned nothing is as simple as it seems. We would go to development and tell them we "just" wanted to add this feature that should function in that certain way. They would immediately let us know it was a bit more complex than "just".
To wrap things up, we are in an industry were collaboration and partnerships are crucial. Is there any specific 3rd party software that brings most value to your clients? Or is there a product on the market that really caught your eye?
Peter: Every hotel is different and has specific needs when it comes to technology. I love how the hotel technology industry is opening up making it easier for hoteliers to select and connect tools and systems that best support their specific property. There are 2 solutions that I am particularly excited about. Top of mind is Z-factor. Where Get Into MoRe helps hotels optimize M&E revenue by giving access to vibrant analytics from internal data, Z-factor looks at the external situation. This helps hotels to easily benchmark and spot accounts that are likely to book meetings in their area.
Niki: Another amazing tool that will definitely boost revenue for the Meetings & Events department is Proposales. The tool enables sales teams to create "live" proposals that are simply built to convert (and upsell!). As the proposals can easily be adjusted by potential customers, they also take away the never ending "back and forth". Apart from that they are visually attractive and will make sure you distinguish yourself from your competitor that is sending over a boring pdf. It's all about experience, right?
---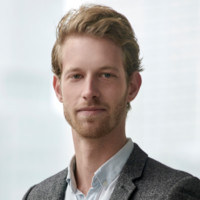 About the author
Thibault is Co-Founder of Hotelhero and a graduate of École Hoteliere de Lausanne. Passionate about hotels, service excellence & technology Hotelhero is built on the belief that independent & small chain operators should be leveraging technology for the better. Our platform and services strive to give every hotelier a chance to compete in this highly competitive market by implementing the right technology.
Never miss a post
Join theBrief newsletter and stay up to date on all the latest hotel tech news
No spam. You can unsubscribe at any time.