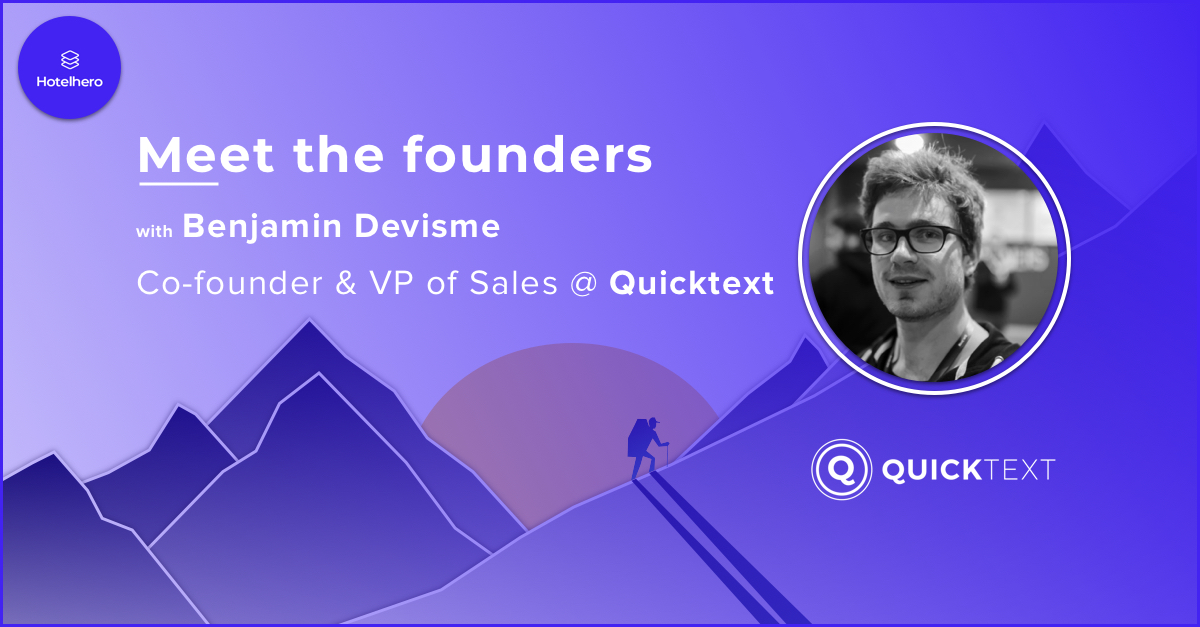 Your sales team's best friend: a high converting chatbot, meet Benjamin Devisme
By Thibault Gence
September 26, 2019
Quicktext is an instant guest messaging and chatbot solution which helps hotels of all types increase website conversion and enhance guest experience personalisation.
We sat down with Benjamin Devisme, co-founder & VP of Sales at Quicktext, to know more about their journey.
---
Let's get started Benjamin! Before we talk about Quicktext, tell us a bit about your story and how you got into the hotel industry?
I've always wanted to make my own thing and let's be honest, nobody was crazy enough to hire me. So when I was 22, I jumped into the first entrepreneurial project that I saw. The name was PriceMatch. We did very well and that's what got me into hospitality. From there I kept learning and developing my expertise.
So tell us about Quicktext? Why did you decide to build it and what problem are you trying to solve?
From every 100 visitors on their website, hotels manage to convert only 2. That's really low when you know that most of the people that go to your website are going to travel. The question those visitors are trying to ask is "should I book this hotel or go to the one in front?".
The problem is that most hotel websites are empty shops, there is no salesperson in there to assist customers. Quicktext exists to help hoteliers convince their online visitors to book direct now. To do that we created Zalia a chatbot that is able to solve customers doubts by giving them the instant personalized answer they expect to finalize their booking with you.
We soon realised that customer feedback was very positive. Customers love instant service so we decided to expand our reach and create integrations with Facebook Messenger, WhatsApp, SMS and even Booking.com. Now Quicktext is able to help customers at all stages of their journey helping hoteliers boost their sales and improve customer service.
What type of properties uses the solution? Can you tell us a bit about the different accommodation providers your product caters for?
We work with all kinds of hotels that want to increase their conversion rate. Of course there are some prerequisite before implementing a chatbot:
Chatbots do not generate traffic. In fact, they drive engagement and increase conversion for customers that are already on your website, so make sure to improve your traffic volume

Have a solid booking engine which is open to integration

Have an existing direct booking strategy. Deliver the best offers on your website and have a price comparator. (My absolute favorite is Hotel Price Explorer by MMCréation. I like it because it puts together Price/Reviews/Hotel key selling points)

Have a person with a sales profile at your hotel. More often than I wished, I saw hotels where the staff was afraid to pursue leads that originated in the chatbot but needed some follow-up.

For more tips, have a look at what you should do before setting up a chatbot in your hotel.
How is your product different from what is already existing in the market? Any key differentiators or USPs?
Quicktext has a lot of amazing features that makes it stand out from its competition and we're building new ones every day. There are 3 things that make hoteliers prefer Quicktext:
Strong and personalized support: Most of our customers are using a bot for the first time so for us it is crucial to make it easy for them, be available and guide them as much as possible
Quicktext is a mature solution: We know perfectly how hotels operate, what they want to achieve so we could develop the flexibility necessary to deliver a solution that fits easily into any hotel's daily operations.
Quicktext helps hotels make real money: Answering customer questions is excellent but what hoteliers really pay for is additional sales and so far we are the only provider that is ready to reimburse you in full if you don't make a profit out of our collaboration.
Amongst all others, what is one of the key features your customers love the most?
In terms of features hotels love the fact that Quicktext is able to centralize the main instant communication platforms that their guests love to use (Live chat on the website, Facebook Messenger, WhatsApp, Booking.com, SMS).
On top of helping hotels sell more, our chatbot is also a huge time saver and is really popular among hotel staff. Of course one of the key features that hoteliers look for is how smooth the transition is between the chatbot and a member of staff when a question needs human attention. We managed to make it easy and natural.
What were some of the biggest challenges while building the product early on and how did you solve them?
The 3 biggest challenges on a project like Quicktext are:
You need to reach a critical mass for your chatbot to be able to successfully handle most customer questions. Training a chatbot is much harder than it seems, especially for hotels where customers can have many different questions. We managed to solve this challenge by offering our customers a simple live chat at first and then replayed all the interactions again and again until we got satisfactory results. Now Quicktext has reached its maturity and all new properties can enjoy a strong chatbot from day 1.
No matter how good your solution is you need hoteliers to use it. Making Quicktext fit easily into a hotel daily operation has been one of our obsessions from day 1. We invested significantly into making our chatbot able to interact with staff as if it were a member of the team.
Data management is another tough cookie. We didn't want to have hotels fill text based chatbot answers because it is not scalable especially not when you manage multiple languages. So we gave our chatbot the ability to make its own answers from basic data collected from hoteliers. If you set "Check-in time = 2PM" and "Early check-in = No", the chatbot will be able to answer about check-in in 10 languages instantly. It looks like nothing but that's how you have a chatbot ready to operate in less than 2h.
To wrap things up, we are in an industry were collaboration and partnerships are crucial. Is there any specific 3rd party software that brings the most value to your clients? Or is there a product on the market that really caught your eye?
For us connectivities to Booking engines and PMSs, when it is possible, are a real strength. To date, Quicktext is the most connected chatbot & messaging solution in the market. While I have many sympathies in the industry I can't have any official favorite as there are many different solutions out there that can be more or less adapted to different kinds of hotels.
---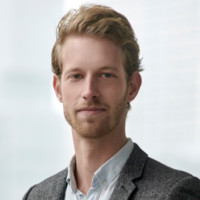 About the author
Thibault is Co-Founder of Hotelhero and a graduate of École Hoteliere de Lausanne. Passionate about hotels, service excellence & technology Hotelhero is built on the belief that independent & small chain operators should be leveraging technology for the better. Our platform and services strive to give every hotelier a chance to compete in this highly competitive market by implementing the right technology.
Never miss a post
Join theBrief newsletter and stay up to date on all the latest hotel tech news
No spam. You can unsubscribe at any time.