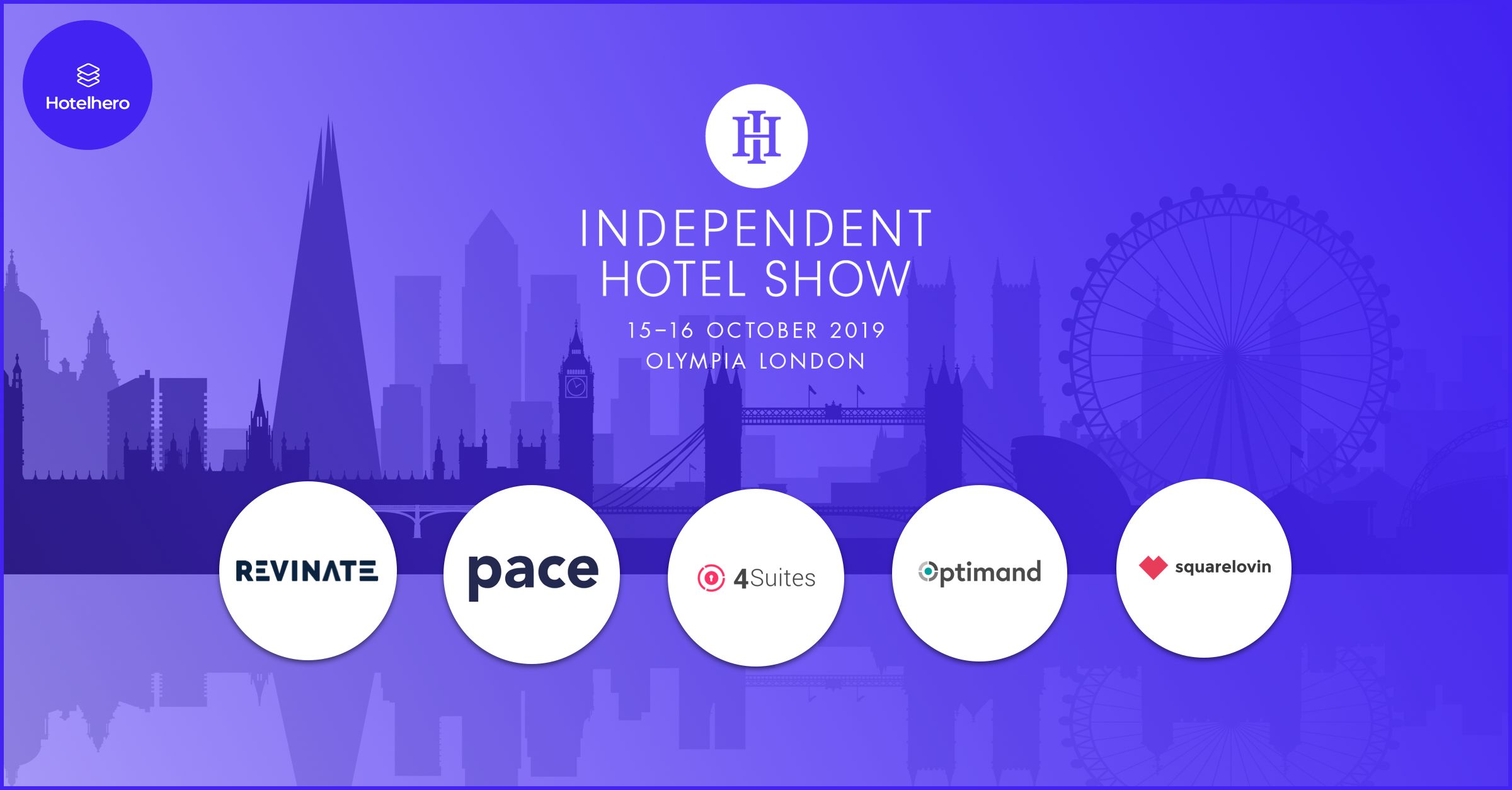 Join Hotelhero at London's Independent Hotel Show
Oct 02, 2019
-
Hotelhero will be joining this year's Independent Hotel Show on the 15th & 16th of October. For this 8th edition, we're having some great companies and products to join us on the booth.
Register here to get your free ticket for the event and come meet us on booth J04.
---
About Revinate
The Revinate Guest Data Platform is built to help hoteliers know, delight, and earn valuable guests like never before. We make it easy to build richer, more personalized relationships with your guests. Revinate counts tens of thousands of the world's leading hotels as customers and has won numerous awards for its Software-as-a-Service solutions. We make technology work for your hotel, so you can make the most of every guest.
About Pace
The Pace revenue management system is a powerful, easy to use dashboard that provides precise forecasts and optimal prices for each of your property's room types - for the next 365 days.
Use Pace's proprietary algorithms and techniques developed by the in-house data science team to get a deep analysis of your bookings and maximise your revenue.
Quickly react to sudden changes in demand in the future by applying new price recommendations, and boost your revenues by turning over pricing power to Pace's real-time, automated engine.
About 4Suites
4Suites is a tech company that specialises in smart access technology. By leveraging the power of the Internet of things, cloud platforms and APIs, the company is revolutionising the way we manage and get access to certain devices and objects.
Our smart access solutions empower hotels to simplify operations, reduce costs and optimise the guest experience.
4suites is fully automated for hotels and absolutely seamless for guests. No app needed!
About Optimand
Optimand is the most advanced web analytics platform specifically designed for the hospitality. It analyses real-time demand and conversion data in order to automatically increase direct bookings.
Optimand helps hoteliers in improving their digital marketing strategies and increasing profitability by using powerful, customer driven demand insights. Optimand also compares live demand against a pool of similar properties operating in the same market and receive automatic updates from the property PMS to generate several production reports.
Currently represents the most flexible and cost effective solution in the market to shift demand from OTAs to direct channels.
About squarelovin
squarelovin helps you turn lookers into bookers. Our progressive visual content platform enables hospitality brands to tap into all the content guests are sharing related to their brand and effectively utilize it.
squarelovin allows you to request essential usage rights (GDPR compliant) for content created by your guests with just one easy click.
Each piece of content that has been published to your website or webshop via squarelovin, can be analyzed individually to clearly identify the impact on your WBE performance and ROI.