Cette article n'est pas traduit dans cette langue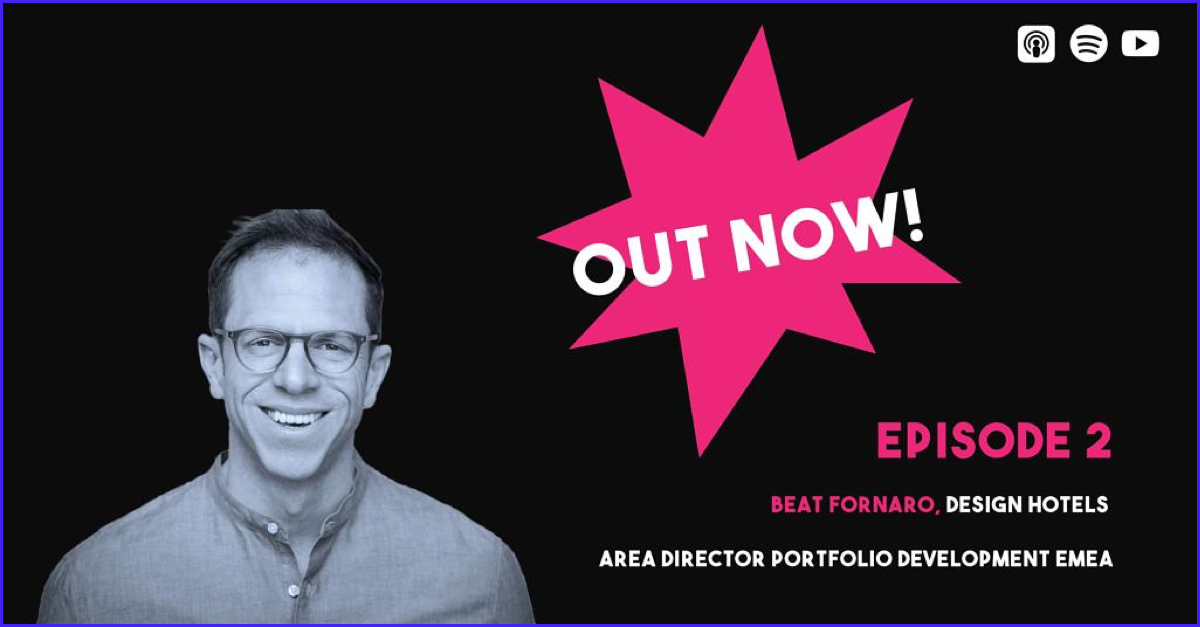 SMACK #2 - Originality in hospitality with Beat Fornaro (Design Hotels)
Par Florian Montag
17 septembre 2019
This week, Florian & Fritz, sat down with Beat Fornaro, Area Director of Portfolio Development EMEA at Design Hotels.
Beat shares his insights on Design Hotels' acquisition by Marriott International and its impact on operations, how the Design Hotels process works in selecting new properties and why it is key to be original, as a hotel.
---
Topics of today's episode :
Working for Design Hotels & Marriott (1:00)

Overall industry insight (13:34)

Need to travel and tourism (19:20)

Hospitality trends (24:00)

Airbnb in the hospitality industry (34:33)

Design Hotel (38:40)

The last three questions (46:00)
---
Today, Fritz and Florian welcome Beat Fornaro from Design Hotels.
Working for Design Hotels & Marriott
Beat started as a business consultant for Design Hotels. When Marriott International, Inc. merged with Starwood Hotels & Resorts Worldwide, Inc. in 2016, Design Hotels also became mostly owned by the american giant. The culture clash between Design Hotels and its new owners was a challenge at first. The beginnings were uncertain and Design Hotels' employees were wondering if the chain was going to sell its shares of Design Hotels. Eventually, the common goal of both Marriott and Design Hotels took over and the both now work along perfectly. Both have the common sense of getting things done and the common goals of bringing value to member hotels, explains Beat.
A day in the life of Beat
Beat is constantly on the go and has seen over 350 hotels since he started working for Design Hotels. He travels through Europe, Middle East and Africa to find new member hotels. He meets hoteliers, discusses KPIs,market positioning and discovers their hotels, but he also deals with existing member hotels, comes up with new strategies and more. He explains that Design Hotels isn't as data driven as other Marriott hotels. The selection of new hotels is based on six criterias :
The concept

The architecture and the design

The brand

The local relevance and integration

The social aspects (Corporate Social Responsibility)

The people behind the hotel
Beat focuses on the story the hotel is trying to share with guests and the memories people will make by staying there. He concentrates on what he calls the "originals": the hoteliers that created a hotel around a unique concept. The brand culture and awareness and the hotel's relevance in the neighborhood is another key criteria for him. "A good movie is made out of a story and then you build the movie set, and then you cast your actors. Often in hospitality, unfortunately, it goes the other way around, and these are not hotels we want to work with."
Eventhough Design Hotels is now part of Marriott, its selling points haven't changed. "We are still a voice for independent hoteliers, for bold hospitality concepts and experiences around the world." The image of the brand might have changed, but its vision and DNA certainly haven't.
The process of finding new member hotels happens in a few steps and through different people. One person on his team scans the internet continuously to find great hotels. When he comes across a good hotel, they then contact the owner. Moreover, hotels can independently apply to join the Design Hotels portofolio. Beat receives over 400 applications in a year and he signs about 40 hotels per year, which leads to a net growth of about 20 hotels each year.
Perception of the state of the industry
When asked to tell us his perception of the state of the industry as a whole, Beat says he really can't make a global statement. Business is easier depending on your location. Beat gives the example of Paris and how the ADR never seems to vary, no matter what the city goes through. That is why Paris is the ideal city for young hoteliers who want to open new hotels with great concepts, according to Beat. Other cities, such as Budapest, don't benefit from a constant ADR, as rates vary drastically depending on the season.
"People always travel and that's the beauty of the job. We will always have work."
The supply on the hospitality market evolves every year, with new hotels opening constantly, like in Berlin. Fighting the competition and remaining visible in an ever-growing market is also the promise that Design Hotels makes to member hotels. Design Hotels members can join the Marriott loyalty program called the Marriott Bonvoy program. "[Joining the Marriott Bonvoy program] represents a great opportunity if you're an independent hotelier and you're fighting against big brands and more standardized concepts, and you still want to capture some of that business." According to Beat, selling rooms on OTAs is more of a tactic than a strategy. For him, it is a good opportunity for hoteliers that can't think strategically.
For Beat, the best new concept out there is "parallel hospitality". It represents an invitation for everyone to think outside the box and beyond the concept of just a bed and a bathroom. Hotels need to think about and invest in third spaces, places where people can come for a meeting, make a phone call in an isolated booth, places to use during the day. Is being a host only about having guests overnight? "The ability to be a host and making something out of a space that is inviting, is the opportunity."
Tourism and travel
The number of flights is increasing and tourists are travelling for leisure more than ever. "Planes are full of people that have absolutely no reason to travel." The dramatic consequence is "over tourism". Beat gives the example of Amsterdam, a city overflowed with tourists all year round. Even with "over tourism", hoteliers want to have the right guests, respectful guests. His strategy to target the right guests? According to Beat, hoteliers need to organize themselves, regroup, be disciplined. The stronger hotels position in the market, the easier it will be to keep their rates at a certain level. Doing business more sustainably will have a cost. For Beat, it is important to bring more meaning and to be a good host.
Hospitality trends
When asked about new trends in the hospitality industry, Beat points out the value of technology. "From a back office point of view, you want to have technology to win the game. [...] I don't expect a hotelier to know technology, but a hotelier should find the people that can deal with technology, that understands the needs of the hotel and that can operate technology on their behalf. [...] A hotelier should be more with the guest and with the staff, in order to create that story on a daily basis." Moreover, guests want to be connected with the rest of the world, no matter where they are and hotels need to have that infrastructure for them. However, guests are also enjoying disconnection more and more. There is an increasing demand from travelers to find a place that disconnects them completely from technology, work and any other potential distractions. The hotel L'Ovella Negra in Andorra is embracing this new trend. The hotel works with technology in the back office but guests are completely disconnected from technology. This alpine lodge, only reachable by helicopter, offers a great cultural program all year long and amazing F&B. The story and the experience is so unique, everybody wants it. So would the new big trend be offering disconnection? Creating your brand around experiences rather than on materials things is the concept of the Richter Hotel in Moscow. Some hoteliers think that to create a brand, they can simply copy what they see around them, buy expensive furniture and call it a day. But experiences cannot be copied, the feeling one has when entering a lobby, the memories you make. For Beat, that's how hoteliers should create a brand, by focusing on the experiences. But originality is not the only thing that will get your rooms booked. As Beat explains, human beings are hybrids when they travel. Depending on why and where you travel, you'll want to stay at a beautiful, original hotel and sometimes a standardized, basic hotel room will do just fine.
Airbnb in the hospitality industry
For Beat, hotels using Airbnb to sell their rooms just lack the technology skills and knowledge to properly sell their rooms somewhere else. For him, this proves that there is a problem in the industry and technology. Hoteliers don't seem to understand technology, don't have the right technology or just don't use it properly. Even for the guest, having hotels on the Airbnb website just doesn't seem to make much sense. It dilutes the whole concept of Airbnb, the idea that you'll get a special experience, meeting locals and sleeping in their apartment.
Design Hotels
The hotel affiliation was created in 1993. The founders chose the name Design Hotels for the media, they wanted a name that would work well and it definitely has. Design Hotels provides member hotels with synergies, technology, global awareness and branding and global PR, amongst other things. Hoteliers already need to focus on being a good host, on making sure guests get what they expect and want. Joining the affiliation lets them outsource various departments, such as marketing, technology, global PR, etc. to a partner with experience and leverage. Design Hotels is not an OTA, underlines Beat. It is a content agency. Hotels can decide to be visible online or not, but if they decide to do it, they have to do it right. Design Hotels creates the relevant content and makes sure to reach the right end consumers. "The end consumer will connect more and more to hotels via different channels. [...] The trend is towards fast, multi channeled media."
The three final questions
Your favourite thing about the industry is? The people I meet.
The last trip you took was to? Warsaw.
The next big trend in the industry, in your opinion, is? Small hotels that create experiences beyond the room, bed and bathroom.
---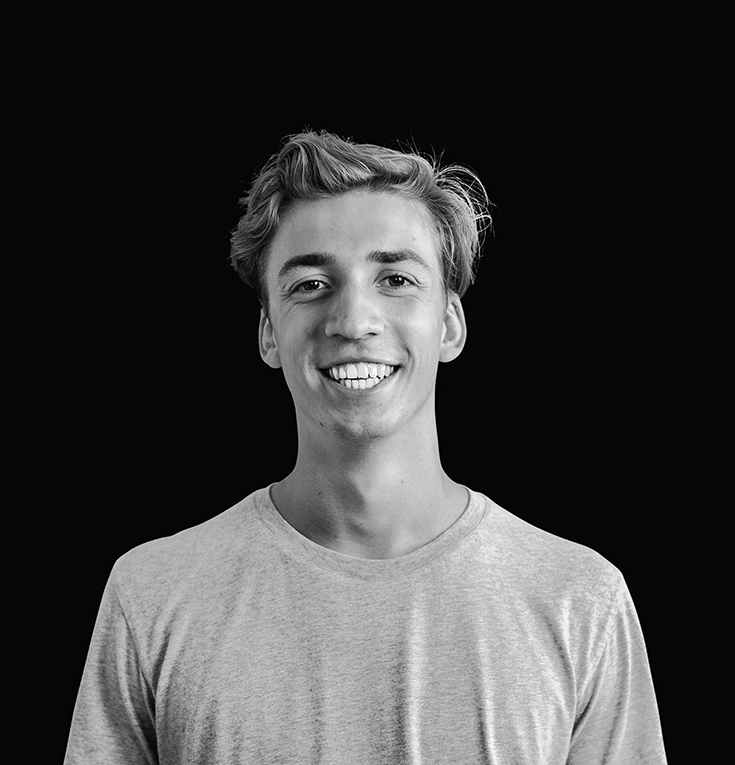 À propos de l'auteur
Florian is a Co-Founder of Hotelhero and a graduate of École Hoteliere de Lausanne. Passionate about hotels, service excellence & technology Hotelhero is built on the belief that independent & small chain operators should be leveraging technology for the better.
Ne ratez jamais un article
Inscrivez-vous à TheBrief pour un accès complet aux nouveautés de la tech hôtelière
Pas de spam. Vous pouvez vous désinscrire à tout moment.
Articles associés
Mots clés communs
Partager